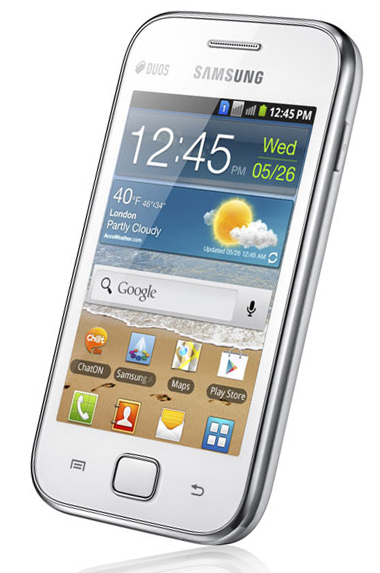 SIM card swappers have reason to rejoice with the all-new Samsung Galaxy Ace Duos. We're not talking about i589 (also called Galaxy Ace Duos) which had a 3MP camera, 800MHz processing speed, and shipped with Android 2.2 Froyo. Instead, we're referring to a redesigned and upgraded version of it which goes by the same name but with a different model number – GT-S6802. It's a bit confusing. The phone still features a dual SIM slot so you can alternately switch between the two, whichever you find necessary at a given time. Having space for two separate SIM cards isn't enough reason to get a Galaxy Ace Duos S6802 but there's more to it than that.
Design
Galaxy Ace Duos S6802 is a cross between Galaxy Ace and Galaxy Ace 2. It has all the curves of Samsung Galaxy Ace 2, from its round corners all the way to the back cover. Its home button resembles the one used in Galaxy Ace. Beside it are two touch-sensitive buttons for Settings and back. The power button and volume rocker don't pop out from the sides, giving it a clean look. On the back you'll see a camera and speaker grill side-by-side. Dimensions are still unknown as of yet but it should be as pocket-friendly as every other Galaxy Ace variant given its screen size and (sigh) smaller battery pack.
Hardware
Several things were upgraded on S6802 coming from Galaxy Ace Duos i589. Its only camera, previously 3.15MP, was increased to 5MP. To help speed up the phone and better multitasking, RAM was doubled to 512MB and the single-core CPU originally clocked at 800MHz was bumped up to 832MHz. Two more upgraded specs include the data speed, now faster at HSDPA 7.2Mbps, and internal storage, now larger at 3GB. Hardware such as the 3.5-inch HVGA screen, dual SIM slot, and microSD slot expandable to 32GB are still the same for both.
One thing that it lacks is LED flash so you can't expect good photos to come out of it when used in dim places. It's also worth mentioning it's a GSM-only phone. The battery which was previously a 1650mAh Li-Ion pack was unfortunately downgraded to 1300mAh.
Verdict
Samsung Galaxy Ace Duos S6802 is a wonderful midrange option. If you badly need a phone to relieve you of your SIM-swapping days and don't mind a less-than-average battery life and absence of LED flash, you can definitely count on it. If you don't need the dual-SIM card feature, we recommend Samsung Galaxy Ace 2 i8160 which also happens to be a midrange phone.