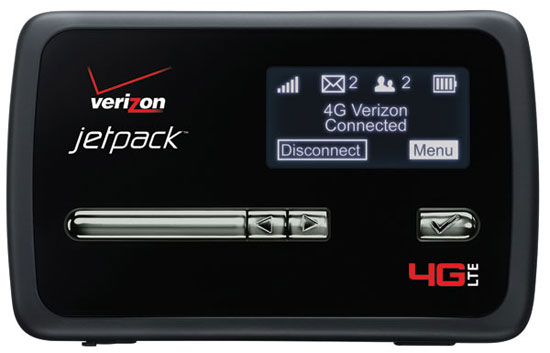 Jetpack 4G LTE MiFi 4620L has been on sale at Verizon for a while now. The $49.99 device acts as a mobile hotspot for connecting multiple devices to the internet, all on the same time.
Pros
Jetpack 4620L is extremely handy. You can easily slip it into your pocket and literally turn yourself into a walking WiFi hotspot. Just as its name suggests, it is capable of translating high-speed 4G data to a WiFi signal. As a mobile hotspot, you can connect multiple devices to the internet with it – a total of 10 to be exact. So if you have more than one WiFi-ready gadget, you can connect ten of them to Jetpack 4620L simultaneously. Its compact design doesn't mean it has poor battery life however. Verizon says it can last 8 hours mainly because of the dual-capacity battery. Internet speeds can reach up to 2.4GHz, ensuring fast and smooth connectivity.
Cons
Jetpack 4G LTE MiFi is cheap at $49.99 but it has those pesky asterisks. As you may have guessed by now, it ties you down to a two-year contract with Verizon so if ever you decide to buy it, you have to pay monthly data fees until it's over. This would've been okay if Big Red's data plans are cheap but they aren't. Data plans start at $50/month for a 5GB cap. Our main concern involving 4620L is that it doesn't support a WiFi protected setup. Without a password, anyone within the range of the hotspot can connect to it and take up data which you are paying for. Furthermore, an unprotected WiFi setup compromises personal security and makes you vulnerable to hacking, data theft, and spoofing.
Verdict
Is personal security really worth sacrificing for an LTE-enabled mobile hotspot? I think not. The lack of security features defeats its purpose as a travel-friendly way of staying connected. To keep your devices safe from hacking as well as protect your data from consumption by "unwanted" visitors, you will have to limit its use at home. Verizon's Jetpack 4G LTE MiFi 4620L doesn't live up to our expectations and it's certainly not worth $49.99 much more a two-year contract.