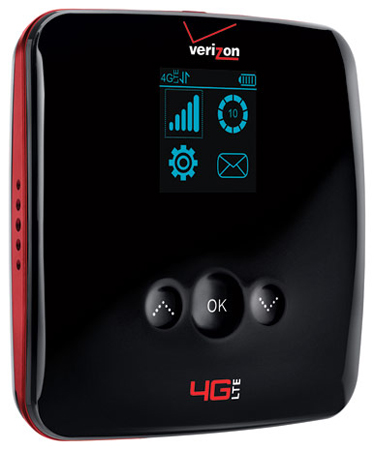 We recently reviewed Verizon's Jetpack MiFi 4620L, a 4G LTE mobile hotspot that connects up to 10 devices to the internet. As irresistible as it sounds, it isn't such a good deal considering its lack of security features. All devices connected to it are vulnerable to being hacked. Moreover, others – even strangers – can freely connect to it and eat up your data plan which starts at $50 for 5GB of monthly allowance. Verizon does have another mobile hotspot in line, Jetpack 890L. It was announced together with 4620L at CES 2012.
Pros
Jetpack 890L is very similar to 4620L in terms of specs and features. The device still relies on 4G data and transforms it to a high-speed WiFi signal. Thus, you can benefit from fast internet speeds when connected to it. Like its brother, it can handle up to 10 connections at once. Jetpack 890L offers internet speeds of up to 12 Mbps on download and up to 5 Mbps for upload. Verizon offers it for $70 but after a $50 mail-in rebate, its value is reduced to $20.
One thing it has that 4620L doesn't is a Wi-Fi Protected Setup. Like a full-sized router, it is equipped with VPN pass-through as well as WEP/WPA encryption for setting up passwords. Not only will this protect connected devices from being hacked or hijacked; this will also prevent unwanted guests from connecting to your hotspot.
Cons
It may be cheaper than 4620L but this comes at the expense of a larger size. Instead of the sleek rectangular form its blood brother has, it has a square shape. This is not to say it isn't portable but it's a little less easy to put in your pocket. And like 4620L, it will tie you down to a two-year contract with Verizon. The device is offered with monthly data plans that don't come cheap, starting at $50 for 5GB and $80 for 10GB per month.
Verdict
Between 4620L and this one, Jetpack 890L is undeniably the better-valued mobile router offered by Verizon. It has the much-needed Wi-Fi Protected Setup feature (WPS), which is not supported by Jetpack 4620L, and allows you very easy to setup your secure wireless Home Network. Better features plus an affordable price – what more can you ask from a mobile router?