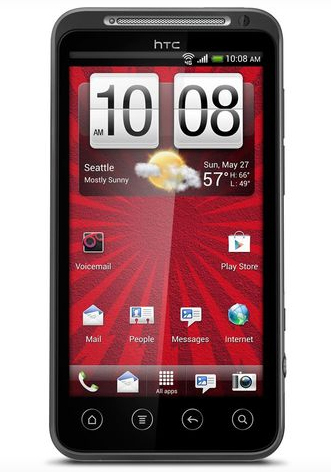 Sprint, Verizon, and AT&T have been releasing and announcing 4G LTE phones like crazy. AT&T just announced their third LTE Windows Phone yesterday called Samsung Focus 2. It will join HTC Titan 2, Nokia Lumia 900, and all other 4G phones under their turf. Virgin Mobile finally joins the in-crowd by announcing their first ever 4G smartphone, HTC Evo V 4G. Also announced were two mobile hotspot devices similar to Verizon's Jetpack 4G LTE released earlier this month – Overdrive Pro and U600 3G/4G.
The tongue-twisting HTC Evo V 4G has a sizeable 4.3" Super LCD screen with qHD resolution. In its essence, it reminds us of HTC Evo 3D because of their similarities in specs and design. It'll ship with Android 4.0 Ice Cream Sandwich and given its close resemblance to HTC Evo 3D from last year, will likely be powered by the same 1.2GHz dual-core Snapdragon processor. Evo V 4G has two cameras including a 5-megapixel rear camera and a 1.3-megapixel front shooter. It has a dual-lens 3D imaging system and its screen is capable of displaying 3D photos and videos. Other specs include mobile hotspot functionality and a microSD card slot which supports up to 32GB of expandable memory.
Hands-on, Evo V 4G feels solid and just as beefy as its predecessor. There's a switch that lets you use it in 2D or 3D. Display is bright but colors are less saturated and pales in comparison to HTC One S and One X. If you compare it to all other phones coming from Virgin Mobile, it comes out as one of the best though. Unfortunately, the phone won't be surfing on LTE anytime soon. Sprint, Virgin Mobile's post-paid sibling, is passing on their left-over WiMax network to them and that's the fastest internet highway this phone can traverse – at least for now. HTC Evo V 4G will be offered on a no-contract plan that starts at $35/month. Upfront sale price is $299.99 and includes an 8GB microSD card for extra storage.
Virgin Mobile also announced Overdrive Pro and U600 3G/4G along with HTC Evo V 4G. Overdrive Pro is a mobile hotspot device by Sierra Wireless and will sell for $149.99. Meanwhile, U600 is a USB Stick by Franklin Wireless selling for $99.99. These two 4G WiMax devices goes on sale beginning May 31. These two allows users to connect multiple devices to a single 3G/4G connection.