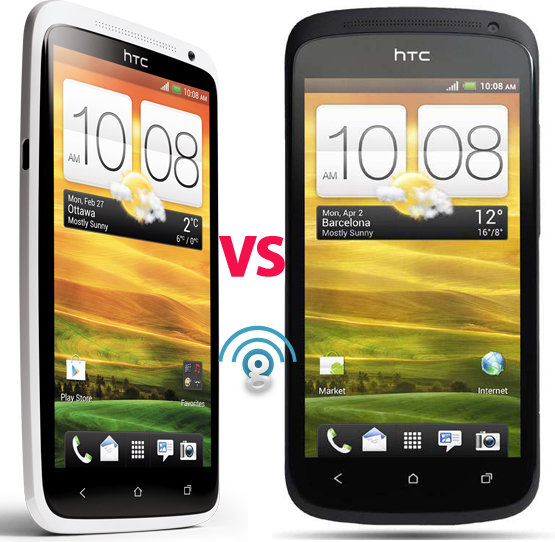 HTC One S and One X belong to the same line of smartphones. With that being said, they share similar designs and technologies. But there are enough differences between the two to make you wonder which is better suited for your needs. For instance, HTC One X is powered by Tegra 3 whereas One S is supported by the dual-core Snapdragon S4. And don't be deceived by the midrange classification of HTC One S either. One might mistake it for a high-end phone with its 4.3" screen. And so, the war between quad-core Tegra 3 and dual-core Snapdragon S4 continues in this short review of HTC One X and One S.
Design
It only makes sense that HTC One X is larger and heavier with its 4.7" screen but HTC One S is surprisingly thinner, measuring only 0.31 inches. The difference in thickness is minimal but can be felt. The two have ceramic bodies, accounting for their light weight and durability. The polycarbonate material used in both phones have deep coloration. When scratched, the same color will show underneath so scratches are not clearly visible.
Curved corners and edges that taper towards the flat back make them comfortable to hold. The soft-touch feeling of their ceramic bodies adds comfort and gives you the same premium feeling that other HTC phones have. Their front panels are marked by three touch-sensitive buttons for navigation and on the back, they have rear cameras with slight variations in design.
Software
There isn't any difference between the two in terms of software. The two run Android 4.0 Ice Cream Sandwich and have Sense 4 as their UI. Among the features of Sense 4 include landscape support for the home screen, an improved email client with threaded messages and layout changes, Smart Sync, full Dropbox integration, the Siri-like HTC Speak, and Guest Mode Scene, Beats Audio compatibility with third-party apps, option to remove ads in the browser using Reader feature, Read/Watch Later for viewing web pages even when offline, Guest Mode Scene for privacy, and general changes on user interface.
Hardware and features
Beginning with specs that are common to the two is an 8-megapixel camera with f/2.0 aperture, LED flash, and Backside Illuminated Sensor (BSI). Camera modes and features like autofocus, High Dynamic Range (HDR), and geo tagging found in both smartphones. Their rear cameras are capable of capturing 1080p videos at 29fps. Also integrated in both HTC One X and One S is a propriety HTC ImageChip DSP for image processing. 1GB RAM,Bluetooth 4.0, single micro USB 2.0 ports which can be used for HDMI, and lack support for expandable storage are three more relevant device specifications these two share.
HTC offers both phones with 50GB of cloud storage. You have no choice but to use micro SIM card with both HTC One S and One X. All other hardware and features vary.
An obvious difference can be noted on their screen size and display resolution. HTC One X is the larger one with its 4.7-inch screen. HTC One S is still sizable though and has a 4.3-inch form factor. As HTC's flagship Android phone, One X has the better display offering 1280 x 720 pixels and 312ppi on its S-LCD 2 panel. HTC One S only has 960 x 540 pixels and 256ppi but makes up to these lacks by using a Super AMOLED panel for a high-contrast and vibrant display. Another advantage of HTC One X is the scratch-resistant glass protecting its LCD.
While both have front-facing cameras for video calls, the one on HTC One S only has VGA quality. The front shooter of HTC One X has a slightly higher resolution at 1.3MP. Not only that, HTC One X has a larger memory space with 32GB of internal storage. HTC One S limits you to just 16GB. In terms of connectivity, One X has broader support for WiFi networks (WiFi b/g/n/a). HTC One S can't detect WiFi a networks.
A dual-core Snapdragon S4 powers HTC One S but it's not to be loathed. 2 out of 3 benchmarks show it performs better than the quad-core Tegra 3 chip inside HTC One X. We often have the misconception that a phone needs more cores to be faster but it truly depends on manufacturers and how these processors are integrated it to work with a device's software.
Verdict
The Tegra 3-powered variant of HTC One X is obviously the better choice but it's not for everyone. We only suggest it to people after a massive 4.7-inch screen and need 32GB of internal storage. If you fancy Tegra-optimized games, One X is definitely worth it. But if you are easily satisfied with a 4.3-inch screen and don't mind a dual-core phone and limited 16GB storage, HTC One S is perfect for you. Besides, it sells cheaper than its high-end brother but has equally powerful specs.