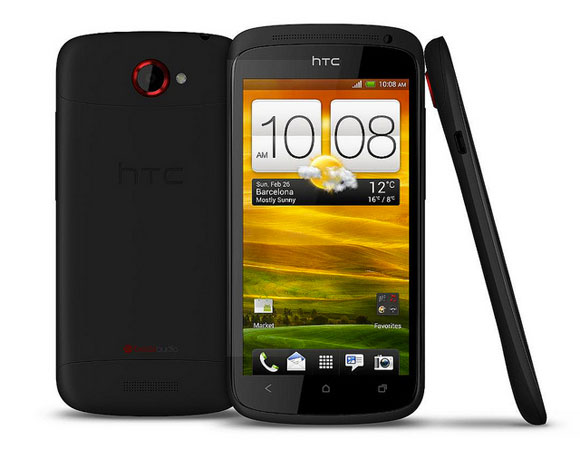 HTC One S was first announced at the Mobile World Congress and packs two main features – Beats Audio and powerful cameras. While we could say the same thing for other HTC One smartphones, it stands out as an option if you don't want to be limited to entry-level specs and unwilling to spend a fortune for high-end features. I have to say, HTC One S brings a lot to the table for a midrange phone. But is it worthy of sitting next to HTC One X which by far is one of the best Android phones we've seen out there?
Design
HTC One S has a same slim and stylish profile and agreeably looks more dashing than One V – not that it looks cheap. Upfront it resembles HTC One X but if you look at it from behind, its even surface helps in telling them apart. Besides an evenly surfaced back, HTC One S is considerably smaller than One X. It's 4.3-inch form factor makes it a large-enough choice if you prefer anything between 4 and 4.5-inch screens, just as most people do these days.
Old HTC phones had a reputation for being bulky and heavy, a bad combination for smartphone design. They were difficult to hold with one hand and it only gets worse with time. But HTC One S is different and has a thin, light-weight ceramic casing made possible by micro arc oxidation – the same technology used by NASA for making space satellites. The ceramic case also adds durability to the phone which might be impossible to believe at first since it is, after all, the thinnest smartphone to date at 7.8mm.
Specs and features
HTC One S has familiar-sounding hardware. It has a dual-core processor, an 8-megapixel camera, not to mention a 4.3-inch screen like Samsung Galaxy S II and other high-end phones from 2011. In addition to these , HTC One S also packed specs and features to make it fit in as this year's release. For instance, it will ship with Android 4.0 Ice Cream Sandwich out-of-the box, a trend which became obvious at MWC 2012. Here's an overview of its specs:
• Dimensions: 130.9 x 65 x 7.8 mm
• Weight: 119.5 g
• HTC Sense 4.0 UI
• 4.3-inch Super AMOLED capacitive touchscreen with 16M colors and 256ppi pixel density
• Corning Gorilla Glass
• Touch-sensitive controls below the screen
• 1.5GHz dual-core Krait CPU
• Connectivity: Wi-Fi 802.11 b/g/n, DLNA, Bluethooth 4.0 with A2DP
• Networks: WCDMA/HSPA and GSM/EDGE
• 8-megapixel camera with autofocus, f2.0 lens, BSI sensor, and LED flash
• VGA front-facing camera
• 16GB internal memory
• 1GB RAM
• MicroUSB slot v2.0 with MHL-HDMI
• Wi-Fi hotspot
• 3.5mm audio jack
HTC One S was made fast and responsive not just by its dual-core 1.5GHz chip but also by Sense 4.0. The new user interface is more useful and has fancy 3D effects. The camera software was updated to add a variety of features. Burst mode, photo filters, and presets like HDR and panorama are all part of its camera software. Users can also snap still photos when shooting a video, adjust flash brightness to seven different levels, and switch to a slow-motion video mode on HTC One S. In the absence of these cool additions, the CMOS-capable camera is capable of taking high-quality photos and 1080p videos.
Beats Audio brings enhanced sound quality to HTC One S. The Beats Audio headset included in the package provides bass enhancement. From this point, we can call it an all-around multimedia device built for photography and entertainment. There to remind us of its midrange classification is the lack of support for a microSD slot and a limited 16GB internal memory.
Verdict
HTC One S doesn't look or feel like a midrange smartphone at all. It may have 2011 specs but HTC revamped many hardware and software components that make it fit for this year's release. HTC One S doesn't just "fit in" though. When thrown in the middle of midrange phones, it shines quite brightly because of its features.