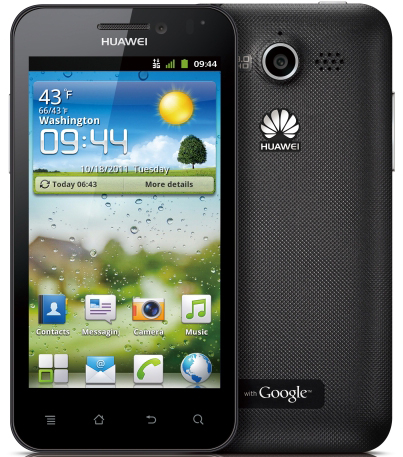 Huawei Honour is a European version of Honor from earlier this year. It's basically the same smartphone but with a different spelling. Since we didn't get a chance to review it before, now is a good time following its launch in the UK. Huawei Honour is by no means a high-end phone but you might mistake it for one due to some of its specs.
Design
Lately, Huawei has been launching entry-level smartphones with great designs. Huawei Honour is one of them. What it lacks though is originality because from the front and sides, I swear it looks like an iPhone 4S without the round button. If it weren't for a layered back or its four capacitive buttons, it would resemble the iPhone more. Apart from lacking in originality, the phone falls short on build quality as well. Made entirely of plastic, it feels cheap and flimsy.
Everything is placed where they're supposed to be. The power button and 3.5mm headset jack are located on the top edge while the volume rocker rests on the right side. A microUSB port can be found on the bottom edge whereas the back is where the rear camera, flash, and speaker grill are.
In terms of dimensions (122 x 61.5 x 10.9mm), Huawei Honour is quite beefy and measures 10.9mm in thickness. For a phone with a 4-inch screen, we expected it to be sleeker considering there's enough space for the battery. It weighs light though, registering at 135 grams on the scale.
Hardware
Huawei Honour gives mixed signals when hardware is taken into consideration. It has this large 4-inch screen with an impressive resolution of 854 x 480 pixels and 254 ppi. Texts are crisp and images displayed have accurate color and impressive details. In rare instances, the screen doesn't respond to touch as much as it should. Screen surface is also prone to getting some smudges. And while viewing angles are decent on Huawei Honour, squinting is necessary to see the display clearly under direct sunlight.
Keeping the phone together is a single-core 1.4GHz processor, 512MB RAM, and Android 2.3 Gingerbread. Its processor and RAM aren't the best we've seen. However, both are more than enough for multitasking and light gaming without bumping into problems. And while it is stuck with Gingerbread, you can upgrade it to Android 4.0 Ice Cream Sandwich later. You have the option to use Huawei's custom interface or the stock Android UI. Both look amazing on the phone but to be honest, I'm more surprised with how beautiful Huawei's custom UI is.
The 8-megapixel camera of Huawei Honour was disappointing in many ways. It took good photos but many of them turned out to have this purplish discoloration in the center – a glitch found in some camera phones. Images produced tended to have either low detail or a relative amount of noise.
Even though there was an HDR setting in the camera, photos produced weren't much different. To make things worse, the camera doesn't have support for panorama mode or face detection. It is worth noting that the camera interface is fairly easy to use. It was almost a relief to find out it supports 720p video recording. Sadly, this feature faces the same problems as using the camera for taking stills. Recorded videos still show some purple discoloration on the center and lack detail. It was almost impossible to make out recorded audio as well.
Finally, we have a 1900mAh battery as the phone's juice. This extends its battery life beyond what most Android phones are capable of. Huawei Honour should last a full day of use with occasional WiFi connectivity or mobile data. According to Huawei, it has a standby time of 16 days or less.
Verdict
Huawei Honour is far from perfect. We've had more than a few bad things to say about it. Nonetheless, it's still a decent option for people who want a midrange phone with extra specs – not to mention an amazing battery life. Now available throughout the UK, make sure to check it out in stores like Clove Technology, Expansys, and Play.com where it's sold for £250.