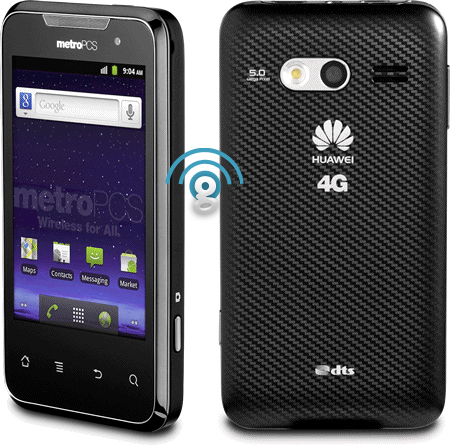 Access to LTE networks often comes at an expensive price but with Huawei Activa 4G you don't have to spend a fortune to enjoy blazing fast internet speeds. While I write this, it is the cheapest 4G smartphone available in the US and beats LG Optimus Elite right out of the box. It won't tie you down to a contract either. MetroPCS sells it off-contract for $149.
Design
Huawei Activa 4G will fit easily on one hand. It is neither thick nor thin but if we compare it to Samsung Galaxy Ace 2 or iPhone 3GS, it is a bit chunkier. As for its weight, it is disappointingly heavier than both phones and tips the scales at 4.96 ounces. By the way, most smartphones weigh somewhere around 4.2 ounces. The display is surrounded by a black bezel but it's noticeably wider on the bottom. Quite frankly, it's not too good to look at. There you'll find four capacitive style buttons to access the Menu, Settings, Back, and Search.
Despite the odd-looking bezel, Activa 4G manages to keep a classy look when viewed from the front thanks to the silver accent around the edges. Too bad we couldn't say the same when you look at it from behind. The back cover is made of textured plastic and makes the phone look cheap. Good news is along with the volume rocker and power control, Huawei Activa 4G has a dedicated camera shutter near the Search button. Mind you, this is a rare find on Android but not with Windows Phones since it is a prerequisite of the mobile platform.
Hardware
The 3.5-inch screen is easy to get used to but resolution is limited to 320 x 480 pixels. Reality of its HVGA display won't set in until you start reading eBooks, zoom into web pages, view images, or watch videos. You can, however, rely on it to play music using the loudspeaker without much disappointment. It has an 800MHz processor which although average, is slick enough on most occasions. Free internal memory is limited to 151MB but there's a microSD slot available that supports up to 32GB of expandable storage.
One spec that I'm sure will surprise you is the front-facing camera. That means you can make video calls or take self-portraits and small group shots with Huawei Activa 4G. On a different note, another spec that will surprise you in a bad way is its OS – Android 2.3 Gingerbread. MetroPCS gave no word of an upcoming ICS update and we can only advise you not to expect. Connectivity options include Bluetooth, WiFi, GSM, and 4G LTE which, I have to say is its best asset. LTE networks offer the fastest internet speeds in today's standard and it will likely be the case for the next couple of years. That being said, Activa 4G is prepared for the future.
I'm sure you were a bit ticked off by the phone's thick and heavy build but I knew where this was going all along. As expected, it has a beefy 1880mAH battery which should be enough to sustain a full day of use; assuming you mostly use your phone for sending texts or making calls and rarely connect to the internet. Regardless of use, you can expect a good battery life out of it compared to most entry-level smartphones.
Verdict
Huawei Activa 4G is no powerhouse but its innards are decent enough to sustain light gaming, web surfing, and staying connected. It's something you won't regret buying not because it's cheap but rather, because it's future-ready. The phone embraces the emergence of LTE as a standard way of connecting to the internet. Besides, it's rare to see a front-facing camera, healthy battery, and dedicated camera button all in one phone – especially one that comes with a cheap price and doesn't have a contract. Huawei Activa 4G is a mighty phone in many ways and you can grab one from MetroPCS for $149.