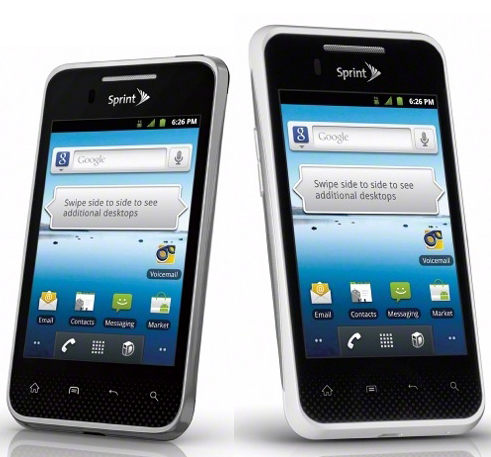 Sprint and Virgin Mobile sell LG Optimus Elite on- and off-contract. Both carriers market it as an affordable smartphone – which it is. We have to admit, a low price point isn't enough reason to get the phone. A more in-depth look at its design, hardware, software, and performance is in order so you could better decide if it really is worth the money.
Design
LG Optimus Elite has humble measurements even though it has a proud-sounding name. It has that unmistakable look of a low-end phone judging by its size. Measuring almost 5 inches tall and less than an inch in thickness, it will fit snugly in any hand. It weighs light too at 120g, making it comfortable to hold.
Beyond looks, the phone also has an impressive build quality. It may be a cheap option but all buttons along the sides have good feedback. Aesthetically speaking, it looks an awful lot like an iPhone from the front but instead of a round physical button, there are four touch-sensitive buttons below the display for navigation. A camera peaks from the rear end of the smartphone and is accompanied by a LED flash and self-shot mirror. The back cover has a textured surface and promotes good grip. To sum it all up, Optimus Elite feels solid and appears much more expensive than it actually is – which means LG did well on the design department.
Hardware
The 3.5-inch screen on LG Optimus Elite is an acceptable size. Most low-end phones never reach the 4-inch mark anyway. But it could've done better on resolution. With a pixel density of just 165 ppi, you can't expect text, images, and videos to be crisp and vivid when viewed on the phone. Pixels will be pixels.
A 512MB RAM means the phone can't be upgraded past Android 2.3 Gingerbread which the phone ships with. Fortunately, it features the latest version of Gingerbread. Images that came out of the camera were grainy even when taken outdoors in broad daylight. It is worth mentioning that Near Field Communication (NFC) technology is built into Elite, enabling you to use it for wireless payments.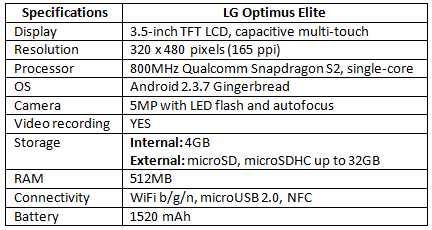 Software and performance
Complementing the phone's NFC technology is Google Wallet. It comes as a pre-installed app in both Virgin Mobile and Sprint models. All other Google applications are also pre-installed in both variants. The Sprint version was tweaked to include Sprint-only apps like NBA, NASCAR, and TeleNav Navigator. Meanwhile, Virgin Mobile gets a non-tweaked, original UI.
User interface is generally smooth and slick for both variants. It performs better than two Android phones belonging to the same low-end category. Quadrant Standard, AnTuTu, and NenaMark 2 benchmarks show that LG Optimus Elite is faster than Motorola Defy Mini and LG Optimus L3.
Verdict
If you are looking to buy a cheap Android smartphone, LG Optimus Elite is one of the best options available. Even though it was made to be affordable, its design, hardware, and performance don't suffer as much compared to its competitors. Sprint sells the device in White and Titan Silver for $29.99 and includes a two-year agreement. Virgin Mobile offers it without any contracts for $149.99.