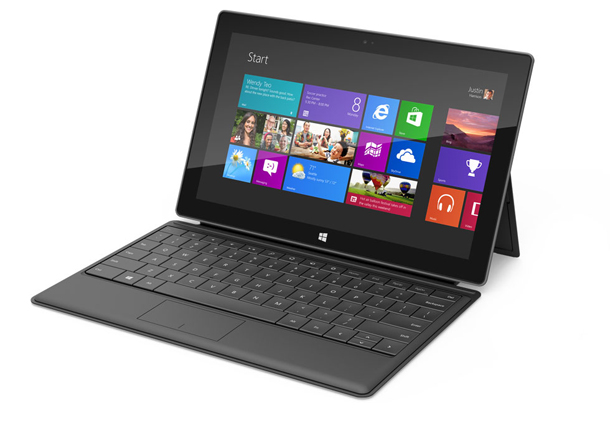 If there were ever a time when Microsoft didn't look so promising, let risky at the same time, now would be such a time. With the improvements made to Xbox, Windows Phone and the risky Windows 8, Microsoft is making some very bold steps. The company has once again taken another bold step, albeit a lot less controversial than previous moves. The Microsoft Surface is a tablet that will compete directly with the likes of Android and iOS tablets and according to Microsoft its sole purpose is to highlight the awesome features of Windows 8.
There will be two variants of the Surface, the Windows RT version running on an NVIDIA Tegra 3 quad-core ARM processor and the Windows Pro model running on the Core i5, Ivy Bridge Intel chip. Though both devices are similar there is a little difference. The Windows RT Surface is only 9.3mm thick, comes with NVIDIA's Tegra 3 processor, 10.6-inch ClearType HD capacitive touch panel, 31.5Wh battery, USB 2.0, microSD, Micro HD Video and 2×2 MIMO antennae and internal storage of either 32GB or 64GB.
The Windows 8 Pro Surface is a little bigger at 13.4mm thick, Core i5 processor, 10.6 ClearType HD 1080p screen, USB 3.0 and the rest of the I/O ports in the RT version minus he USB 2.0. Internal storage is either 64GB or 128GB.
Both models feature optically bound Gorilla Glass with an all-magnesium VaperMG case. Microsoft has also included Perimeter venting which should be necessary for the models sporting that heat expelling Core i5 processor. There is a built in kickstand in both models.
One of the most interesting features of Surface comes in the form of an accessory, their Touch Cover and Type cover which are great improvements over the Smart Cover's from Apple. Other than just covering the screen, the Touch and Type covers from Microsoft double as keyboards. As the name suggests the Touch Cover relies on touch typing which means there is no tactile feedback. Microsoft has been able to stuff an accelerometer into that thin cover however. The Type Cover has tactile feedback as the keys are raised which should make it easier for extended typing sessions.
Although Microsoft has said the Surface for Windows RT will come this Holiday season, the Surface for Windows Pro will not land until three months after. Microsoft hasn't given any details on specific pricing either, going only so far to say that the RT version will have comparable pricing to other tablets on the market and the Pro version will fall within the pricing of Ultrabooks.
So far the Surface is looking very promising and while there are many unanswered questions surrounding this device, such as camera, RAM, pricing, availability and whether there will be 3G or 4G versions, Microsoft is clearly showing that they intend to challenge Android and iOS in the tablet range. Whether it will succeed or not, we will have to wait and see, but we are pretty sure that the boys over in Cupertino and Mountain View are taking note.