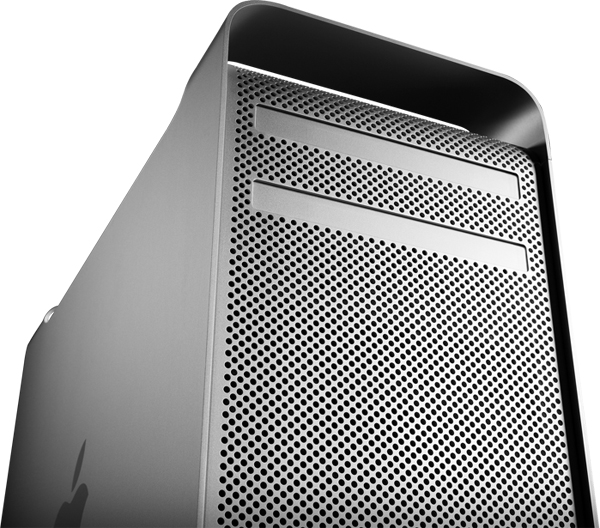 Apple's most well-known products at the moment are the iPhone, iPad and of course, the good old iPod. The MacBooks are next in line and finally, there's the iMac desktop, which everyone keeps forgetting because desktop computers are not "in" anymore. For some reason, even though Apple products are used by a lot of professionals, everyone keeps forgetting about the Mac Pro – the high end super desktop computer that can pull through anything you throw at it. Even Apple forgot about it!
But now, they've finally decided to give it a much needed upgrade – with the 17 inch MacBook Pro gone, this is the only Pro Apple product that is worth considering. And it's been well upgraded, indeed!
Design
The design of the Mac Pro remains unchanged, which is fine – just like is the case with the unibody MacBook Pros, Apple has reached near-perfection with the simple but elegant metal tower. Besides, it's going to be interesting seeing everyone scoff at your "old" Mac Pro and then witnessing the full processing power of the latest Xeon processors :-).
Hardware features and performance
The internal hardware is where the new Mac Pro really shines – the machine is upgraded to the latest hardware, with enough power to take on any work, from heavy duty video editing workstations to servers in a data center (if you like Mac OS X Server, that is). Just check the table below to see what I'm talking about. At the top configuration, you get twelve Xeon processor cores, which is simply insanely fast – the other components can't keep up with this! You can have up to 64 GB of DDR3 1333 MHz RAM running in dual or quad channel configuration, and the Radeon HD 5770 or 5870 can keep up with even the highest demands in OpenGL rendering or video editing. The ability to connect up to six monitors is also very impressive (you'll need two Radeons for that, though).
Technical specs
| Specifications | Apple Mac Pro tower |
| --- | --- |
| Processor options | 1 x 3.2 GHz Quad Core Intel Xeon, 1 x 6-core Intel Xeon or 2 x 6-core Intel Xeon |
| RAM | Up to 32 GB of DDR3 RAM for single processor configurations; Up to 64 GB of DDR3 RAM for dual processor configurations |
| Graphics Adapter | 1 x ATi Radeon HD 5770 1GB GDDR5; 1x ATi Radeon HD 5870 1GB GDDR5; 2x ATi Radeon HD 5770. Up to 3 displays on single card configurations; Up to 6 displays on dual card systems |
| Storage Space | Four 3.5" bays for 4 HDDs or SSDs – Up to 8 TB of storage space |
| Expansion Options | Wifi N, Bluetooth 2.1 EDR, 2 x Gigabit Ethernet ports, 4 x FireWire 800 ports, 5 x USB 2.0 ports (+ 2 on the keyboard), 1 x PCI Express x16, 2 x PCI Express x4 slots |
| Operating System and Software | Mac OS X (Server edition optional), iLife 2011 |
Software features
The new Mac Pro ships with Mac OS X, of course, although you get the standard desktop version or the Server edition depending on which pre-configured system you buy or what you choose if you do a CTO. Obviously, you can install Windows or Linux, as well – that's the beauty of having an x86 processor (or two) inside. Apple also includes their iLife 2011 suite, which is quite nice and can definitely come in handy for a lot of people.
Price and availability
Typical of Apple, the price of the Mac Pro is higher than what you'd pay for a similar unbranded tower or even a tower from another manufacturer. The Xeon processor is more expensive than a Core i7, but that alone does not make the whole computer cost $2499 at its lowest price. The most high end configuration will run you a whole lot over $10,000 – a price that may be too much to pay for just the tower. Still, if you like Apple and have the money, the Mac Pro will definitely be a good addition to any office or home.