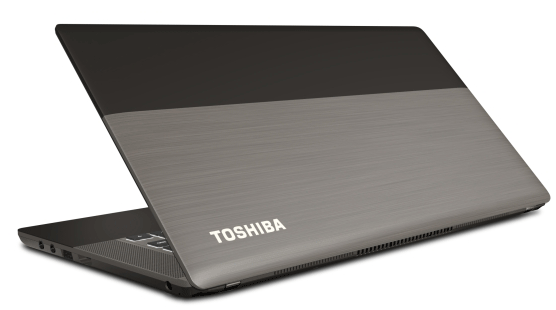 Toshiba's entry to the tablet and Ultrabooks market wasn't that impressive, although their products are actually quite nice, not to mention reliable. The Excite tablets and the Portege Z835 Ultrabook are very well made and can easily compete with anything else on the market, but the marketing department of the company is definitely lacking imagination (or funds).
Regardless, Toshiba is intent on keeping its share of the mobile market, and they have a few unique features in tow for that. One of them is the 21:9 display format, which the company announced quite a while ago. It looked like an interesting concept at the time, but Toshiba was actually very serious, and just recently, they've announced the Satellite U845W – the first laptop/Ultrabook to feature said display.
Design
The Satellite U845W is a very nice machine – it's definitely different from the previous Satellite designs, although Toshiba's obsession with chrome accents is still there (they seem to have gone through rehab, though). The housing is well built, being made of aluminum and with soft touch plastic on the lid and palm rest. The ultra-wide form factor definitely makes the U845W look unique – it'll make a lot of people wonder what kind of laptop you're using. The form factor is great for using the device in cramped places like an airplane seat, and you sure won't be able to accidentally drop the Ultrabook off your lap.
Hardware features and performance
Hardware wise, the Toshiba Satellite U845W has everything you'd expect from a modern laptop. The 14.4 inch, 1792×768 pixels TFT LCD is the only odd thing in the package – the picture quality could really use some improvement, though. The rest of the features are in line with the other post-Ivy Bridge Ultrabooks – the U845W uses Intel's Core i5 or i7 processors, can be configured with up to 8 GB of DDR3 RAM (which is hopefully not soldered and upgradeable), has 256 GB of SSD storage space or a 500 GB HDD + 32 GB SSD, a web cam and the standard Wifi, Bluetooth, USB 3.0, Ethernet, HDMI and SD card slot.
Technical specs
| Specifications | Toshiba Satellite U845W |
| --- | --- |
| Display | 14.4 inches, 1792×768 pixels, TFT LCD |
| Processor | Intel Ivy Bridge – Core i5 and i7 models |
| RAM | Configurable with up to 8 GB RAM |
| Graphics Adapter | Intel HD Graphics 4000 – integrated into the CPU |
| Storage Space | 256 GB SSD or 32 GB mSata SSD + 500 GB HDD |
| Camera(s) | Front facing 2 MP for video calls and snapshots |
| Connectivity Options | Wifi N, Bluetooth 3.0, 3xUSB 3.0, Ethernet, HDMI, SD Card slot |
| Battery | Li-Ion, up to 5 hours of work |
| Operating System and Software | Windows 7, Toshiba Assistant and Utilities |
Software features
There's nothing to talk about when it comes to the software – obviously, the laptop will be shipping with Windows 8 and the user can customize it to their liking. Toshiba does include some of their tools and utilities, but they will most likely be considered bloatware by most people (thankfully, this is not Android and they're easily removable).
Price and availability
So, how much will this ultra-wide miracle cost? You'll be able to get the base model for just $999 – not bad for what you're getting, actually. Even though the rest of the specs are not top of the line, the 14.4 inch display might be worth looking at, seeing as you get 768 pixels top-to-bottom on most other Ultrabooks, anyway.