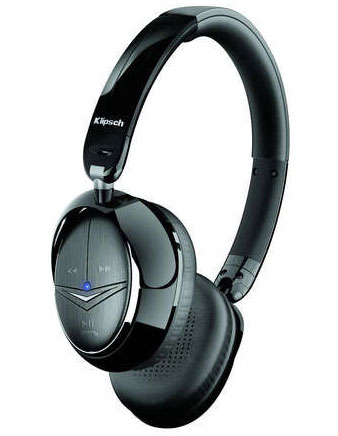 Klipsch finally goes wireless with the new Image One Bluetooth Headset. It was announced along with Image One (2012) which serves as an update to last year's release. The wireless headset features a redesigned body along with a refreshing wireless experience. Beyond that, it only has a slightly improved sound quality.
Design
The Image One Bluetooth Headset has a striking similarity to the updated version of Image One which was announced along with it. That being said, it has a stylish but otherwise sturdy form factor as well as earcups that don't just fold flat. Earcups can now be folded into a headband for increased portability. Furthermore, Klipsch skipped the inward-curving ear pads from last year's model and decided to offer flat ones for improved comfort and better seal and soundproofing. The ear pads are all-leather and have soft padding underneath. A design feature that Klipsch regrettably keeps on Image One Bluetooth is the glossy finish of the headset. Somehow, it makes the pricey headset look cheap.
Tucked in the right earcup are four buttons for forward, rewind, play/pause, and power/pairing. These can easily be accessed using your pointer and middle fingers. Towards the back, you will find the volume rocker which would naturally fall right under your thumb. All controls are evenly planted on the earcup so they don't pop out that much. Even, it only takes a gentle push to get a nice-sounding click. On the same side of the earcup you'll find a microUSB port to charge the headset and prepare it for wireless use.
A detachable cable is also included in the bundle in case you don't mind using it. The cable is useful when the headset runs out of battery or if you merely want to conserve juice. Sadly, the cable doesn't sport a tangle-free design. Nor does it have an inline remote and microphone. Thus, you won't be able to use the headset to make or take calls when the battery dies.
Performance and battery life
The headset easily pairs with Bluetooth-enabled devices. Streaming music via Bluetooth doesn't affect sound quality and so does relying solely on the non-removable battery pack for juice. Compared to the 2011 Image One, it produces a more prominent bass thanks its redesigned 40mm driver which allows more room for that additional booming sound. Sadly, the bass sounds muddled without any EQ. But once you apply enough changes the familiar sound of Image One headsets will start to resonate.
Apart from being non-removable the battery is unfortunately non-replaceable. Although according to Klipsch, the battery on Image One Bluetooth can endure up to 15,000 charging cycles before it deteriorates. It takes about an hour to charge the battery which lasts for around 12 hours. In case you run out of juice on-the-go, you can always grab the included cable for connecting to devices with a 3.5mm audio input.
Verdict
Klipsch Image One Bluetooth headset doesn't offer too many changes but if you want to wirelessly listen to music, it's a viable upgrade from the 2011 Image One. You get to benefit from design changes that make it more comfortable to use as well as improved bass. A $250 asking price is not too much to ask when we consider the convenience this headset offers.