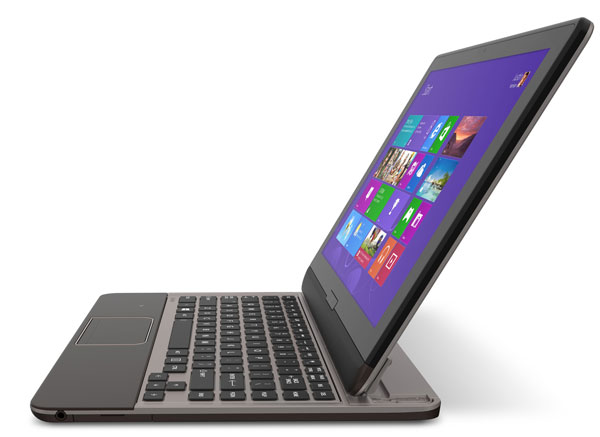 Ultrabooks are quickly replacing laptops in both the mainstream and business markets, with their prices going lower and performance getting higher every single day. The competition is heating up, so companies are already coming up with ideas on how to differentiate themselves from the rest of the crowd and release a product that people will like and buy.
Toshiba was one of the first companies to jump on the Ultrabook bandwagon, with the Z830/Z835 being a relatively popular device that has all the features one might look for in an Ultrabook, a great build quality and stylish design. They're hard at work thinking up new ways to gain more market share, too, and their latest attempt involves combining a tablet with an Ultrabook – the Satellite U925t is an almost perfect hybrid.
Design
If you've seen the Asus EEE Pad Slider, you pretty much know what the Toshiba Satellite U925t is all about. It has a very similar slider design, only the Toshiba is meant to be an Ultrabook, too, so it's got a full-fledged palm rest and touch pad, which are very comfortable. The keyboard is the usual island style one used on most Ultrabooks, and while it's not the peak of comfort, it is backlit and is good enough for all the tasks that you might want to do.
The slider hinge means that the display is closer to your face, so you can easily use the touch screen even with the keyboard open. There's no locking mechanism – the hinge is very stiff and can be fixed in any position, although it doesn't go any further than ~120 degrees – thankfully, the IPS display takes care of any possible viewing angle issues.
Hardware features and performance
The hardware features of the Satellite U925t are on par with pretty much all of the other Ultrabooks that are currently on the market. The Ultra-tablet has a 12.5 inches IPS LCD display with a 1366×768 pixels resolution and near perfect viewing angles, and is powered by Intel's Core i5 ULV processor, so it is indeed closer to a normal laptop than to a tablet, even though it's just as usable in both modes.
There's also 2 GB of 1600 MHz DDR3 RAM and a 128 GB SSD helping keep things smooth and fast, and the Intel HD Graphics 4000 GPU is more than enough for most normal graphics applications. Interestingly, the U925t has two cameras – a 1.3 MP one on the front for HD video calls, and a 3 MP unit on the back that can only be used with the display open, so I don't see the point of it since it's pretty cumbersome to take a picture like that.
You can see the rest of the specs below – suffice to say they're nothing out of the ordinary, besides the various sensors that are usually found only on tablets, but then again, it just shows that this is a true hybrid device.
Technical specifications
| Specifications | Toshiba Satellite U925t |
| --- | --- |
| Display | 12.5 inches, 1366×768 pixels, IPS-LCD |
| Processor | Intel Core i5 ULV mobile CPU |
| RAM | 2048 MB DDR3 1600 MHz |
| Graphics Adapter | Integrated Intel HD Graphics 4000 GPU |
| Storage Space | 128 GB SSD |
| Camera(s) | Front facing 1.3 MP camera with HD video; Rear facing 3 MP camera with HD video |
| Connectivity Options | Wifi N, Bluetooth 4.0, HDMI out, two USB 3.0 ports, GPS, NFC, Intel WiDi |
| Sensors | Accelerometer, gyroscope, light, magnetometer sensors |
| Battery | Li-Ion battery |
| Operating System and Software | Windows 8 Professional |
Software
Obviously, having an x86 processor and a touch screen, the Toshiba Satellite U925t will be running Windows 8 Professional, the full version of the new OS, which is pretty much a perfect match for this device with its dual interface. Users will be able to use Metro apps, as well as the usual desktop software with equal use, and the performance of the new OS is more than enough for any daily tasks.
Price and Availability
The Toshiba Satellite U925t is already available on Amazon and few other online stores, and it's pretty accurate to assume that the new Ultrabook-tablet hybrid will also be released in EU very soon. There's also no word on the EU price (US price is $1,150), but since it's a hybrid, it will likely retail for the same amount, but in Euros, even around €1200 is very likely.