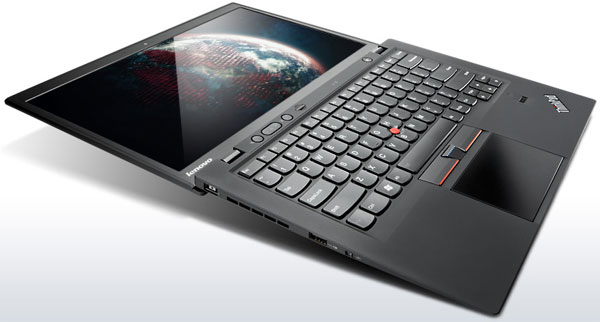 Ultrabooks are quickly replacing regular laptops and becoming the mainstay in computing alongside tablets, however for all the advantages they offer to business users, they've mainly been marketed towards consumers only. Most of the Ultrabooks that are currently on the market are perfectly capable of being used in corporate environments and in the field, but they do have some missing features that business users may need.
Lenovo is one of the few companies that produce great business products – their ThinkPad line, which has been inherited from IBM, is one of the most well-known series of laptops aimed at the business, professional and corporate users. The company has already demonstrated a couple of tablets and Ultrabooks for the consumer market, and now they're finally releasing a product for the enterprise customers, as well – the ThinkPad X1 Carbon may well be the first true business Ultrabook to be released.
Design
The design of the X1 Carbon is unmistakably ThinkPad – if you've ever seen or used one of the products in this line, you'll recognize it right away. Just like pretty much all of the laptops in the series, the X1 Carbon has a matte black rubberized exterior, only this time it's not simple (but durable) plastic – it's a special composite material that is both stronger and lighter than the usual plastic used in other ThinkPads.
The X1 Carbon's keyboard is really one of the better ones on Ultrabooks, and of course, the device has the usual for ThinkPads but very unusual for Ultrabooks three hardware buttons and a TouchStick, which many old-timey professionals will appreciate. The X1 Carbon is very slim and light, despite being chock full of the latest hardware. On the right side of the laptop, you can also see a fingerprint reader – a staple of every enterprise laptop for the past decade.
Hardware features and performance
Speaking of which, the hardware on the new ThinkPad Ultrabook is really great. The laptop uses some of the more powerful Core i5 and i7 processors – a 3317M and 3667M, respectively, which should provide quite enough performance for any apps, except the most resource intensive ones. The Intel HD 4000 Graphics adapter is also up to par when it comes to games and graphical applications – this little integrated chip can even run GTA 4 and Crysis, and that's nothing short of impressive.
The X1 Carbon comes with 4 to 8 GB of 1333 MHz DDR3 RAM, a 128 or 256 GB SSD drive, a front facing 2 Megapixels camera with support for 720p video calls, a big Li-ion battery that should last up to 6 hours of continuous use and the usual collection of ports and connectivity options: USB 3.0, mini DisplayPort, an SD card slot, Wifi N, Bluetooth 3.0 and an integrated HSPA modem.
The display is slightly disappointing for such an expensive machine – you really could almost expect Lenovo to use an IPS display on such a machine, but alas it's just a normal TFT-LCD with pretty standard viewing angles and thankfully, a 1600×900 pixels resolution. It sure gets the job done, but it's not the best you've seen.
Technical specifications
| Specifications | Lenovo ThinkPad X1 Carbon |
| --- | --- |
| Display | 14.1 inches, 1600×900 pixels, TFT-LCD, 131 DPI |
| Processor | Intel Core i5 3317U or Intel Core i7 3667U |
| RAM | 4 GB or 8 GB DDR3 1333 MHz |
| Graphics Adapter | Integrated Intel HD Graphics 4000 |
| Storage Space | 128 GB or 256 GB SSD drive |
| Camera(s) | Front facing 2 MP unit with 720p video recording support |
| Connectivity Options | 2 x USB 3.0, mini DisplayPort, SD card slot, Wifi N, Bluetooth 3.0, HSPA modem with SIM card slot |
| Battery | Li-Ion, up to 6 hours of continuous use |
| Dimensions and weight | 331 x 226 x 18 mm, 1.36 Kg |
| Operating System and Software | Windows 7 |
Software
Software wise, there's not much one can say about the ThinkPad X1 Carbon – the laptop runs Windows 7 out of the box, which is standard issue on any x86 computer nowadays, and Lenovo isn't known for preloading their laptops with various bloatware. It's up to the user to customize their software however they wish.
Price and Availability
The ThinkPad X1 Carbon is coming very soon, and the base model will cost $1399 – I did say it was an expensive machine, right? If you want better specs, you'll have to pay $1499 and up to $1849 depending on the configuration. Not too shabby, but I'm sure there are many professionals and companies that are glad to play the price – this Ultrabook is certainly worth it.