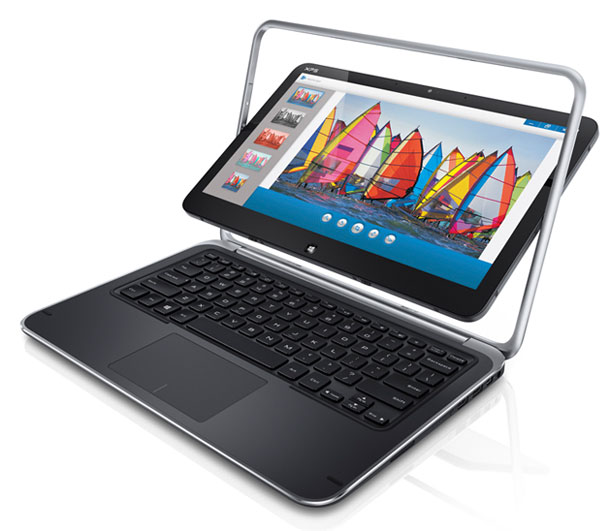 These past several years seem to all have their own theme – three years ago it was powerful smartphones, two years ago it was Android tablets, last year it was powerful tablets and even more powerful smartphones with big displays, and this year it's Ultrabooks and hybrids. There's definitely been a lot of Ultrabooks announced, which is not really a surprise, but the amount of various hybrid devices is pretty impressive, too.
Manufacturers looking for ways to increase their share of the market and new niches have released smartphone/tablet hybrids, tablet/netbook hybrids, netbook/smartphone hybrids and of course, Ultrabook/tablet hybrids, as well. One of the latest additions to the last category is the Dell XPS Duo 12 – a very interesting, if a bit weird, hybrid Ultra-tablet that will definitely catch the attention of people anywhere.
Design
The reason why it will turn heads is the design – this is one of the most unique devices you'll see this year. In its closed Ultrabook position, the Dell XPS Duo 12 doesn't look too different – just your usual Ultrabook, with a nice slim profile and metal finish, but when you open it you can see that the display actually has its own hinges inside the frame (hinge within a hinge – Inception-style) and can rotate 180 degrees. If you close the frame with the display facing outwards, you get of course, a tablet!
It's a pretty intriguing design to say the least, and it doesn't seem to offer anything besides a wow-factor (just like HTC's Z hinge). They could've easily gone with the plain old rotating single hinge design, but I guess this is more reliable somehow. Either way, it looks interesting and it works, so there's nothing to complain about. Overall the XPS Duo 12 feels very solid and well built.
Hardware features and performance
The hardware features of the new Dell are a mix between your normal x86 Ultrabook and a tablet – it's literally two devices in one. The XPS Duo 12 has a 12.5 inch IPS display with a Full HD resolution, which is pretty impressive and is powered by a Core i5 or i7 processor, as well as a Qualcomm Snapdragon S4 for the tablet mode. This configuration fits the profile perfectly, but we don't know how useful it would be in day to day use – it certainly would be better to just use one platform, although the battery life with the ARM processor is significantly longer.
The other specs include 4 GB of DDR3 RAM, a 128 GB or 256 GB SSD, Wifi N, Bluetooth, HDMI, USB 3.0, an SD card slot, all the usual tablet sensors, two cameras and Intel's HD Graphics 4000 and the Adreno 200 series GPUs.
Technical specifications
| Specifications | Dell XPS Duo 12 |
| --- | --- |
| Display | 12.5 inches, 1920×1080 pixels, IPS LCD |
| Processor | Intel Core i5 or i7 dual core ULV CPU for laptop mode; Qualcomm Snapdragon S4 dual core for tablet mode |
| RAM | 4 GB of DDR3 1333 mobile RAM |
| Graphics Adapter | Integrated Intel HD Graphics 4000 GPU |
| Storage Space | 128 or 256 GB SSD |
| Camera(s) | Dual camera setup with HD video support |
| Connectivity Options | Wifi N, Bluetooth 3.0, USB 3.0, HDMI, SD card slot |
| Sensors | Light, accelerometer, gyroscope, magnetometer sensors |
| Battery | Up to 20 hours of continuous use in tablet mode |
| Operating System and Software | Windows 8 Pro (laptop mode), Windows RT (tablet mode) |
Software
Due to the duality of the design (both internal and external), it's highly likely that the Dell XPS Duo 12 will be running both Windows 8 and Windows RT if it's released in its current form. That would mean that users will get pretty much the same thing when it comes to Metro UI and apps, but if need be, they'd also be able to use any x86 apps as well. Pretty comfortable, I'd say, especially if Dell can sync the apps between the ARM and x86 OS modes with ease.
Price and Availability
There's no word on the price of this Ultratablet, or even if it will be released – it looks more like a proof of concept to me. It would be nice to see it on the shelves, however, so I guess we'll have to wait and see.