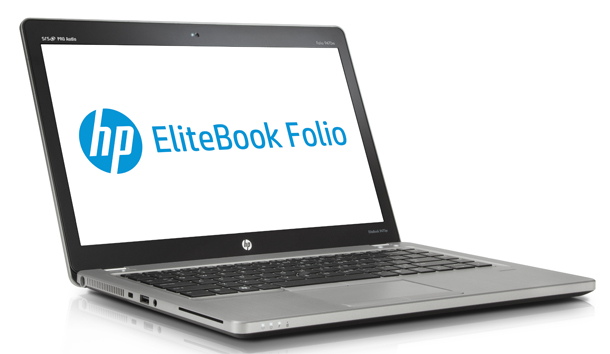 HP is one of the largest players on the consumer and business computers market, and even though they stated they will be slowly phasing out consumer PCs, they're still producing some pretty great AIOPCs and laptops for the business and enterprise sectors.
The Elitebook series has been HP's flagship business line of laptops ever since it was introduced in 2008, and the company still continues to release their top products under the name. Until now, it has been dominated by relatively larger mobile workstations, but this year HP finally decided it's time to release an Elitebook Ultrabook. Thankfully, the resulting Folio 9470m does not disappoint – it's everything you'd expect from an Elitebook and what a business user would want.
Design
Metal is the staple of an Elitebook, and the Folio 9470m proudly continues the tradition: it's got an all-metal housing that can withstand any use and looks good to boot. The lid and top cover are made of aluminum, but they have a different finish: the former is sand-blasted (which gives it a very nice texture), while the latter has the good old brushed metal finish. Both of them feel very nice to the touch, and they look good in any setting – you know right away this is a serious machine. The bottom enclosure is painted black, but make no mistake – it's still metal, a strong magnesium alloy that won't easily break.
The design itself is interesting – it's sort of a retro look with a modern touch. The Elitebook Folio 9470m takes a few cues from the larger Elitebook 8×60 series, but it definitely has its own unique style. The display has a plastic frame around it on the inside, and the aluminum top cover is sunk into a magnesium alloy frame that surrounds the base of the laptop. It's a unique finish that looks and feels very nice. While the 9470m is not the thinnest nor lightest Ultrabook around, at 1.89 mm and 1.63 Kg it fits the definition (you gotta remember that HP's other Folios are also on the thick & heavy side).
The keyboard has the usual island finish, but the keys are slightly rounded to make typing more comfortable. The touch pad is an improvement over previous models – it's a glass covered unit that responds well to gestures and is pretty comfortable to use.
Hardware features and performance
The hardware of the Elitebook Folio 9470m isn't what you'd call top of the line – but I guess I'm expecting a lot because of the Elitebook name. It still has more options than a lot of other Ultrabooks, though being a business device it should pack more.
It runs the standard Ultrabook ULV Ivy Bridge processors with integrated graphic adapters and features the usual selection of ports and wireless adapters. The display is the biggest disappointment – it's just a 14.0 inch TFT LCD unit with a 1366×768 resolution – and there's no IPS or higher resolution option. 768 pixels is pretty archaic, even for office or legacy apps.
The other specs are better: the laptop comes with a selection of Core i processors, from the lowest end i3-3217U, to two i5 units to the highest end ULV CPU, the Core i7-3667U, which actually packs a surprising amount of performance inside (on par with the previous generation i7-920XM). All chips have the Intel HD 4000 GPU, which is good enough for most apps and even older games.
The amount of RAM starts at 4 GB and goes all the way up to 16 GB – you can save a lot of money by upgrading yourself since the 9470m has two normal DDR3 slots. The primary 2.5" bay can hold a 500 GB hard drive or 180 GB SSD, and there's an mSATA slot for another 128 or 256 GB SSD.
Connectivity wise, you get the most important stuff: 2 x USB 2.0 ports, 1 x USB 3.0 port, a DisplayPort and VGA ports, Gigabit Ethernet, an SD card reader, Wifi N, Bluetooth, an optional 3G modem and a unified headphone/microphone jack.
Technical specifications
| Specifications | HP Elitebook Folio 9470m |
| --- | --- |
| Display | 14 inches, 1366×768 pixels, TFT LCD |
| Processor | Intel Core i3-3217U, i5-3317U, i5-3247U or i7-3667U dual core ULV CPU |
| RAM | 4 to 16 GB of DDR3 RAM |
| Graphics Adapter | Intel HD 4000 integrated graphics |
| Storage Space | 500 GB 7200 RPM hard drive or 180 GB SSD primary; up to 256 GB SSD secondary mSATA |
| Camera(s) | Front facing 2 MP camera with 720p HD video support |
| Connectivity Options | 3 x USB ports, DisplayPort, VGA, Gigabit Ethernet, 3.5mm audio jack, SD card reader, Wifi N, Bluetooth 3.0, 3G modem |
| Battery | Standard 4-cell battery: up to 8 hours of use; Extended 6-cell battery: up to 19 hours of use |
| Dimensions and weight | 33.8 x 23.1 x 1.89 cm, 1.63 Kg |
| Operating System and Software | Windows 7, Windows 8, FreeDOS |
Software
Unlike HP's consumer laptops and Ultrabooks, their business series traditionally come with more options and less garbage installed. The Elitebook Folio 9470m is no exception – you can choose between Windows 8, Windows 7 and FreeDOS (i.e. no OS). The latter two options are great for people and companies who want a tried and tested OS or want to install an open source and free OS like Ubuntu. If you choose a Windows installation, you'll be happy to know there will be no bloatware to speak of – a nice detail that is often overlooked.
Price and Availability
The Elitebook Folio 9470m has just been released but it's already available in major stores and online. The price starts at $1049 and goes to $1448, plus there's a Select Edition series that packs the dual SSD configuration and i7 CPU (naturally, it costs even more). That's a pretty high price for what you're getting, but if you need a great business laptop that is compact, light, fast, has a long battery and looks good in any setting, the Elitebook Folio 9470m might just be what you're looking for.