With Ultrabooks firmly establishing themselves on the mobile market, it was about time we started seeing models that are more affordable than the usual high end over-priced stuff that is released first. Samsung was one of the first companies to release an Ultrabook, and they've pretty much pioneered everything in the niche, from ultra slim and light aluminum bodies to high density displays and the fastest internal hardware.
Their Series 5 Ultrabook was the star of last year's electronics shows and one of the most well sold devices of 2012, and this year it's back with new internal hardware, a touch digitizer, Windows 8 and a new price point – as a mid-range Ultrabook that anyone can afford to buy. Let's take a more in-depth look at what has changed and whether the Series 5 UltraTouch is indeed worthy of purchase.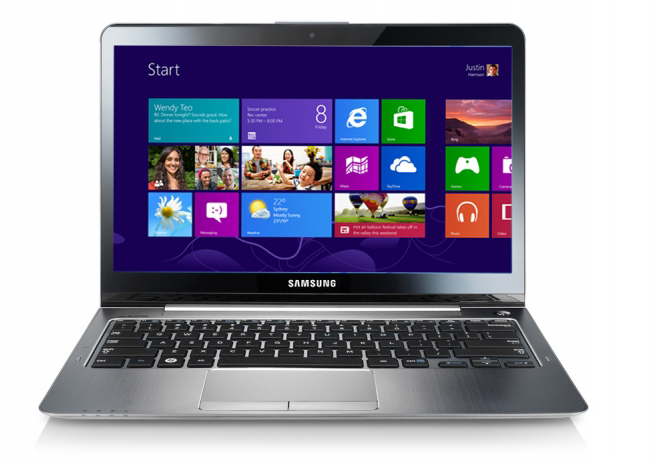 Design
The design of the Series 5 UltraTouch is pretty much the same as last year's Series 5 – it's got the same ultra slim construction and excellent sturdiness, most of the body is made out of aluminum with only the bottom being plastic. The bezel around the screen is very thin, making the whole laptop slightly smaller than most of the 13.3" competition. Despite the added digitizer, the device hasn't increased in thickness (which actually makes sense, since the digitizer just replaced the simple glass), and all the other design cues remain the same: the keyboard and touchpad are especially important, and they're just as good as they were last year, which is great.
The port selection is well partitioned around the housing, although the collapsible Ethernet port and nearly missing fan vent (which is almost beneath the screen hinge) don't inspire confidence. However, being an Ultrabook, I doubt the latter will be a problem. Overall, looking at it from the outside, you wouldn't guess that the Series 5 UltraTouch is a mainstream budget device.
Hardware features and performance
The hardware used in the Series 5 UltraTouch is nothing out of the ordinary, but that's to be expected on a mainstream machine. The display is a normal TFT LCD unit with a 1366×768 resolution – enough for everyday work and Web browsing, but if you want to do any serious editing or heavy spreadsheet work it may get cumbersome.
The processing power should be enough for all but the most resource intensive tasks – unlike last year's Series 5 that was running on the Sandy Bridge platform, the new UltraTouch has been updated with Ivy Bridge chips, which are both faster and more energy effective than their predecessors.
The Series 5 UltraTouch only comes with a Core i3-3227u or Core i5-3317u chip, each featuring a dual core processor and the new Intel HD Graphics 4000 GPU, which is powerful enough to run any apps, decode BluRay disks on the fly and even play games – GTA IV, a relatively old but still demanding game plays well at medium-low settings (pretty amazing considering there's no dedicated video RAM).
Storage wise, you get a 500 GB, 5400 RPM hard drive that is pretty slow, but which is accelerated by a 24 GB Intel ExpressCache that's located on the motherboard itself. You can of course replace it with an SSD of your choice, although taking the laptop apart is a bit tricky – the bottom panel comes off, but you gotta be careful.
Other specs are in line with all the other offers on the market – the Series 5 UltraTouch has a 1.3 MP camera on the front, Wifi N and Bluetooth, an SD card slot, 2x USB 2.0 ports and 1x USB 3.0 port, HDMI out and mini VGA out (the adapter is sold separately though), Gigabit Ethernet and Intel's WiDi, which works surprisingly well and is pretty useful in a home or office setting. The internal battery is a 52 WHr unit that should last around 5-6 hours, but that will heavily depend on how much you're taxing the processor and graphics system.
Technical specifications
| Specifications | Samsung Series 5 UltraTouch |
| --- | --- |
| Display | 13.3 inches, 1366×768 pixels, TFT LCD, 300 nits brightness |
| Processor | Core i3-3227u or Core i5-3317u, dual core with Hyper Threading |
| RAM | 4 GB DDR3 1600 MHz |
| Graphics Adapter | Intel HD Graphics 4000 |
| Storage Space | 500 GB, 5400 RPM HDD + 24 GB ExpressCache |
| Camera(s) | 1.3 MP camera with support for 720p HD video recording |
| Connectivity Options | Wifi N, Bluetooth 4.0, WiDi, Gigabit Ethernet, mini VGA port, HDMI out, 1x USB 3.0 port, 2x USB 2.0 ports, SDXC card slot |
| Battery | Li-Po, 52 WHr |
| Dimensions and weight | 315 x 218.5 x 16.8-19.8 mm, 1.74 kg |
| Operating System and Software | Windows 8 |
Software
The Series 5 UltraTouch comes with Windows 8 out of the box (otherwise what would be the point of it?), and unlike all the new Atom based tablets, the performance here is pretty stellar – HDD aside, everything is fast and smooth. You can use the Metro UI and apps right away or switch to the desktop mode and install your favorite or necessary software – it's your choice.
Price and Availability
Samsung is selling the new Series 5 UltraTouch for $800 or $850, depending on the processor of choice. Both models have identical specs otherwise – 4GB of RAM, the HDD + ExpressCache combo, the same display and everything. Not too bad, but with the competition heating up, the price might have to go lower fast (which is actually a win for the potential buyers).