The Facebook Phone has almost become a myth nowadays, with Facebook promising that they're working on it, yet no one seeing any results. Sure, there is the HTC ChaCha with its dedicated Facebook button, but that's not an official Facebook phone and it really doesn't do all that much besides opening the Facebook app and posting automatically – which can be done with any phone with a screen widget.
But now, Facebook have dialed down their ambition to enter the hardware market with actual hardware and they're going another route first – a software platform for smartphones. Dubbed Facebook Home, this "family of apps" brings your phone and you closer to Facebook, and the first device to officially come with it pre-installed is the aptly named HTC First. Let's see what Facebook Home has to offer and whether the HTC First is a good device to demonstrate the new software.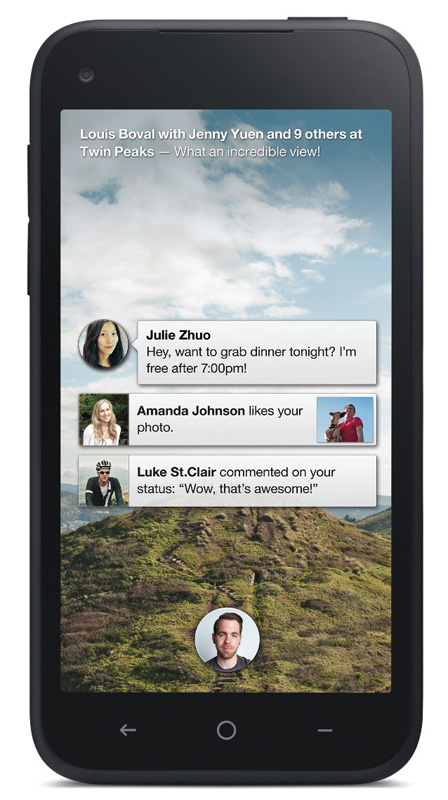 Design
The HTC First is a pretty inconspicuous looking device – it doesn't have any defining features on the outside, just a slab with a screen on the front and a unibody soft plastic housing all around. Some would say it's pretty bland, but I think it looks really nice – kind of like the iPhone 4S, only cheaper.
It's not cheap in a bad way, though – that word applies only to the price. The build quality is great thanks to the unibody construction, and the soft plastic makes it feel good in your hands, while also protecting it from scratches and even drops. On the front, there's a tempered glass (HTC doesn't mention whether it's Corning's Gorilla Glass or not) covering the display and the three capacitive buttons.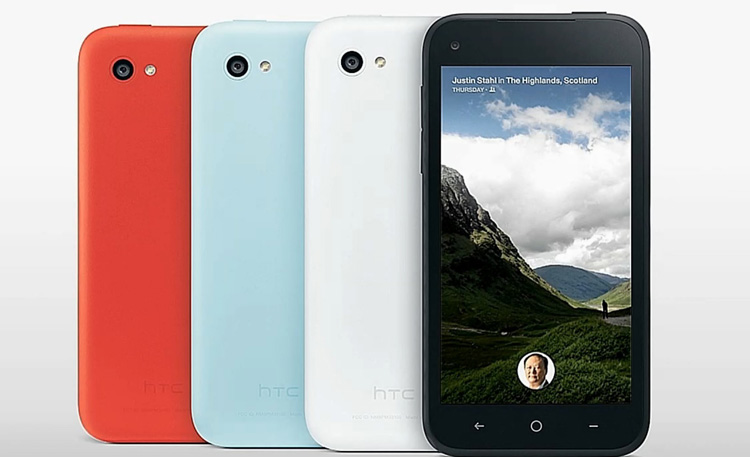 The buttons, by the way, have a unique marking that's unlike anything else around – an arrow, circle and a dash, which look very simple and nice. Interestingly, there is no special Facebook button or anything like it – it's all in the software this time.
Hardware features and performance
Hardware-wise, the HTC First isn't all that impressive compared to all the other newly announced smartphones, but it does hold its own, especially considering the price. HTC hasn't skimped over the most important thing, the display – the First's 4.3 inch, 1280×720 pixel Super LCD unit is excellent, with accurate color reproduction, great contrast and outdoors visibility. The viewing angles are a bit worse than the company's HTC One flagships, but that's to be expected and the difference is hardly worth worrying about.
The processing power is provided by a Qualcomm Snapdragon 400 – this is the budget version of the Snapdragon 600, and even though it has two cores and the Adreno 305 GPU, it still manages to be fast and smooth in any apps and games. There is 1 GB of onboard memory in the HTC First, which is enough for most tasks and it's still pretty much future-proof.
The 16 GB of onboard storage space (not all of which is available to the user) may not be enough for long, though – it's the same situation with most other budget and midrange models. Plus, the phone has 4G LTE support, so you can get a data plan and a cloud storage service if you need it. The communication features are concluded by the usual Wifi N, Bluetooth 4.0, GPS/GLONASS radio and a micro USB port which does not support HDMI out (but that's to be expected).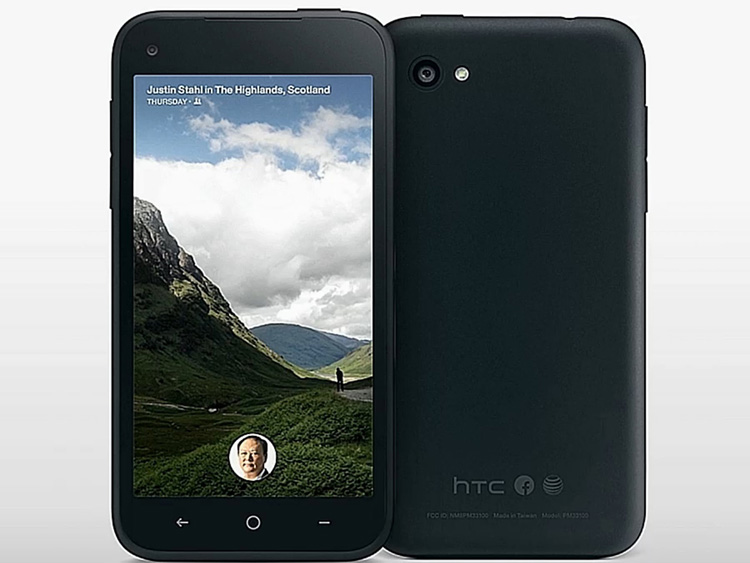 There are two cameras on the phone, a 5.0 Megapixels unit on the back that is accompanied by an LED flash and a decent 1.6 Megapixels unit on the front. The battery is obviously non-removable, but it's a 2000 mAh unit that's supposed to last up to 14 hours of use – judging by HTC's previous devices, I'd say 10-11 hours is a real possibility, which is pretty good.
Technical specifications
| Specifications | HTC First |
| --- | --- |
| Display | 4.3 inches, 1280×720 pixels, Super LCD 2, 342 PPI pixel density |
| Processor | Qualcomm Snapdragon 400 (MSM8930), 1.4 GHz, dual core |
| RAM | 1024 MB |
| Graphics adapter | Adreno 305 |
| Storage Space | 16GB onboard storage space |
| Camera(s) | Back – 5.0 Megapixels with support for 108p video recording; Front – 1.6 Megapixels |
| Connectivity Options | Wifi N, Bluetooth 4.0, micro USB, GPS/GLONASS, HSPA+ 21/5.76 Mbps |
| Sensors | Accelerometer, proximity, light, magnetometer, gyroscope sensors |
| Battery | Li-Po, 2000 mAh, up to 14 hours of continuous use |
| Dimensions and weight | 126 x 65 x 8.9 mm, 124 grams |
| Operating System and Software | Android 4.1 Jelly Bean |
Software
The software is what sets the HTC First apart from the competition – Facebook Home is running out of the box, and it really changes everything. The interesting thing about it is that unlike HTC's Sense or other custom skins, it can be disabled – leaving you with a vanilla installation of Android 4.1 Jelly Bean, which makes the First the best budget LTE alternative to the Nexus 4 on AT&T.
But let's talk Facebook Home. At its core, Facebook Home is just a launcher, and indeed you can download it from Google Play for any phone. But the HTC First (and any other device that comes with Facebook Home pre-installed) has a deeper integration with the software.
The standard Facebook Home features include a lock screen that displays the latest updates and photos from Facebook profiles, a home screen that is tightly integrated into Facebook, a few unique Facebook widgets and the newest Facebook app.
On the HTC First, you also get better Contact, Profiles, Calendar and Camera integration, as well as better Facebook notifications in the notification bar – whether that's worth getting the phone is up to you.
Price and Availability
The HTC First is an AT&T exclusive in the US, going for $0.99 with a two year contract, which makes it an attractive choice for practically anyone who wants an affordable yet relatively powerful and sturdy handset with 4G LTE – seeing as even grandmothers nowadays use Facebook, I have no doubt there is a large user base for the device.
And since Facebook Home is easily removable, the phone should also catch the attention of people who want the vanilla Android experience while being able to use LTE on AT&T, something that the Nexus 4 (the only handset that is unencumbered by custom skinning and apps) can't do.
Interestingly, the UK launch of the HTC One has been delayed because of bad Facebook Home reviews – while the new launcher does indeed take time to adjust to, it's no reason to delay a launch, unless HTC may want to ship the phone with an updated version of Facebook Home.
Overall, the HTC First is a good demo for Facebook Home – and fortunately if you decide you don't like the (invasive) software, you can turn it off anytime, leaving you with a nice, affordable Android handset.