HTC was once king of the smartphone world, with most of the last decade's Windows Mobile devices being made by the company. They also had a lot of innovation going on back in the day, with the HTC Shift and HTC Advantage being among the first prototypes of consumer tablets and mobile devices with integrated keyboards. They've entered the Android era successfully, as well (the G1 and MyTouch 3G were theirs, too), but they've slowly fallen off the top of the hill, with the more eager and more technically able Samsung taking their place.
With last year's One (X, S and V lineup of smartphones, HTC has shown that they're once again aiming for the top, and this year they're leading the charge. Their new flagship, the HTC One, has everything it needs to conquer the hearts of users and regain the market share they lost. Let's take a closer look at the device and see what makes it tick.
Design
The HTC One has a great design – one of the best on the market, right along with the Droid DNA, which is also made by HTC. What can I say? The company really hit it this time – the One takes the best from its predecessors AND competing devices and puts it all together with just enough uniqueness thrown into the mix to make one hell of a handset.

Looking at it from the front, the HTC One really reminded me of the iPhone 5 (or more precisely, of its rear) – the reason why is that they both have the same long rectangular shape and two strips of metal on the top and bottom, separated by a sheet of glass. I apologize if you can't unsee it now :-).
But the HTC One is no iPhone clone – the similarity ends at the front. The rest of the device is as unique as it can be in a slate smartphone. The whole device is made of polycarbonate and aluminum, and not in the usual order (aluminum for the frame and plastic on the outside), but with polycarbonate taking the lead role and aluminum functioning only as an accent and protection item. It looks really nice, it makes the device light (it's just 143 grams – and at this size, you won't even think about the weight), and given that the polycarbonate only HTC One X seems to be doing very well sturdiness-wise, I don't see the One breaking apart anytime soon (even if you drop it from several feet… several times).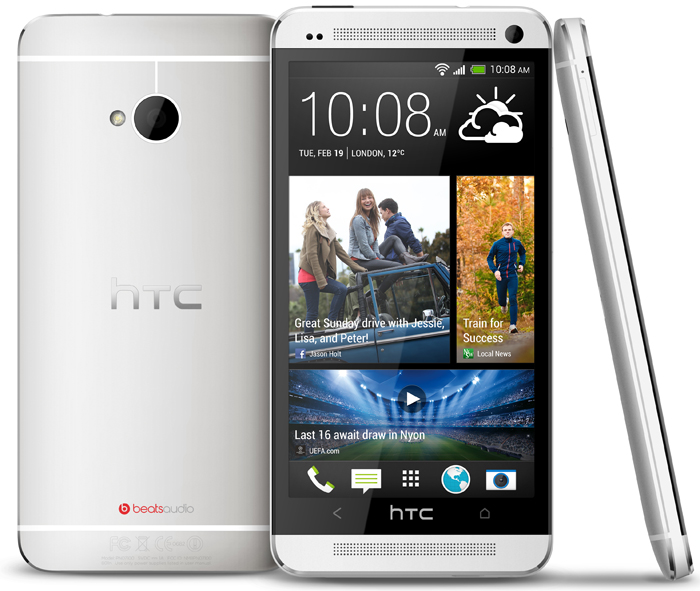 HTC made the phone as compact as they could and even though it's got a 4.7 inch display (with an amazing resolution and pixel density) it sits very well in your hand. That is in part thanks to the edges, which are thinner than the center and make it possible to have a great grip on the device even if you have small hands. For comparison's sake, the HTC One is barely 1mm longer than the Galaxy S3 and 2.4mm narrower.
Hardware features and performance
The awesome design isn't the only thing setting the HTC One apart from the competition – the internal hardware is just as good. The phone's 4.7 inch, 1920×1080 Super LCD3 display packs the most pixels per square inch at the moment (468 PPI – 142 more than the iPhone 5!). Needless to say, the picture looks very good – everything is as crisp as you can imagine, images for example are almost as good as an actual painted portrait. The Super LCD3 panel does a great job at accurately displaying colors, although you might not like it if you like the vividness of Super AMOLEDs. Despite it not being IPS, the viewing angles are near perfect, and the contrast and brightness are excellent, as well (at the same level as the iPhone and LG's newest phones).

For processing power, HTC has once again partnered with Qualcomm and is using their latest Snapdragon 600 platform inside the HTC One. The chip has 4 processor cores running at 1.7 GHz, the Adreno 320 GPU and 2048 MB of DDR3 RAM in dual channel mode. The processor and GPU have been slightly improved – they will outperform the S4 Pro running at the same clocks, while still consuming the same amount of power.
One of the most interesting and talked about things is the HTC One's main camera – it uses a whole new sensor type that is sure to confuse a lot of people, but which does provide a better picture quality. The sensor in question uses larger pixels as opposed to more of them to gain quality in any environments, provide better shooting performance, as well as reduce power usage. The problem is that on paper, it only has 4 Megapixels! That's certainly not something users want to see or brag about, so the company will have to go through some trouble reeducating everyone about the importance of Megapixels.
The image quality of the HTC One is outstanding, especially in low light conditions, plus it can shoot continuous (and high quality!) bursts at 8 FPS – video quality is higher than the next best camera with normal pixels as well. The Megapixel count is indeed an ineffective method of measuring quality – at some point (around 6-8 Megapixels), there's really no visible increase in quality if you go higher. As solid proof, you can check out the Maxback custom CMOS camera, which technically has only 1.6 Megapixels (which are extremely large!), but takes some of the world's best photos. Or you can check out the Sinar large format cameras, which have no Megapixels, but are used exclusively for the highest photo quality possible.
Regardless, you can and should check out what the 4 Ultrapixels camera on the HTC One is capable of (in conjunction with their ImageSense technology) – it's really good, one of the best camera on a smartphone right along with the large 41 Megapixels camera on the Nokia PureView 808.
The other specs are not as impressive, but worth mentioning nonetheless. The HTC One has 32 GB of storage space – it's only drawback, since there is no micro SD card slot so you're limited to around 26 GB of useable onboard space. Otherwise, you get everything you can expect from a modern smartphone – Wifi N, Bluetooth with aptX, GPS, NFC, Wifi Direct, 4G LTE and everything else besides wireless charging capability. The onboard battery is 2300 mAh – small by current standards, but according to HTC, enough to last up to 12 hours of use, so it will get you through a day's worth of work.
Technical specifications
| Specifications | HTC One |
| --- | --- |
| Display | 4.7 inches, 1920×1080 pixels, Super LCD 3, 468 PPI pixel density |
| Processor | Qualcomm Snapdragon 600 (APQ8064T), 1.7 GHz, quad core |
| RAM | 2048 MB |
| Graphics Adapter | Adreno 320 |
| Storage Space | 32 GB onboard storage space (26 GB user accessible) |
| Camera(s) | Back – 4 Megapixels (Ultrapixels) with LED flash and support for 1080p video recording; Front – 2.1 Megapixels with support for 1080p video recording |
| Connectivity Options | Wifi N, Bluetooth 4.0 with aptX, GPS, GLONASS, micro USB and HDMI out, NFC, HSPA+, 4G LTE, Wifi Direct, DLNA |
| Sensors | Light, proximity, magnetometer, barometer, gyroscope and accelerometer sensors |
| Battery | 2300 mAh, up to 12 hours of continuous use |
| Dimensions and weight | 137.4 x 68.2 x 9.3 mm, 143 grams |
| Operating System and Software | Android 4.1.2, HTC Sense 5.0 UI |
Software
The HTC One comes with Android 4.1.2 installed, which is a bit weird, but we can let it slide since an update to 4.2 will be available soon and the company is also using the latest Sense UI 5.0 on the device (it's harder to keep them both updated and working well). Android 4.1.2 is great, we've talked about it many times and everyone agrees that it's pretty much the best OS on the market considering the customization options, stability, inbuilt capabilities and amount of third party apps.
HTC Sense UI 5.0 is also pretty good – an improvement over its predecessor and it's a good addition to Android instead of being a downside like so many other UIs. It's got a redesigned look, better apps (like the advanced Camera app), new features like Zoe, which is sort of like Animoto on your phone (though you can't upload it to Youtube).
Price and Availability
The HTC One was supposed to launch at the beginning of March, but has been delayed to 29th in the UK, with its US release date still unknown. In the UK, the device will cost $700 unlocked and without a contract, which is a bit expensive for this class of phones (the iPhone 5 costs less, and so does the new and larger LG Optimus G Pro, as well as other good devices). If HTC lowers the price at least a bit, it will improve the situation dramatically. However, if you'll be getting it with a contract, the phone is one of the best high end phones to buy – it looks great, it has some serious hardware inside and it's pretty much future proof.