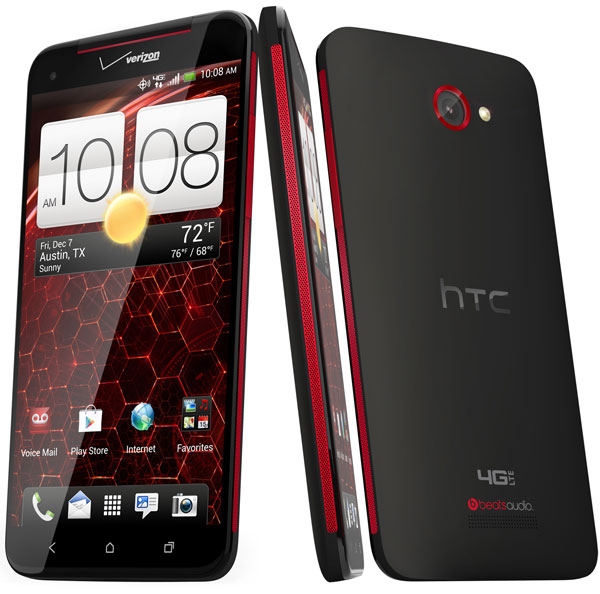 There have been quite a few smartphones announced in time for the Holiday season last month, and most of them look pretty impressive both on the outside and inside. But just as everyone thought the Nexus 4 (an amazing phone, just as expected) would be the center of attention, HTC came out with their new flagship, the Droid DNA, and swept everyone off their feet.
The device is one of the most impressive phones to date, and definitely the best HTC phone this year, both in terms of design and hardware specs – it's worthy of attention even if you don't want the latest and greatest in your smartphone.
Design
The Droid DNA is an inexplicably beautiful device – it seems to be just another slab phone with a touch screen, but there's something about it that makes you want to keep your eyes on it and hold it in your hand. The sleek lines combined with the pretty large size give it a very classy look.
Unlike the One series, the Droid DNA comes in one color combination: black with red accents, which is actually great since you won't have to sit there for hours pondering which model to choose. The phone has an aluminum frame with Gorilla glass on the front and a plastic cover on the back, and it's more than sturdy enough for everyday use – it's very much like the Sensation in that regard. In fact, the Droid DNA is a perfected version of the Sensation – sleeker lines, bigger display, better hardware inside an unmistakable HTC design.
Hardware features and performance
Obviously, a flagship smartphone must have flagship-worthy characteristics, and the Droid DNA does not disappoint: everything on the inside of the phone is top of the line and it's probably going to be several months until the competition catches up in every regard. The phone uses the same Qualcomm Snapdragon S4 Pro platform as the Nexus 4, with the APQ8064 chip featuring a quad core processor running at 1.5 Ghz, the Adreno 320 GPU and a full 2 GB of RAM. This puts the Droid DNA at the top of the rankings when it comes to raw performance.
The Droid DNA however, packs a unique feature that puts it ahead of the competition (even the Nexus 4 and iPhone 5), at least for now: a 5 inch display with an impressive 1920×1080 pixels resolution using HTC's new Super LCD 3 technology, which is just as good as the best IPS screens on the market. In case you're wondering – the pixel density on the Droid DNA is a staggering 441 DPI – quite a lot higher than the iPhone 5 and any other phone with a "HD" display. This is a honest-to-life true HD display and it looks simply amazing.
The other hardware specs are also on a high level: the phone has a 2.1 MP camera on the front and an 8 MP unit on the back with HTC's own ImageSense technology, which is significantly better than the competition – the camera's quality and response time are just as good as your average point and shoot camera. Too bad you only get 16 GB of internal space for storing all that goodness.
The Droid DNA also packs the usual Wifi, Bluetooth, GPS, NFC, HDMI out, DLNA, LTE and HSPA+ radios (yes, it's a global phone), a slew of sensors including a gyroscope, magnetometer, accelerometer and barometer, as well as a 2020 mAh battery that should be enough for up to 13 hours of continuous use – I am a bit skeptical of that claim, however, seeing as other phones with such a large display can barely last 10 hours with a similarly sized battery.
Technical specifications
| Specifications | HTC Droid DNA |
| --- | --- |
| Display | 5.0 inches, 1920×1080 pixels, Super LCD 3, 441 DPI |
| Processor | Qualcomm Snapdragon APQ8064, 1.5 GHz, quad core |
| RAM | 2048 MB |
| Graphics Adapter | Adreno 320 |
| Storage Space | 16 GB of onboard storage space |
| Camera(s) | Front: 2.1 MP with 720p HD video recording; Back: 8 MP with 1080p HD video recording |
| Connectivity Options | Wifi N, Bluetooth 4.0, GPS, DLNA, NFC, HDMI out via MHL, 4G LTE and HSPA+ |
| Sensors | Proximity, accelerometer, gyroscope, magnetometer, light, barometer |
| Battery | Li-Ion, 2020 mAh, up to 13 hours of continuous use |
| Dimensions and weight | 141 x 70.5 x 9.73 mm, 138 grams |
| Operating System and Software | Android 4.1.1 Jelly Bean with Sense 4+ UI |
Software
HTC is shipping the Droid DNA with Android 4.1.1 Jelly Bean pre-installed, which shouldn't surprise anyone by now – 4.2 is already upon us, so it's only natural to have the latest official release on your phones. As per usual, HTC has customized the interface to their liking, though the Sense UI has traditionally been one of the best on the market, and it still is – it's a great interface to work and play with.
Price and Availability
The Droid DNA is already out, and you can get it for $200 on a contract only at Verizon – it will run you around $800 unlocked and without a contract, so if you want to import it overseas, you can do that too (it's a very unique phone for now). Verizon will no doubt be having a special offer, so watch out for the announcements. As of this moment, the Droid DNA is one of the top smartphones on the market with no major faults – it's got a tremendous amount of processing power, a sleek and practical design (no cracking glass on the back!) and the latest Android you can get – a perfect combo.