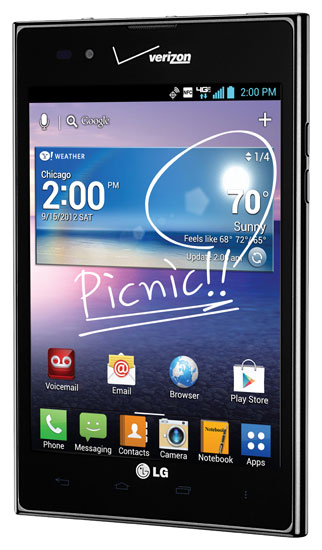 LG made quite a successful intro into the smartphone world with the G2X for T-Mobile, and their subsequent Optimus smartphones were pretty good overall, as well. But even though they have good products, it's very hard to compete in today's smartphone market – there are plenty of devices, some of which are much better than the remaining 80%, and to top it all off, the iPhone is still the most well selling phone even though it's been the same exact thing with minor improvements for the past three years.
So LG is looking for ways to expand their smartphone line and market share. One of the ways they're doing it is by coming up with some pretty unique and interesting designs, and one of their latest smartphones to be released is certainly among the most interesting models – the LG Intuition is a 4:3 aspect smartphone/tablet hybrid that is coming to Verizon and will compete directly with the Galaxy Note.
Design
We've actually already seen the Intuition before under the name Optimus Vu – it's a Korean only model that has been pretty successful over there. Obviously LG hopes that it will fare just as well on this side of the ocean. The LG Intuition has a pretty nice design, with a Gorilla glass covered front, metal frame on the sides, rounded edges and pretty steep corners and a textured back cover that feels nice in the hand.
While the device is very slim at 8.5 mm, it has a very unique 4:3 display format, which makes it very wide (it's a whole 90.4 mm!) and pretty uncomfortable to hold with one hand. This is the main reason you should think of the Intuition as a small tablet instead of a smartphone and use it accordingly. It's not that much different from the Galaxy Note, actually, which trades 7 mm in width for 7 mm in length.
Hardware features and performance
The main reason why LG chose such a unique display format is to make the phone easy to use as a notepad, and they've definitely succeeded at that. Having a screen that's both long and wide when you're limited by 5 inches on the diagonal is more comfortable for writing and drawing, and the 1024×768 IPS LCD screen certainly delivers – taking notes using the keyboard or the accompanying stylus is very easy.
The performance of the LG Intuition is on par with the Galaxy Note thanks to the dual core Qualcomm Snapdragon S4 SoC, which has the two processor cores running at 1.5 GHz, accompanied by 1 GB of RAM running in dual channel mode and the Adreno 220 GPU, which has proven to be very competent when it comes to 3D and video acceleration.
The other specs are relatively normal for a modern smartphone: you've got your usual dual camera setup, 32 GB of onboard storage space, Wifi, Bluetooth, GPS, HDMI and other useful features that you can see in the table below:
Technical specifications
| Specifications | LG Intuition |
| --- | --- |
| Display | 5.0 inches, 1024×768 pixels, IPS LCD, 256 DPI |
| Processor | Qualcomm MSM8660 Snapdragon, 1.5 GHz, dual core |
| RAM | 1024 MB |
| Graphics Adapter | Adreno 220 |
| Storage Space | 32 GB of onboard memory |
| Camera(s) | Front – 1.3 MP camera; Back – 8 MP camera with Full HD video support |
| Connectivity Options | Wifi N, Bluetooth 3.0 EDR, NFC, GPS, micro USB, HDMI out, DLNA, HSPA+ 14.4/5.76 Mbps, 4G LTE |
| Sensors | Gyroscope, accelerometer, light, proximity, magnetometer, sensors |
| Battery | Li-Ion, 2080 mAh, up to 9 hours of continuous use |
| Dimensions and weight | 139.6 x 90.4 x 8.5 mm, 168 grams |
| Operating System and Software | Android 4.0 Ice Cream Sandwich (with OTA 4.1 update), LG interface customizations |
Software
The LG Intuition will be shipping with Android 4.0 Ice Cream Sandwich out of the box, but an update to 4.1 Jelly Bean will be available soon after launch, which is a good thing since Android 4.1 has a lot of improvements, especially for everyday use. LG did customize the interface, but the customizations are pretty useful and not annoying – given a bit of time, you can certainly get used to the slightly different Android UI.
Price and Availability
The LG Intuition is coming this fall to Verizon, and the price will be $200 with a contract, which is on par with the Galaxy Note and other high end smartphones. If you need a device for note taking and high speed Internet usage and have a large enough sleeve or pockets, the LG Intuition is certainly worth a look.