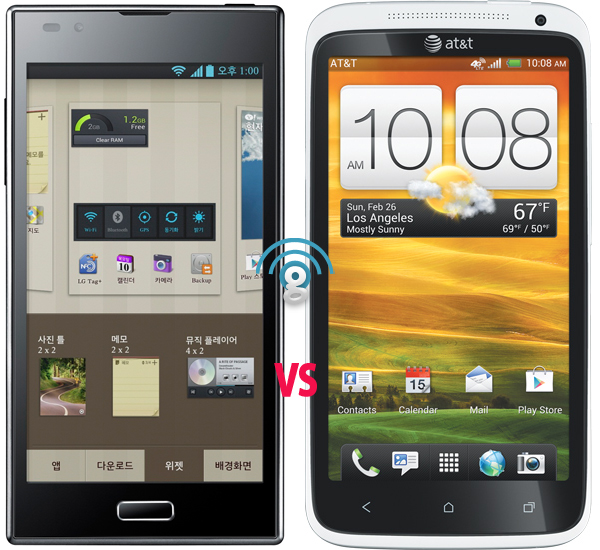 HTC has long been the high end manufacturer of choice for many people, until they were suddenly overtaken by LG with the T-Mobile G2X – the first Google experience smartphone not made by HTC. LG really did everything right – they had a great design, great internal hardware (it was the first dual core smartphone, as well) and an unlocked boot loader, too.
This year, HTC is back in the lead with the One series, and more specifically for the high end niche, the One X smartphone, but LG isn't about to let go of a market that they've successfully got into – their new flagship offer is quite enticing, as well – the Optimus LTE2 has everything it needs to become another success, so let's compare the two and see which one's good for what.
Design
The HTC One X and LG Optimus LTE2 have a different approach to the design. While both smartphones are made mostly out of plastic, the One X definitely feels cheaper, having only a plastic shell all around. The LG Optimus LTE2, on the other hand, has a metal frame and a very nice textured soft rubber on the back, which is also more practical and doesn't scratch. The One X has a nice rounded finish, kind of like the HTC Sensation, only a bit better, while the Optimus LTE2 has a more rectangular look, but both phones have their own charm – it depends on what style you prefer, in the end.
Technical specs comparison
| | LG Optimus LTE II | HTC One X |
| --- | --- | --- |
| Display | IPS LCD, 4.7 inches, 1280×720 pixels, 312 DPI | S-LCD2 (IPS), 4.7 inches, 1280×720 pixels, 312 DPI |
| Processor | Qualcomm Snapdragon S4, dual core, 1.5 GHz | NVidia Tegra 3 quad core, 1.5 GHz |
| RAM | 2048 MB | 1024 MB |
| Graphics Adapter | Adreno 225 | GeForce ULV – 12 core (different architecture) |
| Storage Space | 16 GB built-in, micro SD card slot for up to 32 GB cards | 32 GB built-in |
| Camera(s) | Back – 8 MP with 1080p video recording; Front – 1.3 MP | Back – 8 MP with 1080p video recording; Front – 1.3 MP |
| Connectivity Options | HSPA, Wifi N, 4G LTE, Bluetooth 4.0, HDMI, USB, GPS, DLNA | HSPA+, Wifi N, Bluetooth 4.0, LTE (select models), NFC, USB, HDMI, GPS |
| Sensors | Accelerometer, gyroscope, proximity, light, magnetometer | Accelerometer, gyroscope, proximity, light, magnetometer |
| Battery | 2150 mAh – up to 10 hours of continuous work on 3G | Li-Ion, 1800 mAh, up to 8 hours of continuous use on 3G |
| Dimensions and weight | 134.7 x 69.5 x 8.9 mm, 145 grams | 134.4 x 69.9 x 8.9 mm, 130 grams |
| Operating System and Software | AAndroid 4.0, Optimus UI 3.0, Quick Memo, Camera voice control | Android 4.0, HTC Sense 4.0, Beats audio enhancements, Movie Editor |
Hardware features and performance
The hardware features of both smartphones are quite similar – you know the drill, the standard Bluetooth, Wifi, GPS and HDMI are all present and accounted for. The Optimus LTE2 obviously is a 4G LTE handset, while the One X comes in two versions: with an LTE radio for the US market and non-LTE for Europe (which is kind of bad, since European LTE is much faster, even though the coverage is just as bad as in the US).
The performance of both handsets should be very similar – despite it being a dual core, the Qualcomm Snapdragon S4 has proven to be just as fast as the Tegra 3, which is impressive to say the least. The Optimus LTE2 has 2 GB of RAM, but a whole gigabyte is swallowed by the customizations – HTC's Sense does take some space, but not THAT much. It may be that LG will work out the issue, though.
Software features
Both phones use Android 4.0 as a base, which already offers an impressive array of features, and each phone also has their own interface customizations – the LG has Optimus UI 3.0 with several unique features, while the One X uses the new HTC Sense 4.0, and has Beats audio enhancements built in. Either way you go, you won't see that much of a difference – it's nothing that can't be fixed with a few apps on either phone.
Conclusion
The HTC One X and LG Optimus LTE2 are similarly priced, although the Optimus LTE 2 has yet to arrive in Europe or the US. The One X launched in the UK, and will be available in the US soon after. If LG manages to get to the western market in time, they can definitely have a piece of the pie – many people would choose their style over the HTC any time of the day.