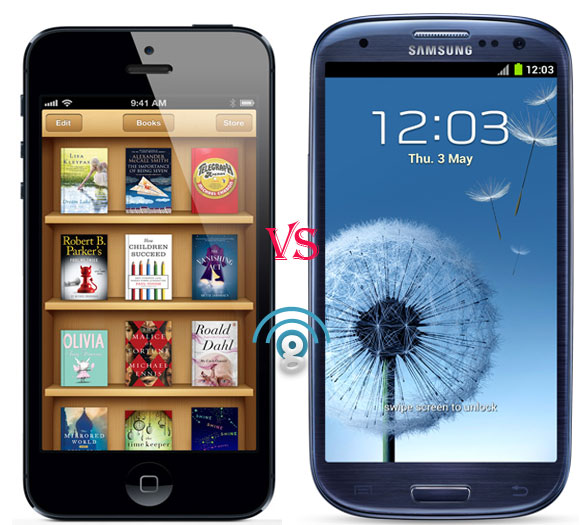 Apple and Samsung have been at each other's throats for quite some time now, and the rivalry doesn't seem to have an end in sight. It's almost funny since Samsung is actually one of the biggest suppliers of components for Apple's products, and yet the latter has sued them over and over again, winning more than $1 billion dollars in settlements.
But the reason why Apple is so aggressive is that they feel threatened on one of their biggest markets – smartphones. Indeed, Samsung has the technology and knowhow to create some amazing phones, and they've already pretty much overtaken Apple in the hardware and software departments, with the only thing lacking being a good marketing campaign.
The Samsung Galaxy S3 beats the slightly newer iPhone 5 on all fronts, and Samsung isn't shy about that – they're trumpeting it left and right with their new advertisement banners and videos. Let's see how the flagship smartphones from these two companies actually stack up and whether Samsung's ads speak the truth.
Design and build quality
Apple iPhone 5
The iPhone 5 follows the same overall design cues as its two predecessors – it's got the same slab form factor with rounded edges that Apple trademarked and made so much fuss about, but this time it's longer, thinner and lighter – a pretty good combination for a smartphone. The build quality is still great, however it seems that the new aluminum housing is less scratch resistant that the stainless steel used in the iPhone 4 and 4S. The back is also covered by aluminum instead of Gorilla glass, while the front looks pretty much the same as the previous generation phones.
Samsung Galaxy S3
The Galaxy S3 is a step in the right direction for Samsung when it comes to external design – no longer is the phone just a slightly modified copy of the iPhone, but a full-fledged unique device that looks like nothing else on the market. The rounded corners, narrow bezel and thin profile combine together to form one of the most ergonomically smartphones on the market, especially considering its size. The build quality is high despite the phone mostly using plastic instead of the iPhone 5's metal. If you ever handled a Galaxy S2, you know that it's really not as fickle as you might think, and the S3 is exactly the same. The front is covered by a large Gorilla Glass 2 and the back uses a strong scratch resistant coating that looks great and will last a long time even under heavy use.

Hardware:
Display and Cameras
Apple iPhone 5
The iPhone 5's biggest improvement hardware-wise is its new 4.0 inch display, which has a 1136×640 pixels resolution and uses a new technology that incorporates the digitizer right into the display assembly, leading to a very clear picture with near-perfect viewing angles. Needless to say that the picture is sharp and bright, just like it was on the previous two iPhones.
The cameras aren't all that impressive, but they've gotten some upgrades, as well. The iPhone 5 has an 8 Megapixels camera on the back with a new lens and ultra-sensitive sensor that can shoot 1080p HD video, and a 1.2 Megapixels camera on the front with support for 720p video recording – perfect for video calls and chat. Both cameras also have better image stabilization (for both stills and video) compared to the iPhone 4S.
Samsung Galaxy S3
The Galaxy S3 has one of the best displays on a smartphone – its 4.8 inch Super AMOLED unit packs 1280×720 pixels and is a beauty to look at. The viewing angles are pretty much perfect, and the OLED technology makes it more energy-efficient than any LCD out there. The size of the screen makes the phone larger than the iPhone 5, but it definitely pays off in comfort – it's just so much better to work with a large display (which Apple obviously understood, since they increased the size of the iPhone's screen).
The cameras on the Galaxy S3 are nothing special (for a high end Android phone) – just your usual 8 Megapixels and 2 Megapixels units on the back and front, with the former being capable of 1080p HD video and taking some great pictures that are easily comparable to the iPhone 5 and any other phone out there. The front facing camera supports 720p video and is great for video chat even in low light conditions.

Connectivity and Battery Life
Apple iPhone 5
The iPhone 5 has pretty much everything you'd need from a smartphone in terms of connectivity. The specs are very similar to the iPhone 4S, with the added support for higher HSPA+ speeds and 4G LTE, of course. The iPhone 5 supports dual band Wifi, Bluetooth 4.0 and GPS – and it notably lacks an NFC radio, which isn't that bad, but a lot of people thought Apple was on board with the technology.
The battery is nothing to write home about, but its 8 hours life is not that bad, either – better than most other phones, in fact if you consider LTE. The Li-Ion battery used inside the iPhone 5 is a 1440 mAh unit – a bit larger than the one used in the iPhone 4S.
Samsung Galaxy S3
Along with the usual Wifi, Bluetooth, GPS, HSPA and 4G LTE, the Galaxy S3 can boast about GLONASS and NFC, which is pretty cool at least on paper. Aside from that, there's really no difference between Samsung's new flagship and Apple's iPhone 5, unless you count the native micro USB port.
The battery life, however, is better than on Apple's device – Samsung quotes 10 hours of continuous use, and seeing as the battery is a huge 2100 mAh unit, we tend to believe that's more than achievable despite the quad core processor and larger display. You'll definitely not run out of energy in the middle of the day like it so often happened with the first Galaxy S and many other Android phones.
Technical specs comparison
| Specifications | Apple iPhone 5 | Samsung Galaxy S3 |
| --- | --- | --- |
| Display | 4.0 inches, 1136×640 pixels, IPS LCD, 326 DPI | HD Super AMOLED, 4.8 inches, 1280×720 pixels, 306 DPI |
| Processor | Apple A6, 1.3 GHz, dual core | Exynos 4 Quad, 1.4 GHz |
| RAM | 1024 MB | 1024 MB |
| Graphics Adapter | PowerVR SGX543MP – triple core | Mali-400MP – quad core |
| Storage Space | 16/32/64 GB of onboard storage space | 16/32/64 GB built-in, micro SD card slot for up to 64 GB cards |
| Camera(s) | Back – 8 MP with support for 1080p video recording; Front – 1.2 MP with 720p video recording | Back – 8 MP with 1080p video recording; Front – 2 MP with 720p video recording |
| Connectivity Options | Wifi N, Bluetooth 4.0, GPS, HSPA+ 42/5.76 Mbps, 4G LTE | HSPA+, Wifi N, Bluetooth 4.0, LTE (select models), NFC, USB, HDMI, DLNA, GPS, GLONASS |
| Sensors | Accelerometer, gyroscope, light, proximity, magnetometer | Accelerometer, gyroscope, proximity, light, magnetometer, barometer |
| Battery | Li-Ion, 1440 mAh, up to 8 hours of continuous use | Li-Ion, 2100 mAh, up to 10 hours of continuous use |
| Dimensions and weight | 123.8 x 58.6 x 7.6 mm, 112 grams | 136.6 x 70.6 x 8.6 mm, 133 grams |
| Operating System and Software | iOS 6 with iCloud, Apple Maps, FaceTime HD, Siri, AirPlay, AirPrint | Android 4.0 with Touch Wiz 5.0, Samsung Hubs, Adobe Flash, Live Panel, Wifi Direct, AllShare, On-Device Encryption, VPN, Smart Stay, Direct Call, Smart Alert, Social Tag, S Voice, S Beam |
Performance
Apple iPhone 5
The iPhone 5 is the most high performance iPhone yet, thanks to the new A6 SoC, which is a custom Apple design that is quite different than all the other ARM Cortex based chips out there. The chip has a dual core processor running at 1.2 GHz, a triple core PowerVR SGX543 GPU and 1024 MB of RAM –all of which makes the phone roughly twice as fast as its predecessor.
Helping things is iOS 6 – the new version of Apple's mobile operating system is even better, sleeker and faster than iOS5, which means that you will enjoy unparalleled performance even in the most resource intensive apps. iOS has always been very effective at using system resources, and the latest version is better than ever.
Samsung Galaxy S3
There's no doubt that the Galaxy S3 is one of the highest performance smartphones on the market – the Exynos was always a leading SoC when it comes to speed and features, and the Exynos 4412 Quad inside the S3 is no exception. The chip has four processor cores running at 1.4 GHz each, the Mali-400MP quad core GPU (which is the fastest on the market, by the way) and 1024 MB of RAM – when it comes to raw performance, the Galaxy S3 is unbeatable, and of course it leaves the iPhone 5 in the dust.
But that's on paper and in benchmarks – real life performance is a different matter. While the Galaxy S3 is definitely not slower than the iPhone 5, it's also not visibly faster, either. Android 4.1 Jelly Bean is very smooth and sleek, but it does use a lot of resources, so in the end you get about the same performance in the UI and apps as you would on the iPhone 5 – the only exception is gaming and some CPU or GPU intensive apps (which are pretty rare). Still, that's not to say that the Galaxy S3 is a worse choice for everyday use –no matter how you look at it, having more processing power is always better (especially when power consumption is the same).
Software
Apple iPhone 5
The iPhone 5 comes with iOS 6 pre-installed, and while the new version of the operating system isn't revolutionary, it does bring several improvements to the table. Aside from several bug fixes and additions under the hood, the most notable new features are Apple's own Maps with turn-by-turn navigation, an improved Siri and iCloud integration, better Facebook integration, more accessibility features (courtesy of Siri's voice, mostly), Facetime over 3G, an improved Mail app and Lost Mode, which helps you find your phone in case you lost it or it was stolen. The interface stays more or less identical to the previous version, with the notable addition of a fifth icon row on the home screen thanks to the larger display.
Samsung Galaxy S3
Samsung Galaxy S3 was one of the first phones to get Android 4.1 Jelly Bean, and despite it seeming like a small update, it's actually one of the most important Android updates since Android 2.3 Gingerbread. Google has added numerous fixes and improvements in this version, with the most important one probably being the ultra-smooth and responsive user interface, which is on par or even better than iOS 6. There is no more lag and no jagged animations, and the interface responds the millisecond you touch the screen.
Among the new features you can see better gestures, Android Beam for Bluetooth and Wifi for easy file transfer between devices, an improved Browser with HTML5 support, a better Calendar and Camera apps, better control of your data usage, improved Face Unlock and Google Now. All of it comes together to provide the richest experience on a smartphone.
Upgradeability and Hackability
Jailbreaking/Rooting and custom ROMs

Rooting/jailbreaking and custom ROMs can significantly extend the life of a phone or tablet, and if you want a high end phone to be actual for a long time instead of having to upgrade it after just 1-2 years, being able to gain more access to the OS or flash a new version is extremely important.
Apple iPhone 5
Apple's devices have always been walled gardens, and there really isn't a lot you can do to upgrade them or increase their performance (although they resell extremely well even without that), and the iPhone 5 is no exception to that rule. The only thing you can do is jailbreak the iPhone 5 for an increase in capabilities and features, at the risk of voiding the warranty.
Jailbreaking the device gives you full access to the OS files, which means that you can do more with your phone – there are hundreds of great apps that work only on jailbroken devices and which you can only find on unofficial app repositories (even Skype was one of these programs for a long time). Thanks to jailbreaking, iPhone 4 users got Siri a short while after the 4S was released, and it definitely comes in handy when the next iDevice is released.
Samsung Galaxy S3
Compared to the iPhone 5, the Galaxy S3 does have an advantage when it comes to software upgradeability. The Android OS itself is open source, and when you couple that with the fact that the boot loader on the S3 is unlocked for tinkering, you get a very future-proof smartphone in terms of software. The Galaxy S3 will be actual even 4-5 years from now thanks to the large developers community who will release the latest OS version for the phone long after Samsung and the networks forget about it.
Overclocking and Undervolting
Along with flashing custom ROMs, overclocking is the only other major way one can upgrade their mobile device. Undervolting also helps increase battery life and keep the phone cool, so it's also a great hack that anyone should try out.
Apple iPhone 5
No one has been able to overclock an iPhone, and it's probably never going to happen, either. That's doubly true for the iPhone 5, which along with the restrictive iOS 6 has a custom A6 chip inside that no one has the documentation to.
Samsung Galaxy S3
The Samsung Galaxy S3 is a lot different than the iPhone with regards to overclocking and undervolting. The Exynos 4 Quad inside the device allows for separate CPU and GPU overclocking, as well as significant undervolting, all with relative ease. Modders recommend 1.6 GHz as a stable overclock for everyday use, but you can push the processor to 1.8 GHz if you wish (although the success varies from phone to phone).
If you want better battery life and less heat, you can undervolt the CPU by a wide margin, resulting in a 20-30% increase in battery life (and even at 1 GHz, the quad core processor is a beast in terms of performance). If you have a custom ROM, it's highly recommended that you undervolt, and if you want more performance, you can always overclock, as well.
Summary
Notable features
| Apple iPhone 5 | Samsung Galaxy S3 |
| --- | --- |
| Large 4.0 inch display with a high 1366×640 pixels resolution | Large 4.8 inch Super AMOLED display, 1280×720 pixels resolution |
| 4G LTE or 21 Mbps HSPA+ support | 4G LTE, HSPA+ and NFC radios on all models |
| Integrated turn-by-turn navigation | a-GPS and GLONASS |
| Fast dual core processor and graphics adapter, as well as 1024 MB of RAM | Quad core processor, quad core graphics adapter |
| 64 GB of onboard storage space | MicroSD card slot and up 64 GB of onboard storage space |
| Dual band Wifi N | Large battery and long battery life on 4G LTE |
| Native Airplay and Airprint support | Android 4.1 with encryption, Google Maps, Android Beam, Face Unlock |
Pros and Cons
| Apple iPhone 5 | | Samsung Galaxy S3 | |
| --- | --- | --- | --- |
| Pros | Cons | Pros | Cons |
| Bigger display | Shorter battery life | Large, beautiful HD display | Mostly plastic build |
| 4G LTE support | Unreliable Apple Maps | Long battery life even on LTE | Hard to use with one hand |
| iOS 6 | Expensive upgrade | Lots of storage space | |
| Better cameras | Not an scratch resistant as iPhone 4 and 4S | Easily upgradable with new ROMs and overclocking | |
| Airplay and Airprint | | Wifi Direct, Android Beam and other easy transfer features | |
| Very thin and light | | Compact considering the large size | |
| | | Global phone with 4G LTE and HSPA+ in one package | |
Who is the phone made for?
Apple iPhone 5
Just like its immediate predecessor, the iPhone 5 is a great smartphone for pretty much anyone – whether you're a normal consumer, a beginner smartphone user, an Apple fan who's upgrading or a businessman who needs a phone for work, Apple's latest phone is a great choice. The iPhone 5 will also have a very good resale value even after several years of use, so upgrading to a new model will be cheaper. Obviously, you don't get the latest and greatest hardware, so if you really need that, you're probably better off looking at the Android competition.
Samsung Galaxy S3
The Galaxy S3 is also a perfect choice for almost anyone, although novice users will find it a bit more difficult to understand and use Android. If you need the best hardware, the most functional software and want your phone to last a very long time (and have the tech expertise to make that happen), the Galaxy S3 is perfect.
Price and Availability
Apple iPhone 5
The iPhone 5 was released a month ago with great fanfare, and although many fans were disappointed, the new phone's sales are just as high as they were for the iPhone 4S. The pricing is pretty attractive – you can get the base phone for $199, with the price going up to $400 for the 64 GB model. Don't forget that you'll need to upgrade your accessories, as well – the new Lighting port uses a different cable – thankfully, Apple has you covered with an adapter (which costs $30, of course).
Samsung Galaxy S3
The Samsung Galaxy S3 has been on the market slightly longer than the iPhone 5, and it's become available on most networks worldwide, as well as unlocked without contract from many major retailers. You can get the base phone for $199, with the price going up to $499 for the highest end model depending on the network (though they'll probably lower that to compete with the iPhone 5).
Choosing between these two phones may actually be easier than ever before – if you don't want to get into the details, the Apple iPhone 5 is a great phone for beginners, while the Samsung Galaxy S3 is perfect for advanced users. Of course, that's just my opinion, and I recommend that you check both and hold them in your hand before making a choice.