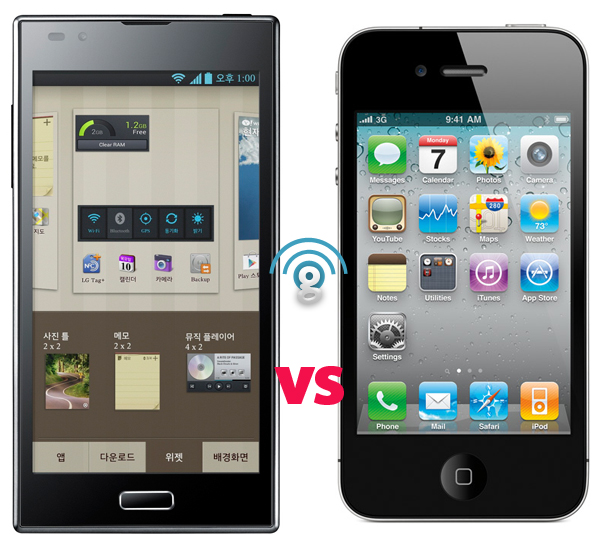 LG has finally launched the Optimus LTE2 – their new flagship smartphone, in South Korea for now, but there's no doubt that it's coming to the US and Europe, as well, in the near future. Seeing as it's one of the new flagship Android smartphones, it's always interesting to compare it with the iPhone 4S – the smartphone that has sold more units than any other model and is generally considered to be the best device for anyone's pocket.
Design
The design of the Optimus LTE2 and the iPhone 4S is quite different, but in my opinion, it's also very similar. Both phones have the same square-ish form factor, with the iPhone 4S having rounded corners while the Optimus LTE2 takes the less subtle route and leaves the corners uncut. The front is taken up by the display and one visible button, and the back is empty, featuring only the camera. You know that the iPhone 4S has a Gorilla glass back cover – well, LG probably has something better – a soft touch textured rubber cover, which feels nice and also keeps your phone in your hand, without attracting visible fingerprints, either.
Technical specs comparison
| | LG Optimus LTE II | Apple iPhone 4S |
| --- | --- | --- |
| Display | IPS LCD, 4.7 inches, 1280×720 pixels, 312 DPI | IPS LCD, 3.5 inches, 960×640 pixels, 326 DPI |
| Processor | Qualcomm Snapdragon S4, dual core, 1.5 GHz | Apple A5, dual core, 1 GHz |
| RAM | 2048 MB | 512 MB |
| Graphics Adapter | Adreno 225 | PowerVR SGX543MP2 – dual core |
| Storage Space | 16 GB built-in, micro SD card slot for up to 32 GB cards | 16/32/64 GB built-in |
| Camera(s) | Back – 8 MP with 1080p video recording; Front – 1.3 MP | Back – 8 MP with 1080p video recording; Front – 0.3 MP |
| Connectivity Options | HSPA, Wifi N, 4G LTE, Bluetooth 4.0, HDMI, USB, GPS, DLNA | HSPA+, Wifi N, Bluetooth 3.0, HDMI, USB, GPS |
| Sensors | Accelerometer, gyroscope, proximity, light, magnetometer | Accelerometer, gyroscope, proximity, light, magnetometer |
| Battery | 2150 mAh – up to 10 hours of continuous work on 3G | 1432 mAh – up to 8 hours of continuous use on 3G |
| Dimensions and weight | 134.7 x 69.5 x 8.9 mm, 145 grams | 115.2 x 58.6 x 9.3 mm, 140 grams |
| Operating System and Software | Android 4.0, Optimus UI 3.0, Quick Memo, Camera voice control | iOS 5.0, Notification Center, iMessage, Twitter, Photo Enhancements, Game Center, Siri, AirPlay |
Hardware features and performance
The biggest difference between the Optimus LTE2 and the iPhone 4S when it comes to hardware is the display – obviously, the 4.7 inch unit on the LG is better. It uses the same IPS LCD technology as the iPhone 4S, while having a 1280×720 pixels resolution and 312 DPI density – almost the same as the iPhone's 326 dots per inch.
The Qualcomm Snapdragon S4 is a dual core unit, but it can easily compete with the quad core Tegra 3, and it's definitely faster than the A5 inside the iPhone 4S. The Adreno 225 graphics adapter is a different story, though – despite the advances in technology, Qualcomm still hasn't managed to make it faster than the iPhone 4S' PowerVR SGX543MP2 – the two adapters are practically the same in 3D performance. The 2 GB of RAM looks pretty good on paper, and sadly it makes a difference in real use, too – "sadly" because the Optimus UI uses almost a whole 1 GB of it to run itself – talk about a waste of resources. The LG Optimus LTE2 also has a bigger battery, Bluetooth 4.0 and of course, a 4G LTE radio – all of which are advantages over the iPhone 4S.
Software features
Obviously, the iPhone 4S runs Apple's latest iOS version, with all the good and bad stuff that comes with it. The LG Optimus LTE2 features Android 4.0 with the new Optimus UI 3.0 – a nice interface, although it's nothing special. It's got a custom voice control for the camera, which can come in handy, and the Quick Memo feature can be a saver when you need to quickly note something down.
Price and availability
The iPhone 4S is available pretty much everywhere, while the LG Optimus LTE2 is out only in Korea – it will be a while before it gets stateside and in Europe, and it will probably have four cores by then (which doesn't change anything, actually). While the big display is awesome, if you need a practical smartphone, the iPhone 4S is still a great choice.