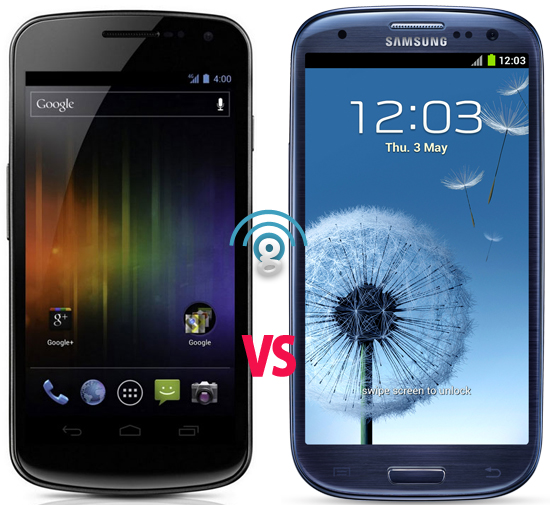 The Samsung Galaxy S3 was announced a few weeks ago, and it's already received over 10 million pre-orders, with the official launch date being set for May 29th. The number of pre-orders is certainly impressive, but not that surprising, considering that it's been the most awaited smartphone for half a year now. The first time you see the Galaxy S3, however, you can't help but think of another Samsung-made phone – the Galaxy Nexus, which is still on sale and still a great choice. So, is it worth going with the S3 over the Nexus?
Design
The design of the Galaxy S3 and the Galaxy Nexus is strikingly similar – but that should not come as a surprise, seeing as they're both made by Samsung. The Nexus came after the Galaxy S2, as well, and its design has certainly proven to be popular, which is probably why Samsung chose to use it as a base for the Galaxy S3. Indeed, the S3 is like a perfected version of the Nexus – it has sleeker lines, a bigger display and a narrower bezel, a slimmer profile and three navigation buttons on the front, one of which is physical for added comfort (fewer accidental touches are almost guaranteed).
Technical specs comparison
| | Galaxy Nexus | Samsung Galaxy S III |
| --- | --- | --- |
| Display | HD Super AMOLED, 4.65 inches, 1280×720 pixels, 316 DPI | HD Super AMOLED, 4.8 inches, 1280×720 pixels, 306 DPI |
| Processor | TI OMAP 4460 dual core, 1.2 GHz | Exynos 4 Quad, 1.4 GHz |
| RAM | 1024 MB | 1024 MB |
| Graphics Adapter | PowerVR SGX540 – single core | Mali-400MP – quad core |
| Storage Space | 16/32 GB built-in | 16/32/64 GB built-in, micro SD card slot for up to 64 GB cards |
| Camera(s) | Back – 5 MP with 1080p video recording; Front – 1.3 MP | Back – 8 MP with 1080p video recording; Front – 2 MP |
| Connectivity Options | HSPA+, Wifi N, Bluetooth 3.0, LTE (select models), NFC, USB, HDMI, DLNA, GPS | HSPA+, Wifi N, Bluetooth 4.0, LTE (select models), NFC, USB, HDMI, DLNA, GPS, GLONASS |
| Sensors | Accelerometer, gyroscope, proximity, light, magnetometer | Accelerometer, gyroscope, proximity, light, magnetometer, barometer |
| Battery | Li-Ion, 1750 mAh, up to 8 hours of continuous use on 3G | Li-Ion, 2100 mAh, up to 10 hours of continuous use on 3G |
| Dimensions and weight | 135.5 x 67.9 x 8.9 mm, 135 grams | 136.6 x 70.6 x 8.6 mm, 133 grams |
| Operating System and Software | Android 4.0 Ice Cream Sandwich vanilla installation, no add-on software | Android 4.0, Touch Wiz 5.0, Samsung Hubs, Adobe Flash, Live Panel, Wifi Direct, AllShare, On-Device Encryption, VPN, Smart Stay, Direct Call, Smart Alert, Social Tag, S Voice, S Beam |
Hardware features and performance
When it comes to the hardware features, though, the Samsung Galaxy S3 is way ahead of the Galaxy Nexus. You may even pity the poor thing – it had worse hardware than the Galaxy S2 and other competitors at the time it was released, and now the Galaxy S3 completely wipes the floor with it in benchmarks and video games. The Nexus is still a great everyday phone, just don't think that it will run any of the newer games at the highest quality.
Software features
It's a bit hard to choose between the Galaxy Nexus and the Galaxy S3 when it comes to the software – on one hand, the Nexus has a vanilla Android installation, which is nice; on the other hand, the Galaxy S3 features a very nice selection of software and apps, which is better than most other customizations to Android out there, including HTC's new Sense 4.0. While I usually advise everyone to avoid phones with proprietary customizations to the OS, I really like what the S3 offers – it's good for the average user, as well as for developers and modders. The nail in the coffin is the unlocked boot loader in both phones – there's really no reason to go with the Galaxy Nexus when you know you can install any ROM you want on the more powerful Galaxy S3.
Price and availability
Obviously, the new Galaxy S3 is more expensive than the Nexus, which has been on the market for a year now, but the price difference is minimal with a contract. If you want to get the best of the best, the Galaxy S3 is the way to go, but then again, there will undoubtedly be some very attractive offers for the now-obsolete Nexus – and with a similar design and the ability to install custom ROMs very easily, it may be a good choice if it comes free with a contract.