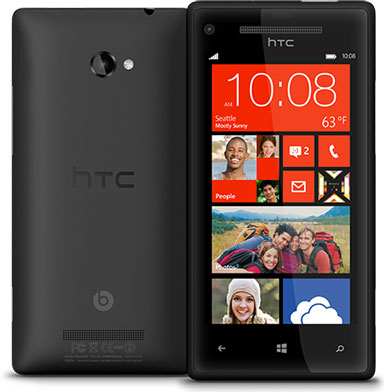 HTC has been one of the most prominent players on the smartphone market for the past decade, creating such iconic devices as the Kaiser, Raphael, Leo and of course, the Dream and Magic, the first two Android smartphones. They've always delivered high quality products, and although they've been slightly off game in the last two years, they've definitely made a comeback with the One series this year.
Well, they're also making a comeback into the Windows smartphone scene, where they should be feeling very comfortable by now – the first smartphone to be announced will be the HTC 8X, aka HTC Accord, which will be a mid-high end device running Microsoft's all new Windows Phone 8 OS. We don't know too much about it right now, but there is enough information to form a good picture of what to expect. So, let's recap what we know about the smartphone and see if it's worthy of attention.
Design
There's really not much known about the exterior design of the device, however from what we can tell, it will follow in the One series footsteps, having the same overall shape and finish as the One X and One S. It's very possible that the 8X will be the equivalent of the One S, actually, and as such, we can expect it to have a metal housing and a slim design – like an improved, but smaller Titan 2, actually.
Hardware features and performance
The rumors and leaked information was primarily focused on the HTC 8X's hardware, and if the information is true, the HTC 8X will be a pretty capable, although definitely not high-end, smartphone. The phone is rumored to have a 1280×720 HD 4.3 inches Super LCD 2 display, which we've already seen on a couple of HTC phones and it looks pretty good. The performance will be provided by a dual core 1.2 GHz processor of an unknown manufacturer – it's probably going to be Qualcomm, based on the company's previous products (plus the Snapdragon S4 is really power efficient). The processor will be accompanied by a full gigabyte of RAM, which should also be plenty enough for any apps and tasks.
The rest of the specs are in line with what you'd find in any other modern smartphone: Wifi N, Bluetooth, 16 GB of onboard storage space and a micro SD card slot, GPS, HSPA+, two cameras and even NFC – all will be present on the new Windows 8 smartphone.
Technical specifications (preliminary)
Specifications
HTC 8X (aka Accord)
Display
4.3 inches, 1280×720 pixels, Super LCD 2
Processor
1.2 GHz, dual core
RAM
1024 MB
Graphics Adapter
Unknown
Storage Space
16 GB onboard storage space, micro SD card support
Camera(s)
Back – 8 MP camera with HD video recording; Front – 1.3 MP camera
Connectivity Options
Wifi N, Bluetooth, microUSB, GPS, NFC, HSPA+
Sensors
Accelerometer, magnetometer, proximity, light sensors
Battery
Embedded & rechargeable Li-ion Polymer battery
Capacity: 1800 mAh
Dimensions and weight
132.35 x 66.2 x 10.12 mm
Operating System and Software
Windows® Phone 8
Software
Of course, the HTC 8X will be running Microsoft's new OS, Windows Phone 8, which is said to be a massive improvement over Windows Phone 7. The most important additions to the new OS are support for multicore processors and high resolution display (finally), support for micro SD cards, NFC, HTML5 in the browser, Flash, on-device encryption, and many other useful technologies. Interestingly, all Windows 8 phones, including the HTC 8X, will be using Nokia's turn by turn navigation service, in addition to Bing Maps, of course. The user interface remains pretty much the same, but it's supposed to be smoother, more customizable and with fewer bugs, which is pretty good.
Price and Availability
The HTC 8X hasn't yet been officially announced, but we expect HTC to do so by the end of the month, so we'll get the details later on. Until then suffice to say that the 8X shows that HTC hasn't abandoned the Windows platform and can definitely make a great comeback.