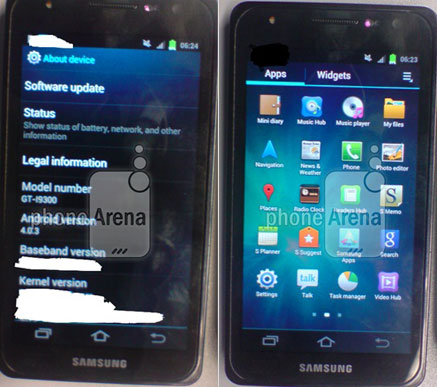 We initially thought GT-i9300 was Samsung Galaxy S3 but new details surfaced today, making us believe it's an entirely different phone. GT-i9300 made its appearance on GSMarena which, according to them, was listed under the Samsung Galaxy M line of smartphones. Last year, Samsung explained their naming scheme and "Galaxy M" stands for a mid-tier phone. Galaxy S – an entirely different line of Samsung phones – sits on top of their pyramid which is why there's no reason to believe GT-i9300 is SGS3.
According to GSMarena, GT-i9300 will have a 4-inch 720p HD AMOLED display. It might have a screen resolution of 1026 x 600 pixels if previous leaks are true. It will run Android 4.0 Ice Cream Sandwich out of the box and will be powered by a 1.4GHz dual-core Samsung Exynos processor. Moreover, it has 1GB of RAM and will be available in early May.
A month ago, we spotted GT-i9300 uploading a photo on Picasa. Everyone, including us, thought it was SGS3 but what we found out next was unsettling news – the photo's resolution suggested it had an 8-megapixel camera. Samsung Galaxy S2 already has an 8-megapixel camera and while pixels don't matter especially in low light, it would be better if we see an improved camera on Galaxy S3. Needless to say, it's a relief to know that GT-i9300 isn't Samsung Galaxy S3. Its HDR feature is a cool addition though, and explains why the uploaded photo was blurry.
Now that the 8-megapixel camera is thrown out of the Samsung Galaxy S3 rumor mill, all we know so far is that it has a quad-core Exynos chip, LTE connectivity, and 4.8-inch full HD display. The leaked photo does suggest it has a larger screen. The specs of GT-i9300 are impressive for a mid-range phone – some, even better than Galaxy S2. And this keeps us guessing what Samsung has in store for us with their upcoming flagship phone.