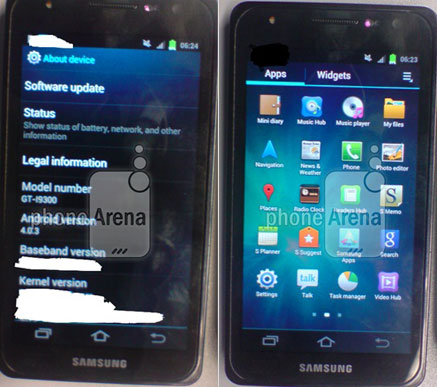 Remember when we said that GT-i9300 is not Samsung Galaxy S3? You can forget that now because as it turns out, i9300 is in fact "the next Galaxy" we've all been waiting for. The guys behind PhoneArena posted its benchmarks on the GLBenchmark website and before they were brought down, we managed to get a closer look at its performance. The CPU inside Samsung Galaxy S3 was compared to the likes of Snapdragon S4, Tegra 3, and A5 – the only three processors that could compete against it regardless of the number of cores.
Results posted online were incomplete but we could make something out of those available for all four smartphones that were tested including HTC One S and its dual-core Snapdragon S4, the international version of HTC One X which has the quad-core Tegra 3, iPhone 4S powered by A5, and of course, Samsung Galaxy S3 and an unnamed processor believed to be the quad-core Exynos 4412.
GT-i9300 had the best performance on Egypt Offscreen 720p. In this test, all four phones were on level field and had 720p display. But when processors were tested for performance on their normal display, the dual-core Qualcomm chip inside HTC One S shined the brightest and GT-i9300 only comes in third. Samsung Galaxy S3 again picks up the pace on Pro Offscreen 720p where it blazes ahead of its competition. And it manages to get the second highest score on Pro Standard where it gets beaten by HTC One S.
Nothing has been set in stone but it seems that Galaxy S3 is indeed powered by Samsung's quad-core Exynos 4412. Graphics performance is backed up by a 400MHz ARM Mali-400 GPU which is 50 percent faster than the GPU of Galaxy S2. If GT-i9300 managed to score high in these tests, we expect an impressive real-world performance. Software bears the heaviest weight on how a device truly performs in real life.