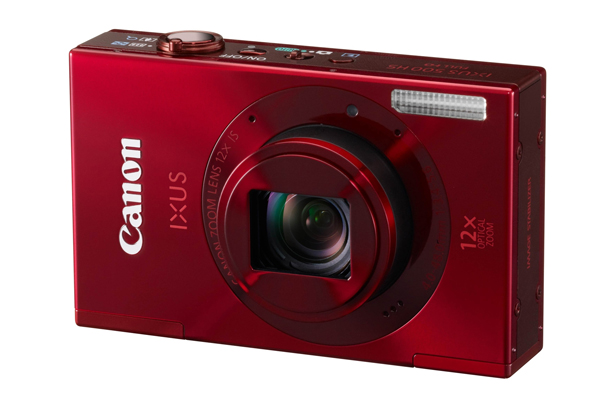 Canon is a leading maker of professional DSLR cameras and camcorders, launching several new models these past few weeks. But can we say the same thing for their point-and-shoot lineup? The recently launched Canon Ixus 500 HS is a follow-up to their existing line of compact digital cameras. It has the slimmest design for a shooter with 12x optical zoom.
Design<
Canon Ixus 500 HS has a box-shaped form factor and glacial sheen. Together, these design concepts give it a premium look and encourages a firm grip. Colors to choose from include black, blue, maroon, and silver which although far from the bright and youthful hues that others go for, are timeless and elegant color choices.
Jamming a long, wide lens into the compact body of Ixus 500 HS is quite impressive. Unfortunately, Canon also squeezed small buttons into its frame. There may be less than 12 buttons for controls but most of them are too tiny and require fingernail operation. The shutter release button is the only exception to this poor execution of design as it is both large and raised for easy pressing.
It's a good thing that most controls are accessible via the touchscreen LCD located on its back and that the camera, overall, has a point and shoot operation. The only unusual thing we noticed on its design is the location of the battery and card compartments. They are located on opposite ends of the camera base, making them especially difficult to access when attached to a tripod. Also worth mentioning is the battery which isn't designed for in-camera charging. That means you have to take it out to charge.
Specs and features
We can't expect much from Canon Ixus 500 HS since it is targeted towards non-professional photographers. But that's not to say it has poor hardware. Among its features is the Smart Shutter option with smile-activated shutter release and Wink/Face Detection self-timers, Smart Auto for recognizing 58 predefined shooting environments, and the all-new Face ID feature which lets you program the camera to recognize 12 faces to be prioritized for exposure and focus. Other specs of the camera are as follows:
• Dimensions: 87 x 54 x 19mm
• Weight: 140 grams
• Sensor: 10.1 megapixel CMOS sensor with 12x optical zoom range
• Lens aperture: F3.0 to F5.9
• Light sensitivity: Auto 100, 200, 400, 800, 1600, 3200
• Video capture: 1920 x 1080 at 24fps
• Audio capture
• 3-inch LCD with 460k dot resolution
Battery life and performance
Image quality taken with Canon Ixus 500 HS ranges from good to above average but compared to previous models, it is fairly disappointing. Even if you set it to ISO 100, images are soft and have noise. This becomes a problem when taking photos indoors or low light settings, with image quality getting noisier on ISO 400 and above. ISO 1,600 and 3,200 deliver the worst images in dim places as fine details turn out blotchy. Saturation of colors is retained until ISO 800 though, even in low light.
The case is entirely different when taking Ixus 500 HS is used to take photos outdoors and in well-lit environments. Under these settings, Ixus 500 HS shows its prowess at taking photos with good image quality. As for quality of video capture, it is "okay" at most and at par with smartphones and pocket video camcorders. They're good for sharing on the web but not for streaming on HDTVs because by then, you'd notice their average quality.
Panning the camera while taking videos does cause stuttering and ghosts fall behind fast-moving objects – two common problems of compact digital cameras. The zoom-in feature works during video capture but the camera picks up the noise it makes during movement, especially in quiet environments. Battery life is poor on Canon Ixus 500 HS lasting you just a few hours of use.
Verdict
Ixus 500 HS is a disappointing release by Canon even though it's their most recent take at compact digital cameras. Its poor performance in dark places makes its $500 price tag a little too expensive for our taste. Sony Cyber-shot DSC-TX20 would be a better choice even if it were to sell for a slightly higher price. But if you have the tendency to take outdoor shots more and don't mind the noise in dark places, we won't stop you from getting Canon Ixus 500 HS.