Fujifilm adds another rugged camera to their 2012 FinePix collection, making it the fourth of its kind from the same line. The camera is called XP170 and is pretty much in the league of Olympus Tough TG-1 iHS. FinePix XP170 is a splitting image of XP150 but it gets an additional feature. It now has WiFi built-in, giving it an advantage over its brothers.
Design
FinePix XP170 combines a rugged and classy look. Sharp edges meet rounded curves on all sides, giving it a tough appearance without fully compensating style. The Fujinon lens is located on the top left corner and is accompanied by a flash on its right side. The right edge has a long, deep groove up front to facilitate grip. Unlike most compact cameras, the clasp for add-on straps doesn't protrude on the edge. It was strategically placed on the back to keep it from getting in your way. Controls are minimal and not cluttered, with most of them located on the rear.
Furthermore, FinePix XP170 was designed to withstand water by up to 33 feet, drops of up to 6.5 feet, and temperatures of up to 14 degrees Fahrenheit or 10 degrees Celsius below zero. Altogether they make the camera waterproof, shockproof, and freezeproof. Completing its ruggedized form factor is a dustproof shell.
Hardware
Fujifilm FinePix XP170 joins XP150, XP100, and XP50 as a weather-sealed compact camera. It shares most of their specifications and has a 14-megapixel CMOS sensor with 5x optical zoom. For viewing and composing photos, there's a 2.7-inch LCD screen. It features an F3.9-4.9 (28-140mm equivalent) lens and image stabilization among other things. In general, we can say that FinePix XP170 has satisfying hardware for a compact digital shooter even though it lacks GPS – a spec that was traded off for WiFi connectivity.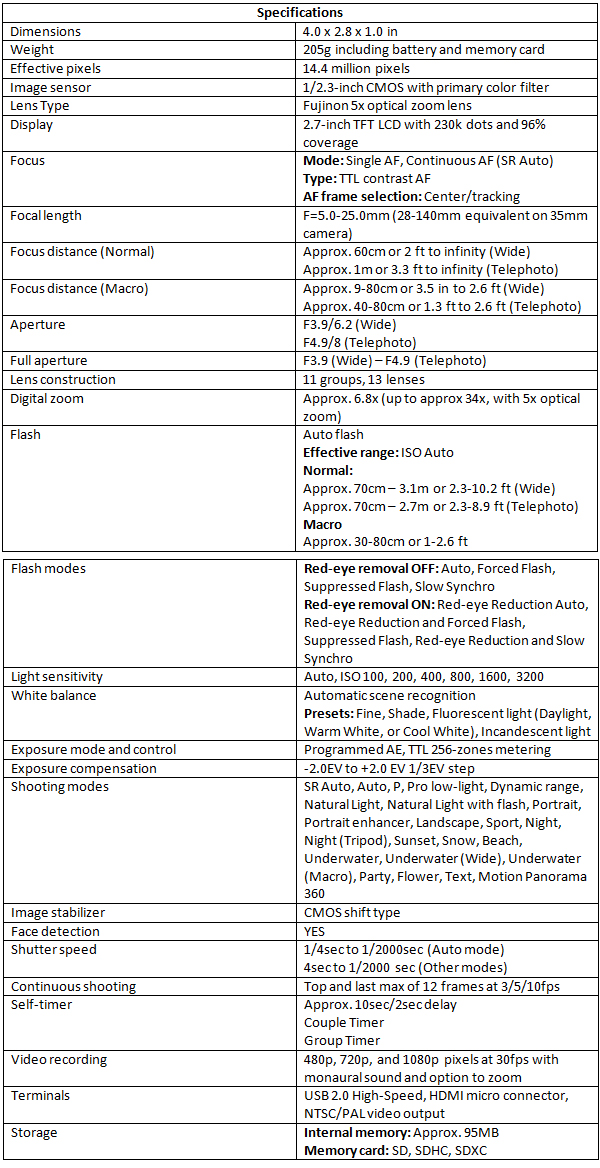 Features
XP170 has an abundance of shooting modes. It can adjust to a variety of settings including snow, sports, and sunset. The two coolest shooting modes are underwater and High Dynamic Range. That means you can use it to take underwater and HDR photos. You should know that even underwater, the lens is capable of adjusting to macro and wide focus. Motion Panorama 360 is another notable feature of FinePix XP170 and it lets you take 360-degree panoramas. When taking portraits against the light, Backlit Portrait helps brighten up the face.
The built-in WiFi enables Fujifilm XP170 to send photos to a smartphone via the Fujifilm Photo Receiver app. The application is compatible with Android devices, iPhone, and iPad. To transfer photos, the camera must be connected to compatible devices. This is a unique feature that sets it apart from XP150 which has GPS and geotagging features instead.
Verdict
Fujifilm is selling FinePix XP170 for $279.95 which is a low price point given its immense features and overall satisfying specs. Not only that, it looks good too – a cross between rugged and style. If you are unwilling to spend more than $280 for a compact shooter, we certainly recommend it over Sony Cyber-shot DSC-TX20 and Olympus TG-1 iHS Tough camera priced at $329.99 and $399.99, respectively. We recently reviewed both in a duel of rugged compacts.