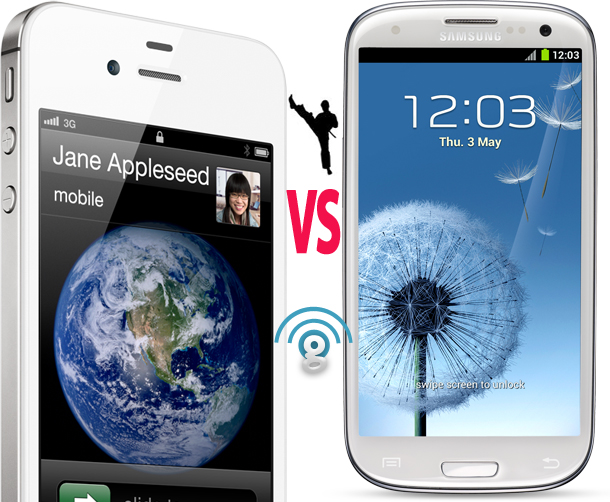 iPhone 4S was released as an upgrade to iPhone 4 last October 2011. Since then we've all been waiting for the day that Samsung would release their flagship phone. That day has finally come and it's about time we review it against the iPhone 4S. Though not in the same league, we're comparing them anyway since many of you are probably torn between the two.
Design
iPhone 4S has the same form as iPhone 4 but that's not to say it's looks have gotten boring. If we leave out durability, it's one of the most aesthetically pleasing smartphones. The glass back, round corners, and chrome rim bordering the edges grow on you over time. Samsung Galaxy S3 – now that's a phone that looks completely different from its predecessor. Not only is it taller and wider, it also gets far more curves than we wanted.
Besides having more rounded corners and prominent metal rim, a smooth and glossy cover replaces the textured back of Samsung Galaxy S2. The physical menu button is still there but it's narrower and longer this time.
If we leave out aesthetics and consider durability alone, our bet is on Galaxy S3. Sure, its plastic body feels less solid and cheaper but if you were to drop it face down on concrete, it will likely survive with just a few scratches. On the other hand, we already know the fate of iPhone 4S. Its front and back are prone to breaking when dropped on cement floor.
Size is an entirely different matter. Both phones are slim and light although Samsung Galaxy S3 is thinner with a depth of just 8.6mm compared to 9.3mm on iPhone 4S. SGS3 owes its gigantic proportions to its 4.8-inch screen. Incredibly, SGS3 also manages to be lighter weighing only 130g.
WINNER: Samsung Galaxy S3. We're not going to lie – we like the aesthetics of iPhone 4S better. It looks and feels more premium than any of its competitors regardless of size or specs. But in terms of durability, we are rooting for SGS3 on this one. Color choices are blue or white for SGS3 which is different from the standard black color option that Samsung used to offer. And the fact that it's lighter and thinner than a smaller phone is truly remarkable.
Hardware
Samsung Galaxy S3 was made to compete against the top Android smartphones including HTC One X and LG Optimus 4X HD, just to name a few. Judging by its specs it seems to be a preemptive strike against iPhone 5. I guess this is why iPhone 4S feels outdated compared to the Galaxy S3. We've always felt the same way since we reviewed it against Samsung Galaxy S2.
Starting with screen size, the Galaxy S3 moved up to a 4.8-inch screen coming from 4.2 inches on SGS2. Apple stuck with the age-old 3.5" screen for their iPhone 4S. Admittedly, a 4.8-inch display isn't for everyone but most people prefer screens larger than 4 inches on their smartphones these days. This places SGS3 ahead of the game. In terms of screen resolution, the Galaxy S3 has more pixels and therefore a higher screen resolution. It has a pixel density of 306ppi and comes close to iPhone 4S which has 340ppi. Super AMOLED technology further intensifies display on Samsung's phone.
Between the two, SGS3 clearly has the more vibrant and color-intensive display. But iPhone 4S is not to be belittled. Everything on-screen remains readable in broad daylight, thanks to Retina Display. Images and text are more crisp and refined with Apple's flagship too.
Moving on to processors, iPhone 4S is powered by a dual-core A5 chip clocked at 1GHz. Beneath the plastic exterior of Samsung Galaxy S3 is a quad-core CPU – a 1.4GHz Exynos 4 Quad. As of today no benchmarks comparing Exynos 4 Quad and A5 have surfaced. It wouldn't be fair to compare them by cores alone. But we can tell you that both are more than capable of handling almost anything. To get a clearer picture of their differences and see which has better hardware, you can refer to the table below.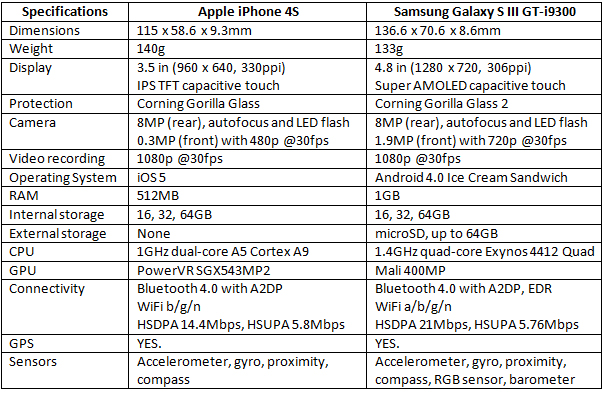 WINNER: Samsung Galaxy S3. iPhone 4S has decent hardware but they're officially outdated at this point. The Galaxy S3 almost has "better everything" except for the camera, internal storage options, and pixel density.
Features
Some features of Samsung Galaxy S3 seem to have been ripped off from iPhone 4S. SGS3 now has a Siri of its own in the form of "S Voice." Samsung also placed more emphasis on AllShare Play, a cloud storage option that rivals Apple's iCloud. As much as we love the features of iPhone 4S, Samsung offers even more. Take for example the ability to make calls during texting simply by lifting the phone up your ear. This is but one of the many cool features of SGS3.
WINNER: Samsung Galaxy S3. Not only does it offer more features than iPhone 4S, they're also more practical for everyday use.
Verdict
It's a strike. Samsung Galaxy S3 topples over iPhone 4S in design, hardware, and features. But that's not really unexpected, was it? If you are looking to buy an iPhone, it's clear that now isn't a good time. You'll have to wait for the next-generation iPhone if you want to see better hardware and more innovative features. Until then, we recommend the Galaxy S3.