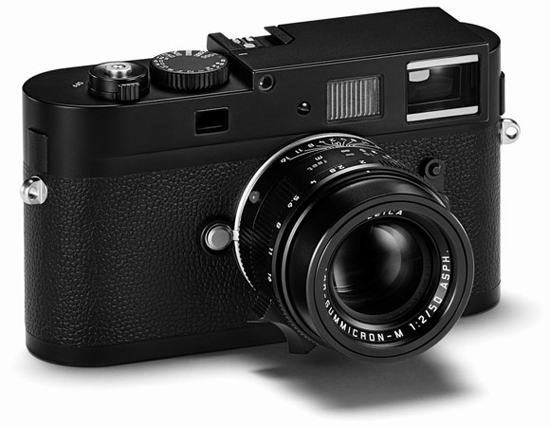 There's no arguing that black and white photography is timeless. Leica is a known maker of niche cameras and they've finally decided to explore it with M Monochrom, a camera that can't detect color. It is the world's first digital compact camera capable of taking 35mm black-and-white photos in full-frame. While we are mostly impressed by its design, specs, and features, there's one thing that might stop people from getting it – the price.
Design
M Monochrom has the classic look of Leica cameras. It has this long and rectangular rangefinder-style mirrorless body. It is mostly made of magnesium alloy and has a synthetic leather trim. The top deck and baseplate are made of brass but have a black chrome finish. The camera's name is discretely engraved on the accessory shoe, complementing its simplistic design. In summary, Leica M Monochrom invokes nostalgia on anyone who lays eyes upon it.


Sticking from both short ends are two, tiny clasps for holding the genuine leather strap included in the camera's package. The lens which measures about half the length of the camera protrudes from the front, below the hot-shoe flash. Sitting atop is a knob for adjusting ISO and the shutter button – both, raised a few millimeters from the top deck. On the back is a 2.5" articulated LCD which sadly, doesn't offer live view.
Hardware and features
Leica M Monochrom has a lot of limitations. Because it's a niche camera for black-and-white, you can't expect it to be ready for all-around use. Features lacking in the camera include white balance presets, HDMI output, Wireless connectivity, and GPS. Digital compacts selling at much cheaper prices have these specifications. Then again, such cameras have color-sensitive sensors. On the other hand, M Monochrom has a CCD monochrome sensor for creating true B&W photos.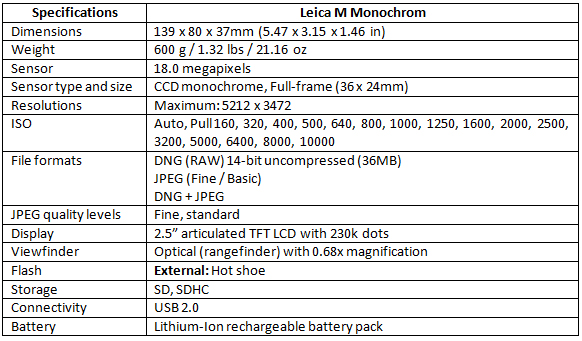 Opting to remove color filters does have its advantages. It reduces noise significantly since all the light hitting the sensor is captured. Color-sensitive lenses only allow a certain amount of light to enter from each sensor location, leaving photos grainy and pixelated. Moreover, the absence of color filters boosts image resolution. Leica M Monochrom doesn't demosaic photos so each capture pixel creates one output pixel. It even surpasses the sharpness of photos created by a filter-less Leica M9.


Of course, M Monochrom isn't perfect. Overexposure is a frequently encountered problem – a disadvantage of the monochromatic sensor. Getting the correct exposure is less challenging though since there's a histogram for viewing photos. What we don't understand with Leica M Monochrom is the histogram's lack of support for live view. Photos aren't displayed on the histogram until after you've taken them.
Verdict
Leica M Monochrom is an expensive piece of gadget, daring to squeeze US $8000 out of your wallet. But hey, no one's forcing you to get one. If you want a digital compact shooter for a much cheaper price, the $2000 Leica X2 has a sensor that matches up to high-end DSLRs. But you have to consider this – if you have immense passion for black-and-white photography and have $8000 to splurge, M Monochrom is worth it.