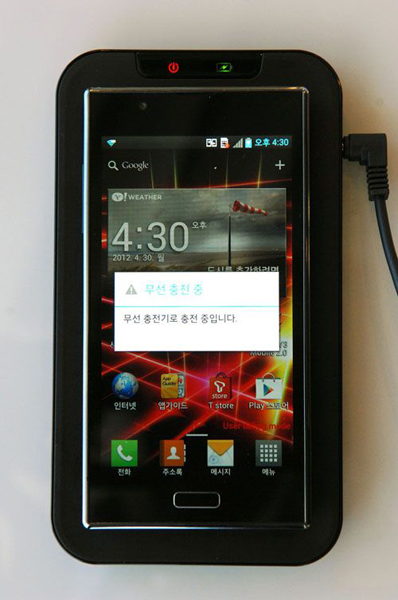 The LG Optimus 4G LTE was quite a successful device when it first launched, although it was plagued by bad battery life and some software issues. This year, LG is coming back with the Optimus LTE2 – a high end smartphone that is basically the release version of the Optimus 4X HD prototype we've seen at the beginning of the year. The phone is launching in South Korea right now, and it will undoubtedly be coming to the western world soon after (it seems that LG is copying Samsung here, and in more ways than one).
Design
The design of the Optimus LTE2 is quite nice, although it does look like LG is trying to copy Samsung and Apple at the same time – the Optimus LTE2 looks like a cross between the iPhone 4S and the Galaxy S2, with the same overall squared off design and rounded corners and one visible button on the front. The back has a nice soft touch rubber with a textured finish that makes it easy to hold the phone without having to constantly worry about it falling out. The Optimus LTE2 is quite wide, but it's still within acceptable limits – with a 4.7 inch display, 69.5 mm is quite a good width.
Hardware features and performance
The hardware specs are quite nice, of course – that's pretty much a given for a flagship device. The above-mentioned 4.7 inch display has a 1280×720 pixels resolution and 312 DPI – almost the same as the iPhone 4S and higher than the Galaxy S3. The panel uses IPS LCD technology, with a full RGB subpixels matrix (i.e. it's not PenTile or anything like it, it's the same IPS as the big professional displays).
The performance should be on a high level, too, thanks to the Qualcomm Snapdragon S4 SoC, which packs two processor cores running at 1.5 GHz, the new Adreno 225 GPU (which is quite capable in games and 3D apps) and a dual channel memory controller that is connected to a whole 2 GB of low voltage DDR2 RAM – quite nice, indeed.
Technical specs
| | |
| --- | --- |
| | LG Optimus LTE2 |
| Display | IPS LCD, 4.7 inches, 1280×720 pixels, 312 DPI |
| Processor | Qualcomm Snapdragon S4, dual core, 1.5 GHz |
| RAM | 2048 MB |
| Graphics adapter | Adreno 225 |
| Storage space | 16 GB built-in, micro SD card slot for up to 32 GB cards |
| Cameras | Back – 8 MP with 1080p video recording; Front – 1.3 MP |
| Connectivity Options | HSPA, Wifi N, 4G LTE, Bluetooth 4.0, HDMI, USB, GPS, DLNA |
| Sensors | Accelerometer, gyroscope, proximity, light, magnetometer |
| Battery | 2150 mAh – up to 10 hours of continuous work on 3G |
| Dimensions and weight | 134.7 x 69.5 x 8.9 mm, 145 grams |
| Operating System and Software | Android 4.0, Optimus UI 3.0, Quick Memo, Camera voice control |
Software features
On the flip side, the 2 GB of RAM turn into 1 GB after the phone has fully started up – the Optimus UI 3.0 customizations take up almost 1 GB, plus add to that the OS and its features and you get around 900 MB for your own apps – still not bad at all, but LG could've optimized the software better. The phone has several unique features like Quick Memo, which lets you write down a note with a few taps, and voice control for the camera, which is more useful than it sounds – you can use it for remote shutter control, for example.
Price and availability
As I already mentioned, the LG Optimus LTE2 is only available in South Korea at the moment, but it will be coming soon to Europe and the US, no doubt about it. The specs may change a bit, but the design shouldn't. The price is about the same as the Galaxy S3, which makes it harder to choose this phone, although the build quality and true IPS display may be worth it to some people.