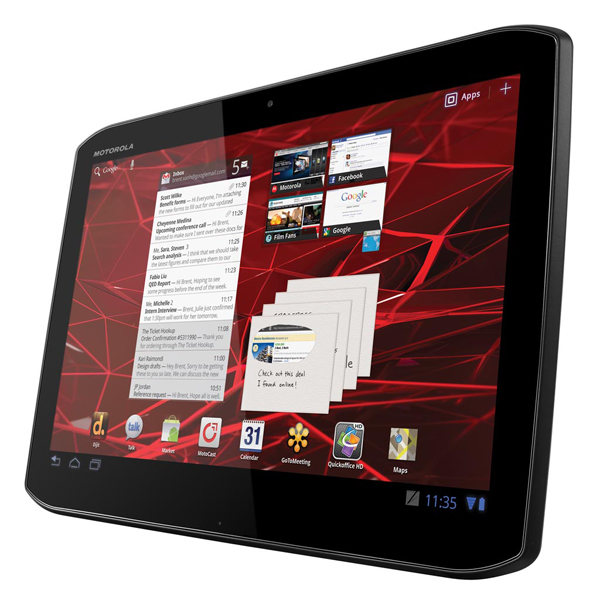 Looking back, Motorola Xoom was a complete failure. It was the first tablet to ship with Honeycomb and accounted for only 3 percent of devices in the Android Market. Motorola Xoom 2 was launched late last year but it's not too late to think about getting one since it's still making its way to other parts of the world. The smallest brother from the Motorola Xoom 2 series is the 8.2-inch Media Edition which, as one might suspect, is built for media purposes.
Design
Motorola Xoom 2 ME has an odd design – there's really no other way of describing it. It looks just like the 10.1-inch Motorola Xoom 2 with its blunt edges and sharp corners, forming an octagonal shape in the process. The front panel is bordered by black bezel on all sides with Motorola's logo and front camera on top. No physical or touch-sensitive buttons here. The device is just as thick and heavy as it looks, weighing 386g and measuring 8.9mm in thickness.
The slate even looks weirder from behind. The back panel has silver metal in its center with six visible screws, perhaps intended to give Xoom 2 ME an industrial look. Surrounding the metal back is a black rubberized material that stretches all the way to the edges, helping protect the tablet from knocks and bumps. The volume rocker and power button were also rubberized and it's not just so they would blend in. According to Motorola, the rubber edging of the tablet makes it water-resistant.
To summarize, the Media Edition Xoom 2 is a stand-out. It screams "rugged" from all angles and that's a good thing. Most slates try to look like an iPad with their minimalist profiles so being different is a breath of fresh air. Its design isn't that bad either . As a matter of fact, it looks macho.
Hardware
The 8.2-inch screen of Motorola Xoom 2 ME is easily mistaken for the screen size of Toshiba Excite 7.7 since there's not much difference between the two. No matter, screen resolution is pretty good at 1280 x 800 pixels. Display is bright and colors are rich, particularly when playing 1080p videos. It lives up to its name as a media device, at least visually. It's a different story when sound quality of the "booming bass" and "virtual surround sound" speakers are taken into account. Sound is just as good as any other tablet – loud enough in quiet environments but inadequate when surrounded by noise. If you want to play movies and listen in carefully, you're going to need headsets.
A 1.2GHz dual-core processor and Android 3.2 Honeycomb keep the Media Edition tablet up and running. Dual-core is enough horsepower but the Honeycomb OS feels outdated. Motorola does promise an Ice Cream Sandwich update coming this July to satisfy your cravings. Other specs include a 5MP main shooter with LED flash, a front-facing camera, and 1GB of RAM.
Verdict
Motorola Xoom 2 ME doesn't have noteworthy specs but its rugged design is a good selling point. After all, that's one thing that sets it apart from its competitors. Its macho look clearly isn't for everyone but it could appeal to others.