HTC Evo 4G LTE isn't the first LTE-enabled phone to hit Sprint but it sure is the best they offered – so far. It joins their current lineup of 4G phones which includes LG Viper 4G and Galaxy Nexus.
Design
Evo 4G LTE has an almost identical spec sheet to HTC One XL, the AT&T version of HTC One X, yet it has this entirely different look. It resembles HTC Droid Incredible 4G more while sticking to the traditional Evo design – except it gets a bright red kickstand. You may find it hard to prop the kickstand open. Nails are needed for the job. It divides the glossy (plastic) top half of the back cover from the soft-touch, rubber matte battery cover in the bottom.
On the top part of the back cover you'll find a round camera lens with LED flash smacked right in the middle. The rear camera is surrounded by a red metallic accent. On the bottom part is a printed logo of Sprint and the speaker. Dimensions-wise, it is smaller than HTC One X by a few inches but manages to be an ounce heavier. Measuring 8.9mm in depth, it's a thin phone indeed.

Once flipped over, the phone looks plain and ordinary. The front panel is surrounded by a narrow bezel on all sides and is protected by a scratch-resistant Corning Gorilla Glass. The bottom bezel is home to three touch-sensitive navigational buttons. Running around the edges is a strip of silver metal. Again, it has the unmistakable "solid" and premium feel of HTC smartphones.
Hardware
HTC Evo 4G LTE is huge. It has this massive 4.7-inch screen so it blends perfectly with today's top Android smartphones. The fact that it runs Android 4.0 Ice Cream Sandwich also makes it a part of the "in crowd." It doesn't just have decent specs. Crammed inside into its thin shell are bits and pieces of high-end hardware. Unlike HTC One XL, Evo 4G LTE has a microSD slot. That means you can expand storage past its 16GB internal memory.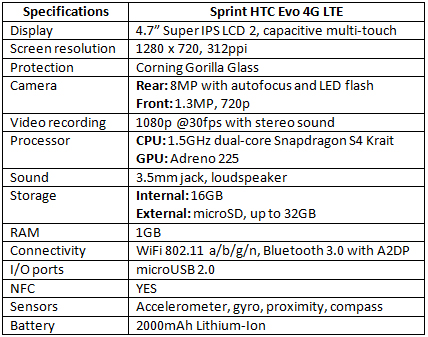 As a true 4G phone, you can connect to LTE networks with it. Too bad Sprint hasn't pushed them out yet. Until Sprint launches their LTE networks in your region, HTC Evo 4G LTE will be limited to 3G. So is LG Viper 4G.
Verdict
HTC Evo 4G LTE is undeniably the best Android phone that Sprint has to offer. It's like HTC One XL only better, thanks to expandable storage. If you adore the carrier's "unlimited everything" plan nothing should stop you from getting this phone for $200 on a two-year contract. Once Sprint expands their LTE networks, you can take full advantage of its main feature and use 4G data without any limits.