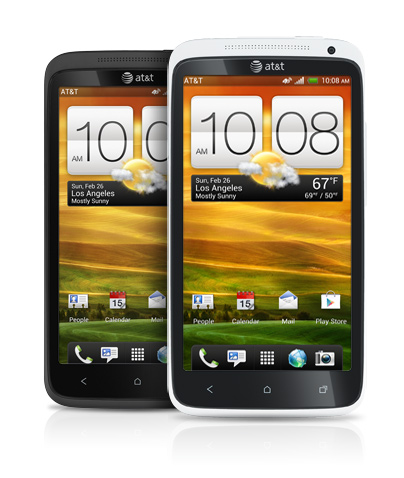 The AT&T version of HTC One X keeps getting compared to its international variant mainly because it has a dual-core Snapdragon instead of a quad-core Tegra CPU. The same could be said for the HTC One X for Rogers Canada. Question is, is it worth a two-year contract with AT&T?
Design
AT&T made no changes on their variant of HTC One X other than hardware – well, except for the branding smacked on the top bezel of the display. That means it still has the same lightweight yet sturdy ceramic casing, even though it's a gram heavier than the international variant. For the sake of reviewing the design of HTC One X, the AT&T model has a rounded corners, edges that slowly taper towards a gently curved back, and three touch-sensitive buttons for navigation. The phone still has the same premium feel of older models, only lighter this time around.
The power button is hard to reach with one hand as it is located on the top edge. Also on the top side is the 3.5mm headset jack and micro SIM card slot – both, delightful treats for those fond of music as well as SIM-swappers. On the left side is the micro USB port and on the right is a volume controller. Finally, around its back is the rear camera and flash.
Specs
Not much was changed internally. You'll still find that it's 4.7-inch screen has S-LCD 2 with 1280 x 720 pixels and 312ppi. Samsung Galaxy S3 only has 312ppi. The second-generation Super LCD is brighter than the qHD AMOLED screen of HTC One S but offers a wider viewing angle. Camera remains stuck at 8 megapixels with f/2.0 aperture, LED flash, autofocus, and BSI sensor. On the front is a 1.3-megapixel camera for self portraits and video calls. The phone can record both 720p and 1080p videos. It also has a dedicated image processor called ImageChip DSP.
Built into it is 1GB RAM. And unlike the unbranded HTC One X, internal memory is limited to 16GB for this variant. That might cause you to think twice about getting it since it doesn't have a microSD card slot for extra storage. The biggest differentiator is the processor. It has a 1.5GHz dual-core Snapdragon S4 Processor instead of the quad-core Tegra 3 processor clocked at a similar speed. As a result of this minor change in hardware, the phone receives an LTE modem for 4G connectivity – a limitation of Tegra 3 which NVIDIA hopes to get fixed with Tegra 3 Plus. Lastly, it runs Android 4.0 Ice Cream Sandwich, has Sense 4.0 as its UI, and features Beats Audio technology for a richer sound experience.
Verdict
Don't be deceived by the dual-core AT&T variant of HTC One X. The number of processing cores don't always match up to performance. Several benchmarks show it offers better performance than its Tegra-powered cousin. AT&T is selling it for $199.99 and in my opinion, is a better bargain than HTC Titan which sells for the same price. If you want something cheaper, we suggest you opt for HTC One S which has the same Snapdragon processor but with a smaller 4.3-inch screen.