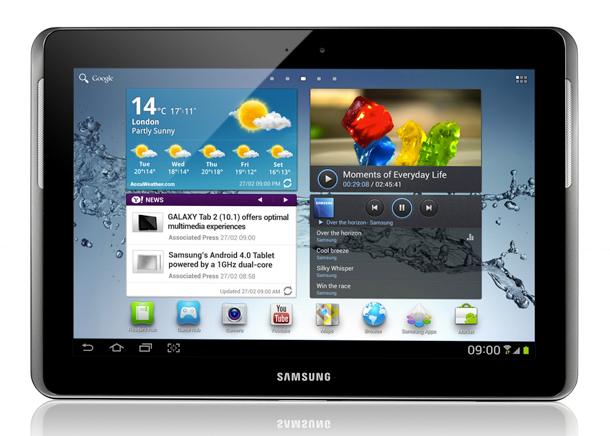 Samsung Galaxy Tab 2 10.1" isn't getting a quad-core processor after all. Instead of the rumored quad-core Exynos chip, it still has the same dual-core chip from its announcement months ago. Without Exynos 4 Quad, a thorough review is in order to help you decide if you should get it, upgrade from the original Galaxy Tab 10.1", or consider other options.
Design
The second-generation Galaxy Tab 10.1 looks different from its predecessor. The sides have chrome accents to improve grip and are wider on shorter ends of the slate. These accents carefully taper to the back, creating curved edges. They meet towards the back cover which has the same chrome material.
Although the back cover looks dull, it feels nice and doesn't smudge easily. Galaxy Tab 2 10.1" is thin and lightweight, measuring 9.7mm in thickness and weighing only 588 grams. And while it is thicker and heavier than the original, design changes make it more comfortable to hold and adds a touch of refinement. Overall, it looks classy and something you won't be ashamed to carry around.
One bad thing I could say about its design is the highly reflective screen. It's hard to view the display under bright lights and sunlight.
Hardware
No changes were made on the display of Samsung Galaxy Tab 2 10.1 with its 1280 x 800 pixel resolution and 149ppi. Its display accounts for clear images and crisp text though. The tablet relies on a 1GHz dual-core Tegra 2 processor and a GeForce GPU. It's too early to tell how it'll perform but compared to the original which runs on Honeycomb, user interface should be smoother and faster with it as it now runs Android 4.0 Ice Cream Sandwich.
There's still a 3-megapixel rear camera without flash for capturing moments and 720p videos; as well as a VGA front-facing camera for video calls. It has 102MB worth of RAM, a 7000mAh battery with 9 hours of battery life on 3G, WiFi N, Bluetooth 3.0, USB, GPS, and HSPA+ connectivity. For storage, you have the option to choose from 16GB and 32GB models.
The only change on hardware is the new microSD card slot for expandable memory. The original model lacked one and forced some users to purchase a separate adaptor for storing more files.
Verdict
Between the original 10.1-inch Galaxy Tab and this, it is no-doubt a good choice for first-time users who need more than 32GB for storing files. Its design is classier, comes with Ice Cream Sandwich out of the box, and supports expandable storage. The 16GB model currently pre-orders for $399 at Amazon. But those who own the Galaxy Tab 10.1 should skip buying it unless Samsung makes significant changes on its hardware. There's just not too many changes on Galaxy Tab 2 10.1 that warrants an upgrade.