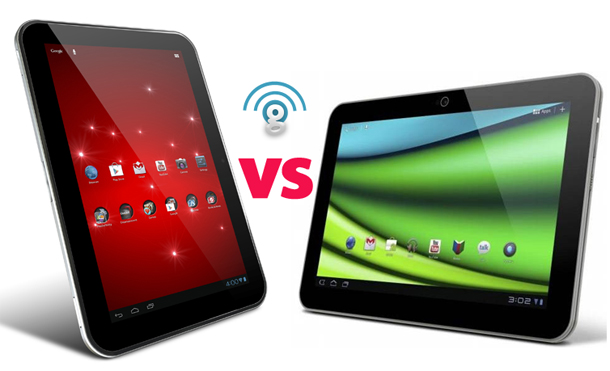 Toshiba Excite 10 LE is the world's thinnest tablet to date but with a starting price of $529 for the 16GB model, it's no wonder you're having second thoughts on it. Toshiba Excite 10 can't compete on thinness but includes noteworthy hardware for a cheaper price. Sacrificing specs for design is almost a standard in this industry and acceptable in some cases. But asking yourself if it's worth the money is an entirely different case.
Design
You can tell Toshiba Excite 10 from Excite 10 LE just by design. The limited edition version has a noticeable ring around the front-facing camera on the top bezel. It has blunt edges, rounded corners, and a flat back with brushed aluminum surface. Toshiba Excite 10 still has blunt edges and soft corners but it has a curved back instead made of patterned aluminum. The location and appearance of their rear facing cameras are completely different as well. It is situated on the top middle portion of Excite 10 LE and is surrounded by a glass panel but with Excite 10, it merely blends with the back cover on the top left corner.
Toshiba Excite 10 LE has more compact dimensions and is smaller, thinner, and lighter than Excite 10. For reference, we prepared the table below.


Despite their distinctions, both Excite 10 and Excite 10 LE have scratch-resistant, Corning Gorilla Glass screens and solid structures. Neither of the two feel cheap or tacky even though different designs were implemented.
WINNER: Excite 10 LE. Not only is it sleeker and lighter than Excite 10, it's also the better-looking one with its flat back and brushed aluminum surface.
Hardware
Design isn't the only differentiator of Toshiba Excite 10 and Excite 10 LE. Above that is their varying CPUs and processing speeds. Most of their specifications remain identical though, with the exception of internal and expandable storage options.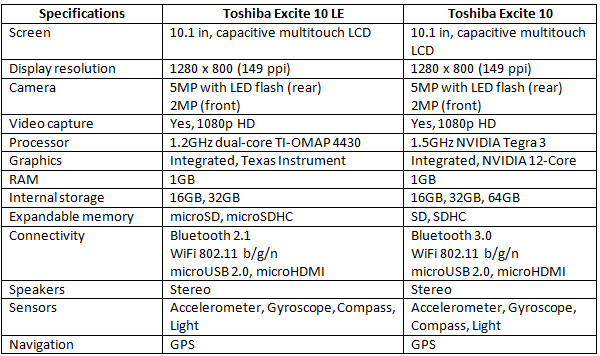 WINNER: Excite 10. The quad-core Tegra 3 processor inside it wins us over, even though its expandable storage options are outdated. Additionally, the 4-PLUS-1 architecture of Tegra 3 indicates a good battery life. Toshiba Excite 10 also offers 64GB internal storage and has faster Bluetooth transfer rates. Generally speaking, it packs better hardware than Excite 10 LE. If Toshiba opted for Snapdragon S4 with Excite 10 LE, we would've overlooked these specs in favor of the slimmer slate.
Software
Excite 10 LE originally shipped with Android 3.2 Honeycomb but Toshiba now sells the slate with Android 4.0 Ice Cream Sandwich pre-installed. As the newer model between the two, Excite 10 ships with ICS straight from the box. Both models sport a narrow black bar on the bottom of their displays for navigation, notifications, and toggle actions like WiFi, Airplane Mode, and Autorotate. In general, Toshiba made very few changes on the stock Android UI of Excite 10 and Excite 10 LE.
WINNER: Tie. There's no contest between two slates running the same versions of Android and with the same user interface.
Verdict
The retail prices for Excite Tab 10 LE is $529.99 (16GB) and $599.99 (32GB). Compare that to $449.99 (16GB), $529.99 (32GB), and $629.99 (64GB) of the Toshiba Excite 10 series and the difference in pricing is staggering. Between the two, we recommend Toshiba Excite 10 because of two things – hardware and pricing. The series offers more value for your money than Excite 10 LE. It's the better choice for all-around functionality including gaming. But if you intend to use your tablet for things other than games and have extra cash to splurge, we won't stop you from getting the more stylish Excite 10 LE.