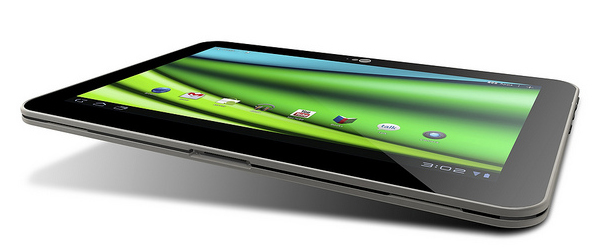 Toshiba Excite 10 is a 10-inch tablet first announced with two more slates from the same line – the 7-inch Excite 7 and the first-ever 13-inch Excite 13. It is now available in the US for $449.99 and will soon be followed by its brothers. Left in the dust was a Limited Edition version which sells for $529.99 for a 16GB model. Excite 10 LE sure has a lot of impressive specs under the hood but should you go for it? In case you don't know, it is currently the lightest and slimmest slate in the market – two titles which Excite 10 doesn't have.
Design
The lack of a curved rear panel gives Excite 10 LE the same look as the original iPad. It is slim though, which explains why Toshiba skipped the typical form of tablets these days. In fact, its dimensions make it the thinnest and lightest 10-inch tablet in the market, weighing only 1.13 pounds and measuring 0.3 inches thick.
The front display is surrounded by a thick, glossy black bezel reminiscent of Samsung Galaxy Tabs. The bezel is interrupted by a silver chrome piping around the edges. Going back to its rear panel, it is made of a silver brushed magnesium alloy that gives the slate a premium feel. Edges are blunt, giving space for all sorts of ports – most of which lined up at the left side.
Hardware
Toshiba Excite 10 LE has a 10.1-inch screen with an impressive 1280 x 800 resolution. It is protected by a scratch-resistant Gorilla Glass but there's a catch – it's quite distracting to read or watch videos in dim places as gridlines become more evident. Text is generally clear but icons are a bit grainy. Compared to most Android tablets – with the exception of Samsung Galaxy Tab 10.1 – its display shines bright at 371 lux.
Rigged into the thin slate is a dual-core TI-OMAP 4430 chip clocked at 1.2GHz as well as an adequate 1GB RAM. You can choose from 16GB and 32GB models. The 5-megapixel camera with LED flash round its back takes sharp images and in great color too but only in well-lighted environments. In the dark, photos are grainy even though colors remain accurate. The same camera can be used for taking 1080p video which result in vivid footages but with a noticeable haze. On the top bezel is a 2-megapixel camera which can be used for taking photos and videos in addition to its standard use for video calls. Perhaps our biggest gripe with rear the camera is how slow it is at focusing and taking shots.
Lined up on the left are separate microHDMI and microUSB ports, a microSD card slot, and a 3.5mm microphone/headphone jack. On the bottom is a pair of slim speakers with Toshiba's propriety charger right in the center. The dual SRS speakers on Excite 10 are supported by Toshiba Audio Enhancement technology. Despite these enhancements, we were left unimpressed by audio quality. Not much difference can be felt on sound once turned off.
Software
Excite 10 LE is now sold in Android 4.0 Ice Cream Sandwich. Toshiba made very little changes on the stock UI. The bottom of the display is dominated by a narrow black system bar for navigation and easy access to notifications and toggles like WiFi, Autorotate, and Airplane Mode. On the top left corner of the home screen are Google Search and Voice Search. Opposite to that is an icon for accessing all apps.
Performance and battery life
The dual-core TI-OMAP processor of Toshiba Excite 10 makes it no competition to the Asus Transformer Prime. So far, Snapdragon S4 is the only dual-core processor that has managed to do that. In most benchmarks, Excite 10 LE either outperforms or is at par with the original Samsung Galaxy Tab 10.1 powered by a dual-core 1GHz NVIDIA Tegra 2 processor. For the most part, it performs better than most of its rivals.
Battery life is where Toshiba Excite 10 LE performs poorly. In a continuous web-surfing test over WiFi, it only lasted 6 hours and 46 minutes in comparison to the 7:47 of Asus Transformer Prime in Power Saving Mode. The original Galaxy Tab 10.1 performs the best in this category, lasting 8 hours and 23 minutes. To put you in perspective, Android tablets average at 6 hours and 51 minutes of battery life under continuous WiFi.
Verdict
It's hard to look past the $529 price tag of the 16GB Toshiba Excite 10 LE, even if it were the thinnest and lightest tablet currently available in the market. It may have outdone most of its competitors in terms of performance but with poor battery life and several other hiccups, these factors should be considered deal breakers at this point.
If you want the same slate with more powerful hardware, we recommend Toshiba Excite 10 instead. The 10.1-inch slate is now available in the US for $449.99. Unlike its Limited Edition version, the original Excite 10 has a quad-core Tegra 3 under the hood and 10 hours of battery life – sacrificing weight and dimensions in the process.