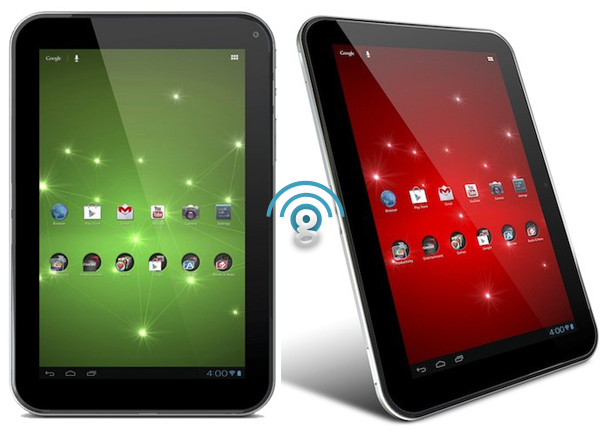 Three weeks ago, along with their new line of laptops, Toshiba has also introduced a slew of high end tablets, including the almost ridiculously oversized Toshiba Excite 13 (yes, a 13.3 inch tablet and it's as large as you can imagine). Leaving that one aside, the other two tablets look quite nice, in fact – the Excite 7.7 and Excite 10 are well sized and look like direct competitors to the Samsung Galaxy Tab 7.7 and 10.1 – Toshiba even somehow managed to get the company to provide a 7.7 inch AMOLED display (obviously Samsung must think that people will still choose their tablet over Toshiba's).
Design
The tablet duo use the same design – a sort of updated version of the Excite 10 LE, with an aluminum housing and back cover that looks really nice and Gorilla glass on the front. The groove on the side is gone, and the device now has rounder edges, making it look more like the Galaxy Tab, in fact. That's not a bad thing, but it would've been nice if Toshiba retained the pretty unique design of the Excite 10 LE.
Hardware features and performance
The Excite 10 and Excite 7.7 have pretty much the same features when it comes to hardware, with the only difference being in the display and the storage space – the Excite 7.7 uses Samsung's AMOLED display, while the Excite 10 has a less spectacular LCD display, and both have the same 1280×800 resolution. Needless to say, the 7.7 inch screen looks better. The Excite 10 has a full sized SD card slot, which can be really useful for extending storage space or viewing/downloading photos and videos from a camera without needing a full sized computer.
The performance of both tablets is the same – both of them are powered by NVidia's Tegra 3 platform, with a quad core processor and 12-core GeForce graphics adapter, as well as a full gigabyte of RAM. This should be more than enough for years to come.
Software
Both tablets run Android 4.0 Ice Cream Sandwich out of the box, and both of them are vanilla installations – no "extra features" from the manufacturer, which is nice. Android 4.0 is the best OS for tablets there is, although you might have to get used to it if you're coming from Apple's simplistic iPad.
Specs summary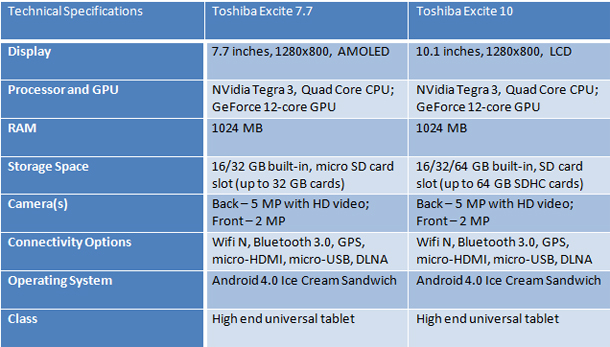 Price, availability and conclusion
Toshiba's tablets will be arriving in stores on June 10th, and they will have a pretty high price – the Excite 7.7 will cost $500 and $580 for the 16 and 32 GB models, respectively, while the Excite 10 will come in 16, 32 and 64 GB versions and cost $500, $530 and $650, respectively. Frankly, if not for the AMOLED display, I'd go with the Excite 10, but as it is now, the choice is a bit harder (the AMOLED looks great, even outdoors).