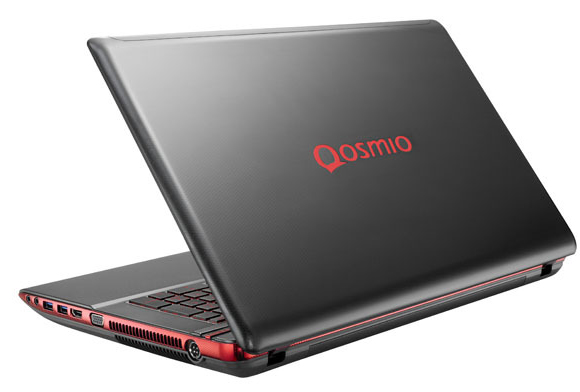 On the highest-end spectrum of Toshiba's 2012 lineup is Qosmio X870, a 17-inch Ivy Bridge gaming laptop. It will compete with the likes of Asus G75VW, Alienware 17x, and other laptops of the same calibre. As the flagship laptop of Toshiba, it has several advantages of its own. But like every other gadget, it also has some drawbacks that will make you run towards its competitors for shelter.
Design
The 17.3-inch screen of Qosmio X870 is a plus in itself, especially if you have a thing for large screens. The large display is propped up by a textured, aluminum shell which accounts for its robust build quality. Its body is no longer as fond of fingerprints so you don't have to worry about smudges. At a glance, you'll know it's a premium laptop given its dark metallic look, red accents, and red-backlit keyboard.
It certainly isn't as flashy as Alienware but stylish, nevertheless. It is worth mentioning that despite its thick frame, X870 weighs only 3.42kg. In comparison, Asus G75W weighs 4.5kg whereas Alienware 17x goes beyond 4kg as well. For a laptop of its size, that's impressive and convenient at the same time.
Hardware
X870 is powered by the latest Intel Core i7 processor. For graphics, the laptop relies on NVIDIA GeForce GTX 670M with 3GB video RAM. Screen resolution can be configured to 1920 x 1080 or 1600 x 900. Meanwhile, you can opt for up to 16GB DDR3 RAM and either HDD or SSD for storage. Connectivity options include WiFi n, Bluetooth, USB 2.0 and 3.0, HDMI, and Ethernet. Qosmio X870 also has an SD card slot for easy transfer of files. At this point we can say it has decent specs overall.
Toshiba Qosmio X870 is built for both gamers and movie lovers alike. Users who decide to configure their laptop to 1920 x 1080 pixels can benefit from watching movies in full HD resolution. Aside from HD display, the screen also supports 3D viewing in both games and movies. 2D content can even be converted to 3D with the help of Toshiba's software for an enhanced viewing experience. The Harmon Kardon stereo speakers integrated into the laptop means you can expect superb audio quality from X870. Also built into the laptop is a Blu-ray writer for watching Blu-ray movies and making copies of personal collections.
Verdict
Toshiba Qosmio X870 has a starting price of $2,900 and that won't even get you a full HD display. From a pricing standpoint, it's about as expensive as Alienware 17x although both have the same hardware. A relatively cheaper option is Samsung 7 Series Gamer which sells for $1,900 at its lowest configuration. X870 does have a huge advantage over its competitors in that it goes beyond the gaming genre. It can also function as an entertainment device for watching 3D movies.