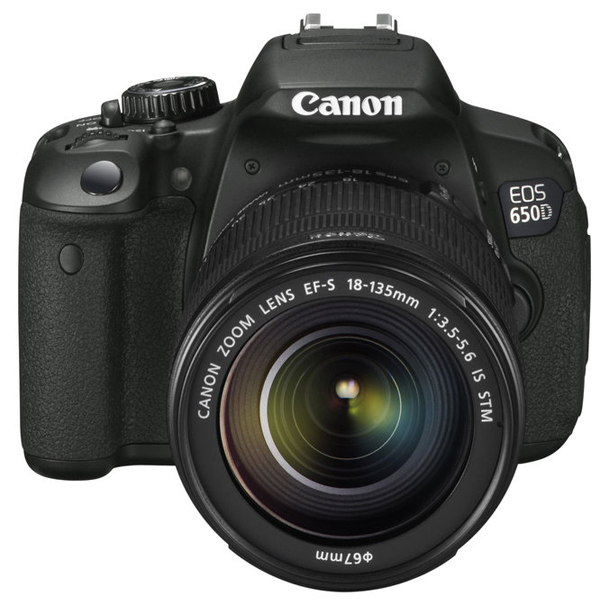 Canon EOS 650D was unveiled last week as the first DSLR with multitouch display. It's still an 18MP camera like EOS 600D but it has a sensor we've never seen in Canon's range of digital SLRs until today. In addition to a new sensor and multitouch display, it features a few more upgrades which photographers and videographers would appreciate.
Hardware and features
EOS 650D sports an 18-megapixel Hybrid CMOS sensor with a nine-point phase detection AF system. Unlike Canon EOS 600D which only had one point with cross-type, all nine points on 650D feature it. As a result, the camera is more responsive and can detect the subject faster than its predecessor. Also worth noting is the fact that 650D is the first EOS camera that can focus continuously which by the way was brought by the Hybrid AF system. In circumstances where you have to use Live View or record videos, the camera's phase detection helps in making the subject sharp and the additional contrast detection helps it focus.
Its in-house ability to rate images is really useful when reviewing photos taken. Your one-out-of-five ratings will be stored in EXIF data and viewable on supported platforms. While this is mostly a professional's calling, beginners will find it useful as well in identifying their strengths and weaknesses in photography. Furthermore, novice photographers will also enjoy the two new scenes added into 650D: HDR Backlight Control and Handheld Night Scene. HDR Backlight Control combines three JPEG photos and auto-aligns them in one composite, fixing the exposed background and foreground in the process. As for the Handheld Night Scene, it takes four JPEG images to combine and auto-align them, correcting exposure in the process and freezing the subject.
There's also a Noise Reduction option which takes four sequential photos and combines them to create one image with less noise. Two creative filters – Water Painting Effect and Art Bold – were also added to the camera though you can't use them while taking photos; you have to apply them to images.
In true DSLR fashion, EOS 650D supports full HD video recording in 1920 x 1080 pixels. Sitting on top of the camera is a stereo microphone for recording audio. If this seems inadequate, you can always connect an external mic. Unfortunately, you won't be able to listen in to recorded audio since the camera lacks a headphone jack. You'd have to wait until you finish recording a video before you get to playback the captured audio alongside it. Canon did manage to include a new mode when taking videos. Called Video Snapshot, the mode enables footages to be shot in 2, 4, or 8-second bursts which you can edit later in-camera.
Images and videos are processed by the built-in DIGIC 5 engine. It has a maximum continuous shooting rate of 5fps which is a significant upgrade coming from 600D. Sensitivity to light was also pushed the ISO 12,800 limit of its predecessor. Now, you can set it to ISO 25,600 at most. The 3-inch, 1040k-dot resolution display means you can compose and review images in vivid color. And because you can swivel it by up to 270 degrees, composing is less difficult in those awkward angles.
Design and handling
At first glance, it's impossible to tell EOS 650D apart from 600D. It still has the same button controls found in its predecessor save for some minor changes. This means you can navigate through camera features without relying on touchscreen controls. The grip remains deeply set in a textured body, making it easy to hold and unlikely to slip from your hands.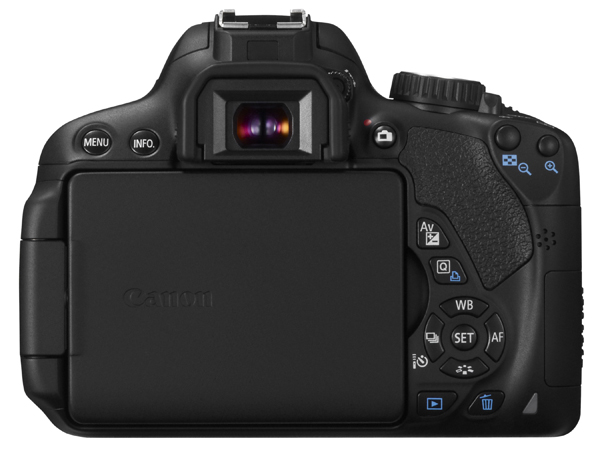 Upon closer inspection and careful comparison, it starts to look and feel more like the upgrade that it is. Beginning with the power button, it serves more function than just turning the camera on. You can also use it to switch from camera to video mode. Normally, you take stills by pressing the shutter button. Meanwhile, pressing the Live View/Video button on the rear end signals the start of recording a video. But if the power is turned on, pressing the Live View/Video button activates Live View. A more noticeable upgrade on 650D is the capacitive touchscreen. It supports a Touch Autofocus (AF) mode where you can trigger the camera to focus on a point by touching the screen with a finger – pretty much like how the AF mode works on camera phones. There's even a Touch Shutter which you can press on-screen to snap a photo.
The capacitive touchscreen is responsive and quite useful when taking stills at awkward angles but there's more use to it than just taking photos. You can also use it to review images, swiping across the screen to move from one photo to the next. With two fingers, you can pinch to zoom in and out of a photo. If you zoom out completely, you can see thumbnails of all your photos and be able to find specific photos. When you take the camera out on a sunny day or use it in a well-lit place, light will reflect on the screen. Fortunately, it's usually not enough to obliterate your view of the scene. In those rare instances when you're under direct sunlight, Live View on Canon EOS 650D is basically useless.
Verdict
From how I see it, Canon EOS 650D is a precursor to an era of user-friendly DSLRs with ergonomic designs. That being said, EOS 650D is a huge leap from 600D and an upgrade you shouldn't hold back to. It doesn't stray away from standard models too much since physical buttons are still in place for navigating through its different modes, scenes, and options. It entices traditional photographers – beginners and professionals alike – to try out a touchscreen interface on a camera of its caliber. Once it gets it's a large base of loyal fans, Canon will likely to follow it up with an even better model. Who knows? Maybe DSLRs of the future will lose physical buttons to be replaced by full touchscreens with on-screen navigation.