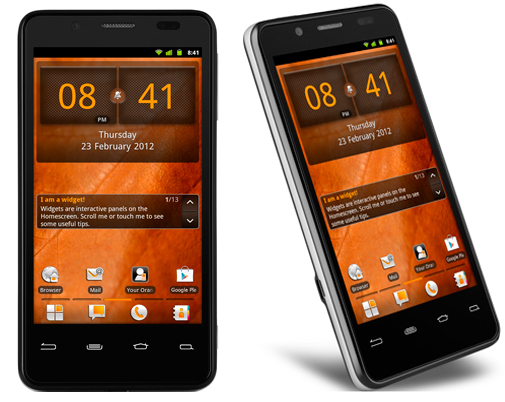 Remember Orange Santa Clara? How about Lava Xolo? Both devices are the exact same Intel-powered smartphone recently launched in the UK. Now called San Diego, it is the final build of Santa Clara and a rebranded version of Xolo X900 as it is known in India. It is the first Intel-based Android phone to hit not just the UK but Europe. San Diego is offered only in Orange UK on pay-as-you-go for £199.99 or a two-year contract for £15.50 a month.
Design
Orange San Diego looks like a thin block. Yep. That's pretty much sums it up. It is black on the back and front and has a silver band surrounding the edges. Corners are slightly rounded, the back cover is flat and has a soft-touch feel, and buttons don't protrude too much from the sides. Like most Android smartphones these days, it has four capacitive buttons below the display which from left to right are Back, Menu, Home, and Search.
It may be a large phone but it's incredibly light at 117 grams. And while it's not exactly the thinnest measuring a little under than 1cm but it's thin enough to find a home in your pockets. In summary, San Diego has a conservative design which although doesn't stand out is beyond acceptable to most users.
Hardware
It's a relief to see a 4-inch screen on Orange San Diego. We've seen better on Galaxy Nexus but a display with 1024 x 600 pixels is still impressive. Pixels are packed tightly enough so icons and text appear crisp. Powering the device is a single-core Intel Atom Z2460 processor clocked at 1.6GHz. With a gigabyte worth of RAM, multitasking should be smooth on this phone. It has 16GB internal storage and preloaded with Android 2.3.7 Gingerbread. There's no reason to frown about it. Orange says they will release an Ice Cream Sandwich update shortly after the release of San Diego.
The 8-megapixel camera is a great addition to the powerful specs of this phone. Not only can it shoot 1080p videos, it can also capture 10 shots in a split second during Burst Mode. That's a rare find on camera phones and perfect for taking pictures of fast-moving objects. The HDMI-out means you can view recorded high-definition videos on compatible televisions. Even though it lacks support for 4G connectivity, it does have an HSPA+ radio for connecting to the fastest 3G networks. In context, San Diego enjoys download speeds of up to 21Mbps.
Verdict
Intel did a great job in putting together Orange San Diego – and to think it's the first they've come up with. If it lives up to a standby period of two weeks just as the company claims, it will be one of the best options yet as it combines above average specs with impeccable battery life.