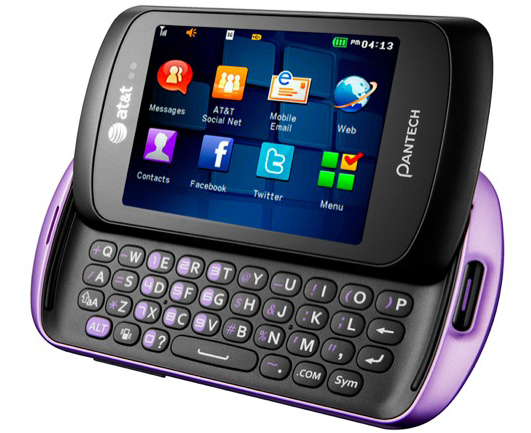 QWERTY phones may be a thing of the past but some still prefer them over touch screen options. AT&T knows that, hence they released Pantech Swift to succeed Pantech Burst. It is no smartphone but not that it matters. And the fact that AT&T offers it for $69.99 is rather irresistible to those looking for an entry-level phone that can do more than send messages or make calls. How does 3G connectivity, access to social networks, and checking emails sound?
Design
Its QWERTY keyboard and sliding form factor combo means you can't use it with one hand. You have to painstakingly use both to type messages or input text. For a small phone, it is rather heavy at 6.3 ounces but this gives Pantech Swift a solid feel – not that it looks cheap. Calling it "thick" would be wrong as well even though it's true. While it measures 0.58 inch in thickness, we can let that get away given its sliding mechanism. A purple hue accent's the phone's keyboard keys, navigation button, and camera housing. This makes it fun and somewhat cute to look at. Purple isn't a exactly feminine but you need to love purple so much if you're getting Pantech Swift.
Swift is no ordinary slider phone. The screen, instead of tilting horizontally away from the body, slightly tilts upward to prevent glare on the screen. Keys are large enough and evenly spaced, keeping you from accidentally pressing the wrong letters. They were tactile and responsive, offering a comfortable typing experience. When hidden from plain sight, you'll notice a physical home button below the display that's responsive, intuitive, and complements the phone's software. Other things you will find around the edges is a volume rocker, 3.5mm headset jack, power button, and a micro-USB charging port. On the back, there's a rear-facing camera peaking from the removable battery cover.
Pantech Swift has a lovable design overall but because it's limited to purple, only younger crowds and those who love the color would be able to appreciate it. It wouldn't hurt AT&T if they offered it in standard color options though – specifically black. It doesn't need to compete with QWERTY smartphones but it should at least have a color that many won't mind sticking around with for the next two years until the contract is over.
Hardware and specs
Pantech Swift has a small 2.8-inch QVGA screen which, get this, is responsive to touch. Display resolution is bad though and the screen isn't as responsive. Nonetheless, colors displayed on-screen are vibrant and bright. It has a 2-megapixel camera on the back that supports -3 to +3 exposure, a settings menu, five white balance choices (auto, cloudy, daylight, fluorescent, and incandescent), a self-timer, three image quality options (low, medium, and high), four resolution settings ranging from 1,600 x 1,200 to 320 x 240 pixels, and four color effects including normal, black-and-white, negative, and sepia. We weren't able to find a digital zoom option on the camera settings.
The camera is capable of recording videos in three different resolutions namely MMS, 176 x 144, and 320 x 240 pixels. During video recording, the same exposure meter, white balance options, self-timer, and color effects found in camera mode are still present but there's a new option – up to 8x digital zoom. Images and videos taken are of poor quality and have inaccurate color representation. Nonetheless, you can still differentiate objects apart from each other.
Interestingly enough, Pantech Swift supports 3G connectivity. Entry-level smartphones have the same spec but they lack good battery life. Feature phones like Swift have a huge advantage in terms of battery life since their hardware and software don't drain battery as quickly. In fact, the 1000 mAh battery inside it has a standby time of 10 days. Aside from 3G connectivity, Pantech Swift supports data tethering which means you can use it as a WiFi hotspot for connecting multiple devices simultaneously. Other specs include 293 MB worth of internal memory, a microSD card slot expandable to 32GB, WiFi, GPS, and Bluetooth connectivity.
Software and features
Pantech Swift runs on BrewMP 1.0.4. Though unknown to most of us, the software provides the phone with many features. One of its highlights is you get to choose from three home screens. Two of which are customizable. You can drag and drop widgets on them which could be shortcuts to the camera or toggling Bluetooth. Like Android, there's a dock on the bottom of the screen for navigation and accessing Contacts, Messages, and the Menu. It's fairly easy to navigate across the phone and the menu, despite the screen's limited resolution, has a beautiful use-friendly interface. Adding a contact is just as easy and the pre-installed Web Browser is even easier to use with its simplified on-screen controls.
A lot of useful tool apps were pre-installed on Swift as well. Among them are voice memo, a sketchpad, a notepad, a tip and standard calculator, unit converter, alarm clock, unit converter, stop watch, and a timer. Other useful apps preloaded to Pantech Swift include the mobile email client which you can use to check emails from your AT&TMail, Gmail, Yahoo!, AOL, or Hotmail account. You can send recorded voice , photos, videos and text online as messages with it.
If you don't want to use the physical keyboard, Swift does have a touch keyboard with condensed keys. Unlike smartphones, the keyboard doesn't have a spell-checker or auto-correct feature. Social networking applications such as Facebook, Twitter, and MySpace are installed on it too. Also included are Yellow Pages and a My AT&T app – the latter you can use for accessing your personal account information. AT&T Social Net and GPS are two more apps pre-installed to the phone, for services that allow to multiple social network accounts, map, and navigation. It is worth noting that the AT&T GPS app will cost you an additional $9.99 per month. To purchase music and third-party games or applications, you'd have to rely on the AT&T AppCenter which although comes in handy offers apps at ridiculous prices.
Verdict
Pantech Swift is a feature-packed phone that faces a few hiccups which I'm sure teens – notably those who love purple – won't mind. If you're not that much into games and patient enough to wait for pages to load, it won't disappoint you. It's an affordable way of staying connected to friends both online and offline. AT&T is offering it for $69.99 on a two-year contract, promising a $50 mail-in rebate to existing customers.