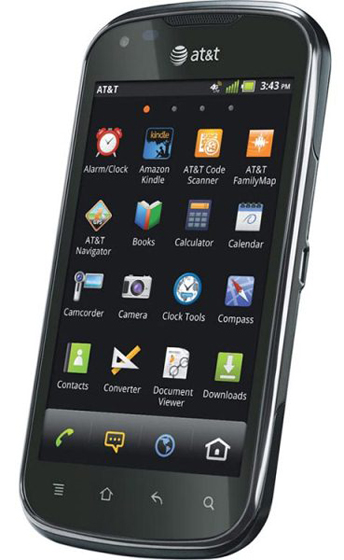 Sprint is loved by many because of its eco-friendly ways. The US carrier takes pride in releasing affordable eco-friendly Android smartphones like LG Viper 4G. With that being said, AT&T is launching their first-ever eco-friendly 4G phone, Samsung Exhilarate, and this is just the start of it all. Judging from what we know of its specs, Exhilarate will be a direct competitor of LG Viper 4G.
Design
Samsung Exhilarate has rounded corners and a silver accent surrounding the edges. The bottom edge has a more prominent curve and there are no physical buttons on the front display – just four capacitive controls on the bottom panel. From left to right they are used for accessing Menu, Home, Back, and Search. Exhilarate still looks – and probably feels – plasticky and cheap. It's nothing new really. Samsung has a reputation for that. Protruding from the sides is the power button and volume rocker.
Hardware
Perhaps to compete against LG Viper 4G, Samsung Exhilarate has a similar 4-inch screen. It features Super AMOLED technology so images and videos displayed have vibrant, high-contrast hues. Powering the phone is a dual-core 1.2GHz Scorpion CPU. Other known specs include a 5-megapixel rear camera and a front-facing shooter with 1.3 megapixels. The rear camera has autofocus and can record HD videos in 720p resolution. So far, device specifications of Exhilarate are looking great.
Verdict
Samsung Exhilarate may not be a top-dog but it should perform better than most budget options. It is an attractive offer with AT&T selling it for just $50 on a two-year contract. On top of that, it has an eco-friendly design and an energy-efficient charger. If you want a phone that's cheap but powerful at the same time – not to mention has a large screen – AT&T's Samsung Exhilarate is worth looking into.