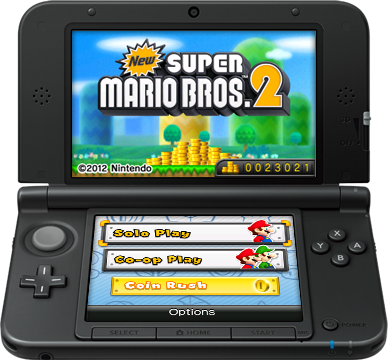 Nintendo may have had our childhood or that of our kids but they haven't been doing very well these past few years. Last year's attempt to penetrate the portable gaming industry was a flop. Nintendo 3DS simply wasn't a sweet deal at £230 and to make matters worse, it failed to attract an army of game publishers willing to release a compatible title. 2012 is a tad bit promising for Nintendo with their recent release of 3DS XL. The "extra large" version of Nintendo 3DS is new and improved not just in size but for several other reasons.
Design
Perhaps the most notable change of Nintendo 3DS XL is its 90 percent larger screens. That alone explains why it has a bulkier body than last year's release. The top screen is now 4.88 inches coming from only 3.58 inches. The bottom screen was also increased to 4.18 inches from just 3.02 inches. Considering these changes, 3DS XL is heavier than Nintendo 3DS by a hundred grams as it now weighs 336g. It measures 134 x 74 x 21mm which makes it considerably larger too. Despite its sizeable structure, Nintendo 3DS XL is easier to grip and more comfortable to hold thanks to its rounded edges.
The second thing you'll notice with Nintendo's latest offering is its new matte finish. It doesn't look as good as glossy plastic but the smudge-resistant surface is truly a delight. It definitely looks cheaper though which loyal followers may find disappointing. Another major design change is evident on the hinges. It now has two lock points for propping the screen fully or half-open when playing games.
Lastly, the layout of some buttons and inputs were changed to promote ease of use. For starters, the 3.5mm jack was moved from the bottom panel to the left side. When a headset is plugged in, wires will no longer be intrusive. The wireless communication LED was moved to the top side which allows you to conveniently check for the connection. Options for Start, Select, and Home are now physical buttons located below the screen and the stylus was transferred to the right side for easy access. If you're not too fond of the single analogue control stick of Nintendo 3DS, you'd still be stuck with it on 3DS XL. It's not enough for a full 3D experience so you have to purchase additional accessories to make up for that lack. Units are available in red, blue, and silver.
Hardware and features
What may come as a surprise is that it doesn't include a charger. Unless you live in the United States, Nintendo 3DS XL will be sold for a cheaper price point but sacrifices this much-needed accessory. It is worth noting that if you have a Nintendo 3DS, DSi, or DSi XL, you can use their chargers on the latest release. Nintendo does include a boosted memory package on 3DS XL by including a 4GB SD card instead of the standard 2GB card found in the original. The memory boost allows for more games to be installed. Other specs include the dual cameras, both with 0.3 megapixels. The front-facing camera can be used to take 3D snaps.
The larger displays on Nintendo 3DS XL were already mentioned but you should know that there were no changes made on their screen resolutions. Games are tainted with low resolution textures and a few jagged images. It's easy to make out the pixels on the top screen and objects (even in 3D) appear less detailed. While the bottom screen has similar flaws, they aren't as apparent since the display is mainly used as two-dimensional menus. The top screen allows for a 1:1 pixel mode which you can switch to by holding either the Start or Select button upon the initial game boot. Somehow, the 1:1 pixel mode lessens the degree of distortions on the display compared to when games are stretched on its 16:9 screen.
The glasses-free 3D experience of Nintendo 3DS XL is amiss. You may find yourself using this feature on rare occasions. When you switch the device to 3D mode by using the slider beside the top screen, there's minimal change on the gaming experience. Furthermore, the 3D experience is fairly easy to shake off. Changing the angle seems to get rid of it all too easily. To keep it on, you have to focus on the screen at the right position and not move at all.
Battery life
Nintendo 3DS XL doesn't compromise battery life for larger screens. It accommodates a bigger battery under the hood which according to Nintendo provides 3 to 6.5 hours of non-stop 3DS gaming and 5 to 8 hours for standard DS games. Leaving it unattended showcases an impressive standby battery life. It doesn't need to be charged for days at a time.
Verdict
Besides the larger screens and other design changes for an improved user experience, another advantage of Nintendo 3DS XL is that solid game publishers has its back this time around. Mario 3D Land, Metal Gear Solid: Snake Eater 3D, and Resident Evil Revelations already announced their titles for the new portable gaming device. It is indeed a significant update to Nintendo 3DS and totally upgrade-worthy.
The lack of a Circle Pad was a big disappointment but Nintendo promises to place Circle Pad Pro in a new variant of 3DS XL. Should you stick around until then? Not necessarily. Nintendo 3DS XL is large enough and an additional Circle Pad Pro would make it a bigger beast than it already is. Additional accessories can fix this major hiccup without compromising the portability of the gaming device.