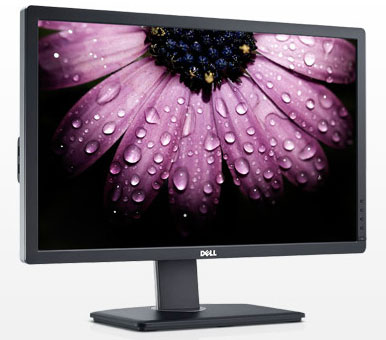 If you're at least a bit familiar with the computer monitors market, you probably already know that Dell's UltraSharps are among the best products you can buy while still not completely breaking the bank. They use IPS LCD panels (the same models as found in Apple's Thunderbolt Display!) for the highest picture quality and have the best ergonomics on the prosumer displays market.
At the top range, the UltraSharp U2711 (and the bigger U3011) still dominate the market, but the models have been on the market for quite a while now and are definitely in need of a refresh. Well, Dell is delivering – they have just recently announced the all new U2713HM – a perfect evolution of UltraSharp displays.
Design
Despite jumping over a model number (there was no U2712), the UltraSharp 2713 has been only slightly updated when it comes to the external design. In fact, it uses the same design as the smaller U2412 and U2312 monitors. It doesn't look bad by any means – the light black and gray finish gives it a professional look, while the rounded corners and lines make it look more approachable, so to say, than the older 2711 and 3011, which look like they were made in the late 90s with their straight 90 degree corners and jagged edges on the back.
The monitor stand has also inherited some of the newer design cues, but thankfully, the awesome flexibility in adjustment that UltraSharps are well known for is still intact. You can adjust the display however you want – you can rotate, swivel and tilt it to your heart's desire for the perfect viewing angles. The portrait mode is awesome and pretty much perfect for coders and those who work a lot with text.
Technical specifications
| Specifications | Dell UltraSharp U2713HM |
| --- | --- |
| Panel size | 27 inches |
| Panel specs | AH-IPS, 99% sRGB color space, 178 degrees viewing angle |
| Resolution | 2560×1440 pixels (16:9 format) |
| Pixel Pitch | 0.23 mm |
| Viewing angles | 178/178 degrees vertically/horizontally |
| Contrast ratio | 1,000:1 typical, 2,000,000:1 dynamic |
| Backlight and brightness | LED technology, 350 cd/m2 typical |
| Response time | 8 ms |
| Connectivity | 1 x DisplayPort, 1 x DVI-D port, 1 x HDMI, 1x VGA, 1 x USB 3.0 hub with 3 out ports, audio out jack |
| Dimensions and weight | 378.2 x 639.3 x 200.3 mm, 5.6 Kg – without stand |
| Software | Dell Display Manager |
Features
The new UltraSharp U2713HM has a lot of great features that power users will undoubtedly find useful. The panel uses AH-IPS technology, which brings better color reproduction, better viewing angles, faster response time and less background glow than the older IPS and e-IPS technologies, plus the contrast ratio and brightness have improved as well. The 2560×1440 resolution is well known to UltraSharp 2711 and 3011 owners, and the new display only makes it look better.
The U2713HM has enough connectivity options to satisfy anyone, and you can connect the display to a desktop, laptop or Ultrabook with ease using the DisplayPort, DVI or HDMI ports (there's also VGA for added compatibility). The monitor also has a 3.5 mm audio jack for audio output from the HDMI port, which is pretty thoughtful of the engineers to include.
Price and Availability
The Dell UltraSharp U2713HM is already available on sale on Dell's website and should be coming to local stores worldwide soon, as well. The price starts at $799, which is actually pretty low for what you're getting – I remember IPS displays costing over $2000 just a few years ago, and they were nowhere near as advanced when it came to configuration or connectivity options. If you need a really good monitor with true to life colors for professional use or just the best monitor for movies and games, the new U2713HM will not disappoint.