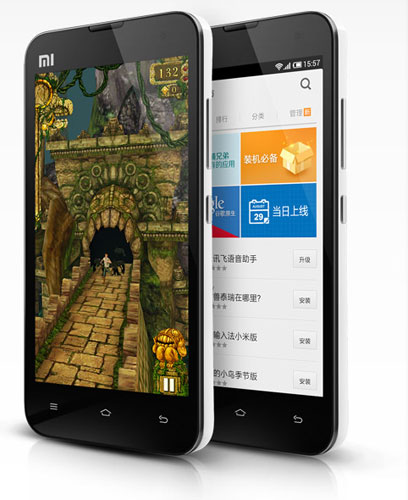 The smartphone market is flooded with devices from pretty much every manufacturer you can think of, but whenever you hear about a Chinese company trying to get into the mainstream western market, your mind instantly wanders to low quality and poor support. However, things have been getting progressively better as of late, with Huawei and ZTE finally being recognized as worthy competitors, and new Chinese startups becoming more adept at building high quality devices, as well as marketing them correctly.
One of the most promising such companies is Xiaomi, which has been around for a while before they decided to go big and debuted the Xiaomi Phone – a high end smartphone with the hardware specs and build quality that can rival the best brands and a price point that would make anyone think twice before refusing to buy it. The phone was a definite success, with many people in the US and Europe trying to buy it (the supply was always running short!).
This year, the company did it again with the Xiaomi Mi-2 – a true mobile powerhouse that has the same price as a modest midrange device from a more well-known brand such as Samsung or Motorola.
Design
The Mi-2 has pretty much the same design as its predecessor, with the same slab form factor and overall finish. The front features the display, with one noticeable difference being the lack of the cool individual-LED navigation buttons below the screen – instead, you have your usual three inanimate touch buttons with a white backlight. I suppose this was done to keep the price low, but it does take away some of the individuality of the device. And there isn't much of it: the rest of the phone is nothing special – the design has been used and reused so many times it's gotten boring.
Hardware features and performance
But the design is not what matters (and that is true of any modern smartphone). Despite the unfortunate name (Mi-2 can be easily mispronounced as "me too"), the new Xiaomi flagship looks more like leader material when you look at the specs. This phone is decked with everything the mobile industry has to offer. It's got a HD IPS display with a 342 DPI pixel density, the new quad core Qualcomm Snapdragon S4 under the hood, running at 1.5 GHz and aided by 2 GB of RAM, 16 GB of onboard storage space and a micro SD card slot, dual cameras with 1080p video recording, a relatively big 200 mAh battery and support for 42 Mbps HSDPA – if that's not enough to impress you, I don't know what is.
Technical specifications
| Specifications | Xiaomi Mi2 |
| --- | --- |
| Display | 4.3 inches, 1280×720 pixels, IPS LCD, 342 DPI |
| Processor | Qualcomm Snapdragon S4, quad core, 1.5 GHz |
| RAM | 2048 MB |
| Graphics Adapter | Adreno 320 |
| Storage Space | 16 GB onboard storage space; micro SD card slot for expansion |
| Camera(s) | Back – 8 MP; Front – 2 MP; 1080p video recording supported on both |
| Connectivity Options | Wifi, Bluetooth, USB, GPS, HSPA+ 42 Mbps, HDMI |
| Sensors | Gyroscope, accelerometer, compass, light, proximity |
| Battery | Li-Ion, 2000 mAh |
| Dimensions and weight | 126 x 62 x 10.2 mm, 145 grams |
| Operating System and Software | Android 4.1 Jelly Bean, MIUI user interface |
Software
The software department isn't lacking, either: the Mi-2 features Xiaomi's own version of Android, with the MIUI user interface that has garnered quite the following. The latest version is of course, Android Jelly Bean, with a distinctive skin on the top – the result is a very unique and polished interface that should set the Mi-2 aside from the competition even further.
Price and Availability
But the biggest advantage of the Xiaomi Mi-2 is of course, the price. How much does a similarly specced smartphone from a well-known brand cost? Well, the Mi-2 beats anything with its $315 price point – and it's not just an empty promise from the manufacturer – last year's Mi One (aka Xiaomi Phone) sold for the same price while having better specs than the Galaxy S2.
The price is what makes the Mi-2 and Xiaomi as a company worthy of note, and the device will definitely be an object of desire for many people in the west. Sadly, the phone will only be officially launched in China – but you can always buy it online – even with a $100 markup, it's still cheaper and better spec-for-spec than any other high end device.