Sony is undoubtedly one of the best companies when it comes to design, with everything from their PlayStation consoles and TVs to their laptops and smartphones looking very nice – just one look and you recognize the brand right away. That may have been less pronounced with their phones when they were making them under the Sony Ericsson brand (indeed, the first models were more Ericsson than Sony), but things have changed dramatically now that Sony fully owns the company.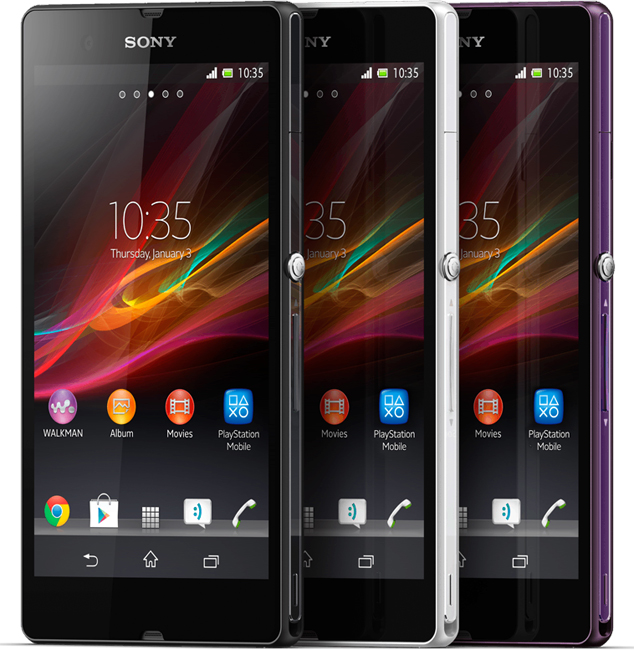 We've started seeing the changes in design at the end of 2012, but Sony is stepping it up and starting to pay more attention to the internal hardware, as well. The PlayStation Vita is the most powerful portable gaming console on the market, and it seems that the company wants that title for one of their smartphones, as well. The new Xperia Z fits that profile – it is one of the most powerful and feature packed smartphones on the market, and it still keeps a very unique and attractive design that anyone will instantly recognize as Sony's.
Design
The design of the Xperia Z is simply awesome – Sony seems to have been working hard on perfecting their existing design, and it definitely is working out for them. The Xperia Z looks like its predecessors from afar, but once you take a closer look, you start to notice the differences, of which there are plenty. The phone is only 7.9mm thick throughout the whole housing, which looks impressive and feels very nice, plus the metal, glass and rubber all around give it a premium look and feel, as well.

That rubber, along with the rubber caps over the ports, is there for a reason, by the way –
the phone is dust and water resistant
– it can withstand heavy rain and dust or sand extremely well, as evidenced by it being dunked in and out of a glass full of water without it breaking a sweat (or any hardware).
On the right side of the phone, right above the volume rocker, you can notice the new power button – a very unique and stand out piece that will also be present on Sony's other products, adding yet another common element of design for the whole brand. The screen bezel is also very narrow (comparable to the Galaxy S3 and Droid DNA), which is extremely helpful in making the phone's dimensions smaller while having a massive 5.0 inch screen.
Hardware features and performance
Previous Sony smartphones excelled at design, but kind of fell flat when it came to hardware features. They weren't bad by any means (well, except the very first Xperias running Android, which were really underwhelming), but they didn't have anything to gawk at, either. The Xperia Z, on the other hand, is the ultimate Xperia when it comes to hardware.

Let's start with the 5.0 inch display mentioned above – this thing is very nice, indeed. It has a Full HD resolution (so it packs 441 pixels per inch), which makes everything look sharp and clear as it would on paper. The LCD panel itself is nothing special (it can actually benefit from better viewing angles), but with Sony's new Mobile BRAVIA Engine 2, the colors and contrast are simply great – you'll enjoy the UI, movies, pictures and Web pages equally as much on this thing. The brightness is at a high level, as well, thanks to the white LED backlight.
Performance wise, there's really nothing more to desire – the Xperia Z is powered by Qualcomm's current heavy weight champion, the Snapdragon APQ8064, which has a quad core processor (running at 1.5 GHz in this case), the Adreno 320 graphics adapter and 2 GB of DDR3 RAM – needless to say, the phone is very fast and will continue to be for a long time.

The camera on the back has a 13.1 Megapixels resolution and can take Full HD video, while the front one has to do with 2.2 Megapixels and 720p video, there's a unified USB/HDMI out port under a protective rubber cap, all the normal sensors including a barometer, Wi-Fi N, Bluetooth 4.0, HSPA+ and 4G LTE, and a relatively large 2330 mAh battery that is supposed to (and most likely will) hold up to 11 hours of continuous use. Not bad at all, I'd say.
Technical specifications
| Specifications | Sony Xperia Z |
| --- | --- |
| Display | 5.0 inches, 1920 x 1080 pixels, 441 DPI, TFT LCD with Mobile BRAVIA Engine 2 |
| Processor | Qualcomm APQ8064, 1.5 GHz, quad core |
| RAM | 2048 MB |
| Graphics Adapter | Adreno 320 |
| Storage Space | 16 GB onboard storage space, micro SD card slot for expansion |
| Camera(s) | Back – 13.1 MP with LED flash and 1080p video recording; Front – 2.2 MP with 1080p video recording |
| Connectivity Options | Wi-Fi N, Bluetooth 4.0, GPS/GLONASS, NFC, micro USB, HDMI out via MHL, HSPA+, 4G LTE |
| Sensors | Gyroscope, accelerometer, magnetometer, light, proximity and barometer sensors |
| Battery | Li-Ion, 2330 mAh, up to 11 hours of continuous use |
| Dimensions and weight | 1139 x 71 x 7.9 mm, 146 grams |
| Operating System and Software | Android 4.1.2 Jelly Bean (OTA update to version 4.2) |
Software
For a phone that will be released at the end of winter 2013, it sure is pretty weird that Sony will ship it with Android 4.1.2, but hey, at least it's Jelly Bean and not Ice Cream Sandwich. Moreover, Sony already makes promises that they will have an OTA update to 4.2 very soon, which sounds good to me. Android Jelly Bean is a very important step for Android and smartphones running the OS – it's a whole level above Ice Cream Sandwich in UI response, which is so smooth and fast you'll be amazed. To put it simply, it's as good as iOS (and that's not an overstatement) and even better in some areas. The user interface in the Xperia Z is nowhere as heavily modified as in previous phones – it's pretty much vanilla Android, with a few changes and additions here and there (which actually make the whole thing better).
Price and Availability
Sony has just announced the Xperia Z, and we should expect it to arrive at the end of February and by mid-March, from the looks of it. That's a good release date, and it's just in time to compete with all the other high-end smartphones, which the Xperia Z can definitely do now that it has the same hardware and its attractive design. Nothing has been confirmed about the pricing, but we can be sure of one thing – this phone will not be cheap.